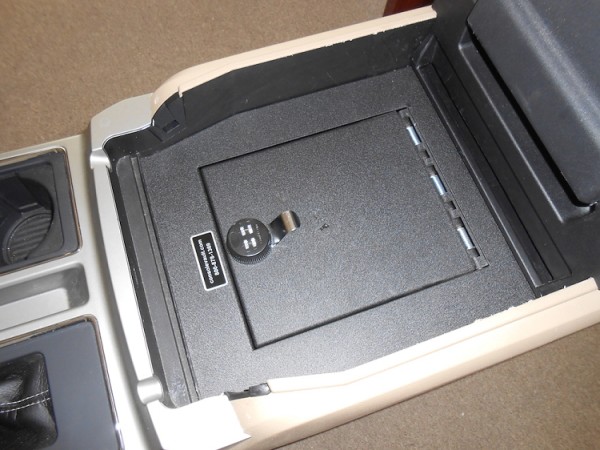 Takeaway:  Do not leave an unsecured handgun (whether loaded or unloaded) in an unattended vehicle unless the environment is secure or you or a trusted other has eyes on it.  If there will be times when you cannot do that, upgrade the vehicle storage space with a security enhancement such as a reinforced trunk, or a permanently installed or cabled hardened lock box. This admonition is a matter of common sense risk mitigation (loss of life and property, and civil liability come to mind) and compliance with the requirements of various federal and state laws.

If you own a popular model truck or SUV, the manufacturer/vendor deserving of your first look for handgun storage is Console Vault®.  For under $300 you can have a good-looking and perfectly fitting, permanently installed secure lock box in your factory console, with combination dial or "barrel" key access.  (If you are even slightly handy, it is a 15-minute DIY job which produces a factory installed look).
Alternate CV products I like include their "universal" floor console-like box ($199, HERE), if they don't make a custom fit one for your vehicle's factory console structure and you have floor space, and their Gun Transporter (pictures below, $209), which holds a full-size pistol and spare magazine.  It has an integral cable for under seat or trunk, spare tire well, etc., securing. Its portability is a good feature if you have to remove it from the passenger compartment and put it elsewhere (e.g., trunk, luggage, hotel room) to comply with travel/interstate/local legal requirements. For under-seat or other vehicle bolting of the cable, use a high security padlock; you will likely need at least a two-inch shackle, without shroud.  I favor padlocks by Abus or Abloy, although they are not USA made.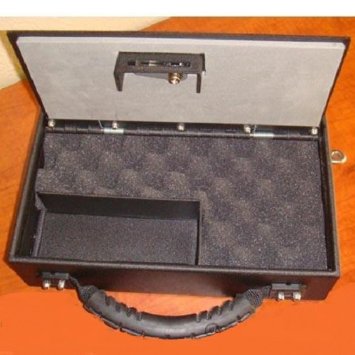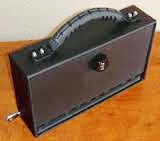 The MAY ("is it lawful") is a sufficient reason for secure vehicle storage of firearms.  Federal, state or local laws may impose restrictions on entering buildings armed, leaving firearms in vehicles, or within access of minors or other persons.  The federal laws on safe "interstate passage" and "school zones" also have locked container requirements. If the handgun must be unloaded when locked up, take extra care, and lock the ammunition up as may be required.
Stay safe.  Keep others safe as well.  Safeguard your handguns. Lock it up.  It's easier than you think.
Hat tip:  To CV for the complimentary upgrade to the four digit dial for an acceptable delay in shipping.
Links: