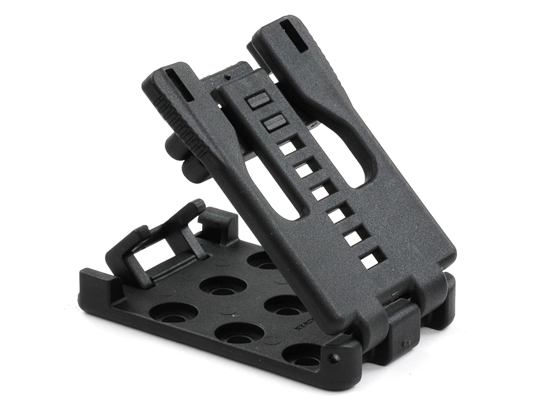 It's true. The well-known holster and magazine pouch attachment device shown above was designed by two knife guys.  If you are into knives, you likely recognize the names Tim Wegner and Robert (Bob) Terzuola.  If you ever spent serious time at a national knife show (BLADE, Knifemakers Guild) you might have met and even chatted up one or both. It is indeed the very same Tim Wegner who is a co-founder of this very well-known maker of carry, duty, and competition holsters and accessories  —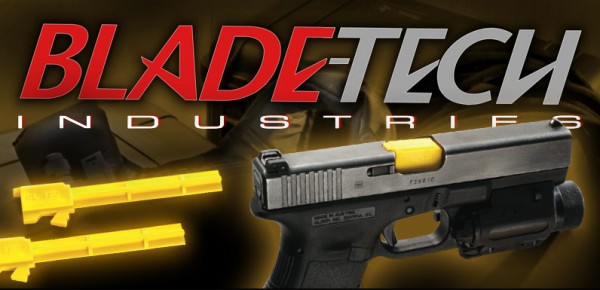 According to the inventors, the TEK-LOK™ is a field proven multi-functional quick detachable utility belt clip. It can be fastened to virtually any kind of product and is highly popular for use on holsters, magazine carriers, phone holsters, knife sheaths and many other types of accessories. It can be mounted in many configurations to suit specific carry applications using eyelets, rivets, screws or with both screws and posts. A further summary of "the invention" from its patent documentation: "A belt clip for supporting an object on a user's belt includes an inward portion for insertion between the user's belt and body, having a first hinge portion on one edge thereof and including a pair of spaced-apart, flexible wings located at the other edge thereof, wherein each wing has a first locking structure thereon; an outward portion for attaching an object thereto, having a second hinge portion thereon and having a second locking structure thereon; and a hinge pin for joining said first hinge portion and said second hinge portion together in a moveable condition."
I have belt mounted gear made by others which came standard with a TEK-LOK™ or because I selected it as my attachment method.  Blade –Tech sells their TEK-LOK™ to hundreds of makers and vendors, including knife sheaths, holsters, medical items, and other belt-mounted equipment/gear.  For the DIY inclined, it is available as a stand alone item directly, and from well-known vendors Brownells and Midway USA. Amazon as well. It may soon be available in foliage green and dark earth.  There is a drop/offset version as well (HERE).
I chatted briefly with the "retired" Tim Wegner.  He explained that the impetus for the invention was to avoid having to make and stock numerous sized belt mounts.  Tim waxed classical (Plato), saying "necessity was the mother of the invention."  The TEK-LOK™ is now used as the attachment device for pouches which hold cellphones, NV equipment, radios, flashlights, scanning devices, and radar guns. Blade –Tech has numerous specialized contracts with companies, agencies, and the military, which account for a large portion of the TEK-LOK™ business. There is also a Mini TEK-LOK™ and another attachment product derived from it which has also become a big selling item for Blade –Tech, the TMMS (click on photo for the link):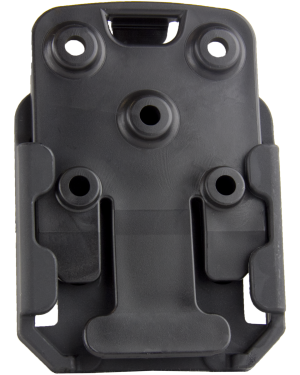 Don't attempt a quick drive-by of the Blade –Tech website, there is too much in holsters and pouches (and everything related) there.  I understand it is going to get even better.  Did I mention that the TEK-LOK™ is made in the USA?