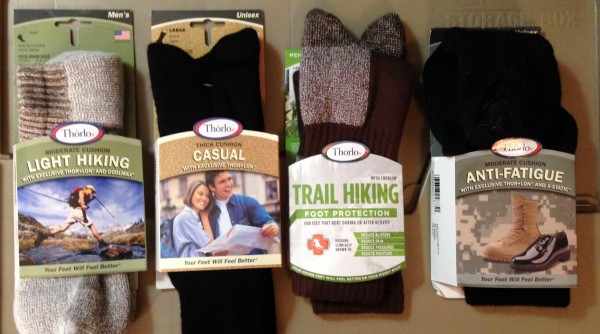 Socks are an often overlooked but important piece of kit.  The importance of high quality and application specific socks cannot be overstated, whether you are military, LE, hiker, hunter, urban walker, runner/jogger, competition shooter, or stand protective post or at a workbench for extended periods.  I have been trying different socks for some 30 years.
The name THORLOs® is synonymous with good Made in The USA socks.  Made in Statesville, North Carolina, since, well, forever (and they "always will").  They have a video history explained by the owner and founder.  I tried several other brands for daily and use-specific wear from time to time over the years, but I always came back to THORLOs®.  I find they last longer than no-name or store brand socks, have features which are activity specific, and some are designed for special needs (fatigue, military boots, neuropathy, diabetes, other painful foot conditions).
I am partial to padded/cushioned cotton socks.  The THORLOs® styles I regularly wear are pictured above.  If you need cold weather wool or waterproof, or like hi-tech blends, you might take a look at these brands as well: SmartWool (mostly knitted in the USA);  Darn Tough Vermont; SealSkinz (oops, made in the UK).
When someone tells me how old they are or how long they have been doing something, I often give a smart aleck answer: "I have socks that old."  Actually, I just might.  The companies mentioned make socks that last for many years, and have good replacement policies.  They are all a bit pricey, but well worth it.
Keep your feet warm and dry while you have happy and safe new year.