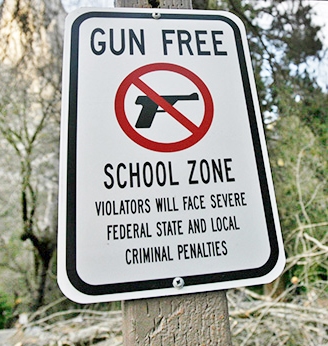 I write this post as a result of reading a recent news story about a parent in New Hampshire carrying a concealed handgun while waiting near a school to pick up his child (story here).   From that story: "A federal law, Gun-Free Schools Zone Act, prohibits people from carrying a loaded gun, even if that person is properly licensed, within 1,000 feet of a public or parochial school."  Nope, not the law.  
As more states and local governments allow school carry, the provisions of the GFSZA will once again become an issue. I was thus prompted to take a  "refresher" look at the law (often ignored because it was (in an earlier version) held unconstitutional by the U.S. Supreme Court).   Here's the current GFSZA statute, 18 U.S.C. § 922(q)(2):
(A)
It shall be unlawful for any individual knowingly to possess a firearm that has moved in or that otherwise affects interstate or foreign commerce at a place that the individual knows, or has reasonable cause to believe, is a school zone.
(B)
Subparagraph (A) does not apply to the possession of a firearm—
(i)
on private property not part of school grounds;
(ii)
if the individual possessing the firearm is licensed to do so by the State in which the school zone is located or a political subdivision of the State, and the law of the State or political subdivision requires that, before an individual obtains such a license, the law enforcement authorities of the State or political subdivision verify that the individual is qualified under law to receive the license;
   (I)
not loaded; and
(II)
in a locked container, or a locked firearms rack that is on a motor vehicle;
(iv)
by an individual for use in a program approved by a school in the school zone;
(v)
by an individual in accordance with a contract entered into between a school in the school zone and the individual or an employer of the individual;
(vi)
by a law enforcement officer acting in his or her official capacity; or
(vii) that is unloaded and is possessed by an individual while traversing school premises for the purpose of gaining access to public or private lands open to hunting, if the entry on school premises is authorized by school authorities.
Federal law [18 U.S.C. § 921(a)] provides the following definitions:
(25) The term "school zone" means — (A) in, or on the grounds of, a public, parochial or private school; or (B) within a distance of 1,000 feet from the grounds of a public, parochial or private school.
(26) The term "school" means a school which provides elementary or secondary education, as determined under State law.
The exceptions are rather straightforward, most notable is that a person with a firearm permit/license is not prohibited, if the law of the state or subdivision complies with the requirement of 18 U.S.C. §  922(q)(2)(B)(ii), above.  Most, but not all do. Of course, one must still look to state and/or local law for location permissions and restrictions. Compliance with the GFSZA or state/local law is not automatically lawful carry under the other.
My "drive-by" of various materials brought to mind some common questions I have discussed with sworn LEOs about school grounds carry.  Surprise:  Most are answered "NO," with the caveat that applies to the non-sworn as well:
Unload and lock it up or get a state or local permit/license.  
[Here's an idea.  Also check out Console Vault ™ (here)].

Can I carry while off-duty?  No. 

Carry under H.R. 218/LEOSA?  No, it does not override the GFSZA.
What about if I am on-duty

not

acting in my "official capacity," for example, I am picking up my teacher spouse for lunch.  No.
I am going to a teacher/parent meeting during school hours or after hours.  I am "on-call" 24/7 and required to carry my duty weapon at all times when in public.  No.
I am properly state licensed

and

the state permits me to carry a firearm on school property as a licensed person.  Yes, you may carry in a GFSZ even though you are not then acting in your LE "official capacity."
I am off-duty but responding to a law enforcement scenario at a school within the area of my sworn jurisdiction.  Yes, you may do so armed under the GFSZA.
In summary: First check the GFSZA.  If you get an exemption under it, check state and local law on rules for school carry.  Parents of current students and sworn LEOs may get a special exemption which can be folded into a Federal one.  If you are an active or retired LEO, get a state gun carry permit/license.  If you are out of the state where you have a license/permit, see 18 U.S.C. § 922(q)(2)(B)(ii), above.  (Get a nonresident permit/license; many who have opined on the point believe reciprocity is not expanded to the Federal GFSZA provision).
How about carry on a college or university?  See state law and the rules of the institution.