This post started out in draft (many months ago) as a review of the Panteao Productions video by Paul Howe, "Civilian Response To Active Shooters."  (Click on the image to read some of Paul Howe's background).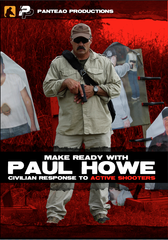 I was a bit uncomfortable some might think I had strayed from my lane as I have no military combat experience, and neither my training nor my life or death experiences resemble Paul Howe's.  Thus, I changed this post to pose and (hopefully) answer the title question. I think a better term to describe the dynamic incidents addressed is "active killer," so I use that term instead of the universally used term "active shooter."
I know Paul Howe only by reputation, his videos, and the material he and others have posted on the internet about his classes and training facility, CSAT.  If I had a training "bucket list,"  a week or two at CSAT would be on it.  Real operators I know respect him, his abilities, and doctrine.  Paul's video provides basic insight into civilian mindset, gear, and tactics appropriate to intervene in an active killer incident.  Obviously, a safer intervention tactic would be simply to have Paul Howe with you and let him do the heavy lifting.  You would stay out of the fight, help with the evacuation of innocents, and provide direction to sworn first responders (most importantly, describing the armed and qualified civilian responder who already entered and was in response mode).  Unless you are Mrs. Paul Howe, that's fantasy.
So, what's reality? The most likely situation is that you are a trapped target in or stumble into one of the typical active killer venues (school, movie theater, hospital, workplace, place of worship, shopping mall, or stalled vehicular traffic).  Another possibility is, as the post question poses, you purposely interject yourself because a loved one is at risk, you are an off duty responding LEO or someone on scene asked to help one, or just because you decide it is your day to save complete strangers.  (There is a new interactive smart phone app which notifies nearby on and off duty LEOs if there is a school shooting underway: http://hero911.org/).
Paul's steely demeanor confirmed my existing inclination that a dedicated and properly equipped civilian or off duty LEO could safely intervene and deactivate an active killer.   It has been done.  More than twice.  I suspect MSW readers have most of the gear, shooting skills, and physical/tactical ability to do it.  (Several hours of Howe videos will easily ice your veins and provide any needed mindset tweaking).  Paul's video motivated me to take a fresh look at some materials I had compiled about active killer interventions, including:
From my own study of the subject, I had previously identified the two important goals of the solo intervention process upon which mindset, equipment/kit, and tactics should be focused:
(1) interrupting (stopping the killing as soon as possible so LEO and medical responders can get involved quicker), containing (trapping the killer), and deactivating (rendering the active killer unable to continue), and;
(2) communicating and identifying yourself as a Good Samaritan responder (so you can better assess what is happening, and so victims, witnesses, and responding LEOs do not mistake you for the active killer).
In part two of this post, I will offer highlights of what I gleaned from the study materials and my thoughts on what equipment/kit and tactics might help the solo intervenor accomplish the noble mission.