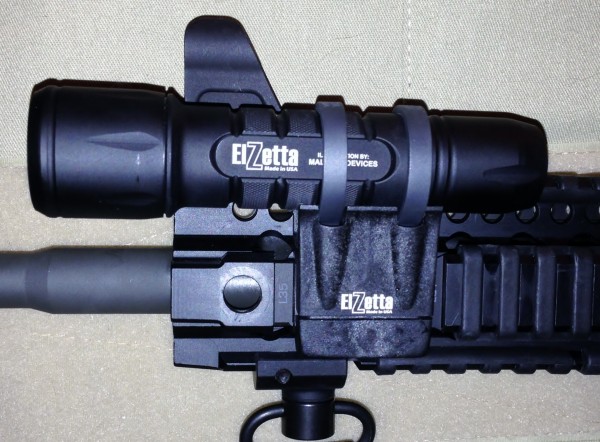 While the economy languishes, sales of firearms and accessories have never been better.   But, unemployment remains high.  So, what could be more patriotic than buying something Made in the USA?
I previously wrote about hand-held and EDC flashlights I like (here).   A new (to me) light I like is one made entirely in the USA by Elzetta, its Model ZFL-M60.  It can be purchased directly from the company and configured as you like as to bezel, tailcap function, and Malkoff device lamp assembly, in two or three cell.   Over 200 lumens and reasonably priced.  Really waterproof.  The build quality is unmistakable; it is well made for EDC or weapon pounding use, and easy to mount on any AR with one of their mounts, also made in the USA.   (They make a nifty shotgun mount as well).  The design and materials result in a light which dissipates heat well. 
Further review by me would pale against those from such diverse industry savvy users  as Stickman (cool moniker guy), Dustin Ellerman (3rd season Top Shot winner guy), and Grant Cunningham (revolver guy).  Theirs and other reviews are posted on the company website (here).  The obligatory helicopter drop video is included.  The light comes with, you guessed it, made in the USA batteries.
Pictured above are the Elzetta Model ZFL-M60 and their new mount, the ZRX, which fits other lights with diameter of .94-1.04 inches.  I like the set up.  Did I mention they are made in the USA?
I hope to submit more "Made in the USA" posts.  (Fellow MSW contributors, feel free to submit yours).