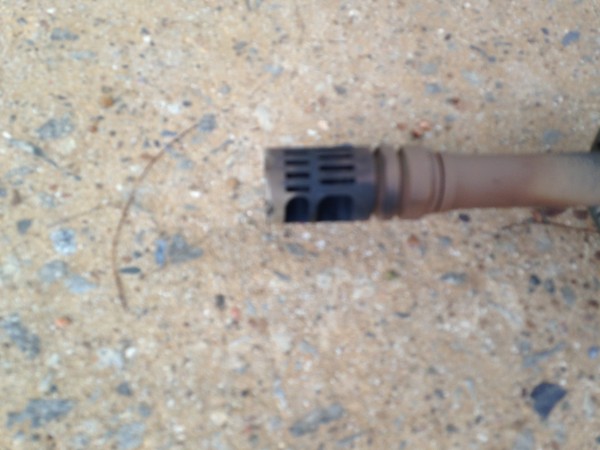 I am a new guy when it comes to muzzle brakes.  I've spent my career shooting "whatever" came on the end of the rifle.  And that "whatever" has always came in the form of a good old fashion A2 flash hider.
About six or eight months ago, a coworker brought a rifle he built to shoot 3 gun to the range one afternoon.  It was a standard sixteen inch rifle with a carbine length gas system.  The muzzle device was a VG6 Gamma 556 muzzle brake.  I noticed pretty quickly that the brake wasn't obnoxious like some of the ones I've had in classes.  From shooting his rifle, doing dot track drills were a snap as the dot didn't move outside of the three by five card I was shooting into.  The dot had a slight track upwards and promptly returned to the specific point on the card I was aiming into.  I wanted one for my next rifle, so I purchased it.
Along came my next purchase.  A Smith and Wesson VTAC 2.  A sixteen inch AR with a mid length gas system.  I shot a couple of hundred rounds with the brake that came on the gun, and then swapped it out for the Gamma 556.
I headed to the range to shoot some dot track drills and some speed stuff.  Oddly, the recoil impulse was nothing like the 16 inch carbine length AR of my coworker.  In tracking the dot through recoil, the dot actually drops to the bottom of the card instead of a slight rise.  The only thing I can attribute the difference to is the mid length gas system, versus the carbine length.  I had several other shooters run some drills with the gun, and they all saw the same results.
I loaned the rifle to a student for a 1500 round Carbine Operator course a couple of weekends ago.  He stated that once you got used to the drop versus the muzzle rising, the gun was very easy to shoot.  I had two other students with VTAC 2's who both had the SureFire Socom brake on them.  They gave the exact, almost neutral track that I personally like on an AR-15 without being overly obnoxious. I promptly came back and ordered a SureFire Socom.  I placed the Gamma 556 on a carbine length Colt 6920 and it went right back to that predictable slight rise I had witnessed on my coworkers rifle.
The future of the Gamma 556?  It will go on a piston gun next to see what the recoil impulse is like before it probably finds a permanent home on a carbine length DI gun.  The cost of the Gamma 556 is around $85.00 and is available directly from VG6 Precision.