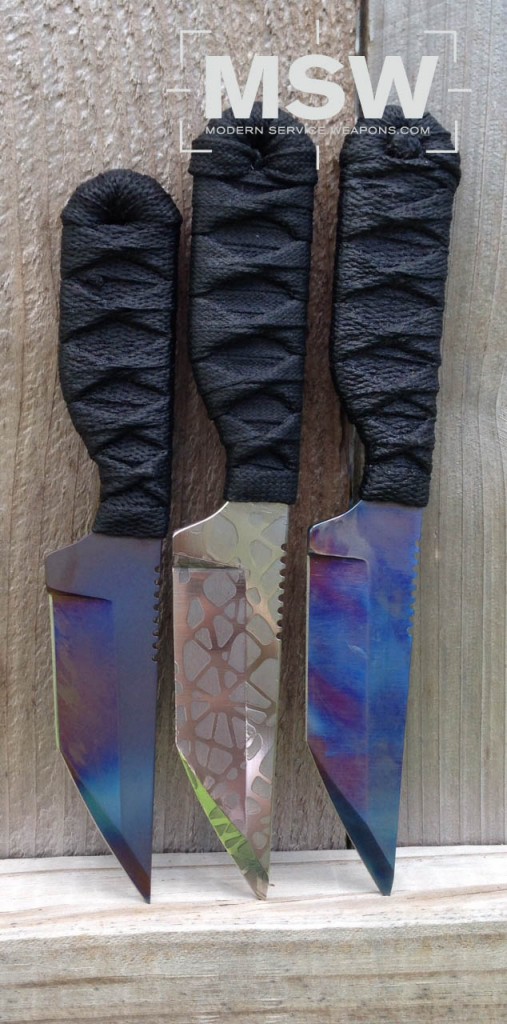 The Joe Watson HiTS Knife is a collaboration between knifemaker and former Army Infantryman Joe Watson and noted tactical trainer, author, and former Police Officer Darryl Bolke.  To really understand the HiTS Knife you need to know the history behind it.
Enter Darryl Bolke, AKA DB.  Anyone in the tactical knife community will recognize "DB" as one of Strider Knives bread and butter fixed blades.  Based on his experience on the job, DB wanted a knife that could fit in the 5×8 trauma plate pocket of his concealable vest so it is not viewable or accessible by anyone but him.
The knife had to be durable for use as a wrecking bar to break into things and for use as an emergency door stop.  This meant the tip of the knife was not ground to be the usual idea of sharp.  The knife was intended to be paired with a good folding knife for actual cutting chores.  The handle of the knife, while simple in appearance, was designed to be comfortable and secure regardless of how it was gripped.  This includes DB's preferred tip down orientation, with either edge in or edge out, for a thrust-n-pull motion.  The knife could absolutely not fail and still had to be affordable.  Simply put, the DB was meant to break stuff first, kill stuff second.
Later DB teamed with Master Japanese knifemaker Kiku Matsuda on another, must not fail, tactical blade.  The design of this blade was different from the first DB.   This knife was robust and better suited to cutting chores than before and geared for being a weapon first and tool second.  The knives are very expensive and fairly rare, but are a work of art with Kiku's wicked convex grind.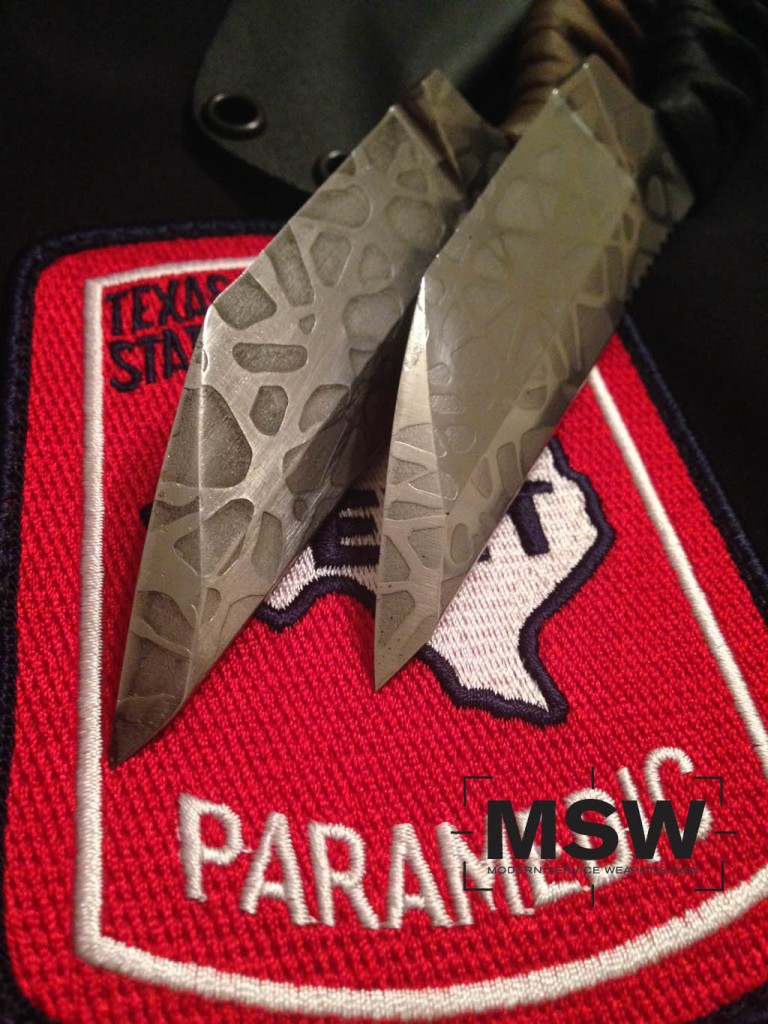 Enter Joe Watson and his Hybrid Tanto.  DB approached Joe with the idea of modifying his Hybrid Tanto into a new ideal; a simple, self-defense oriented, one blade for everyday carry (EDC) that could still tolerate abuse.  With DB's input Joe added a more upswept reinforced point.  This allows for great penetration and tip strength, while allowing for a thinner very sharp primary edge for cutting.  Jimping was added to the spine for more control, the blade stock was thickened and the handle modified to support DB's "any grip" ideology.  The prototypes were tested with both DB and a highly experienced large metropolitan city undercover officer with a very extensive combatives background.  The HiTS Knife is sharp along its entire 3.5" chisel ground edge.  The stock is 5/32" ATS-34 heat treated by the legendary Paul Bos to shrug off abuse.  The handle is a simple Japanese style wrap treated with fiberglass resin to be impervious to the elements and offer a thin, durable, non-slip grip.  A well-made Kydex sheath, with holes to support the majority of mounting options, completes the knife but not the package.  Each HiTS Knife comes with a matching aluminum trainer and sheath. Joe and DB both feel that a tactical tool is no good if you cannot train with it.
Originally offered in ATS-34 Joe is currently switching over to CPM®154 to improve cutting performance, durability, and finish.  So far, there have been two variations of the HiTS offered by Joe.  The first was a full sized, Titanium bladed, HiTS with Tungsten carbide edge and flame anodized finish.  The handles were given the same Japanese style wrap and resin treatment only done thinner, for better concealment. The second was the Compact HiTS, again in Titanium, for those with a greater need for concealment.  Both knives offer a weight savings of more than two ounces over the original steel HiTS.
Like many of you I've searched for the perfect EDC knife over the years and was never satisfied.  My initial edged weapons training came from John Benner and I carried his TDI knife for many years.  The TDI worked very well for what it was designed for but only supported two grips, the blade orientation limited its utility and, while seemingly affordable, once you add in the cost of a trainer and aftermarket sheaths for both to address the factory shortcomings you were in it for few dollars.   I carried Fred Perrin street/neck bowies for a number of years as well.  Wonderful slicers but the thin stock was ill suited to breaking stuff and the handle really only favored the sabre grip.  Fred's sheaths left something to be desired and really only supported neck and static cord carry.  The use of carbon steel added more maintenance than I preferred, especially in hot and humid environments.  I did have a brief affair with the infamous Strider DB as well.  Too big and heavy for neck carry, it was better suited to belt or IWB.  Being a "break stuff first" tool the edge geometry left a lot to be desired as an EDC.  DB meant for it to pair with a good folder. I didn't always want to carry two knives, even if I was dressed for it. Then, at a Steve Tarani Edged Weapons class hosted by HiTS, DB introduced the class to the HiTS Knife prototype.  The HiTS Knife was designed from the onset to be a "one knife" for EDC.  It was meant to fill the self-defense role first while still being suited for everyday cutting tasks and handle the abuse of breaking stuff in emergencies.  I had never heard of Joe Watson.  The prototype looked and felt good so I rolled the dice.
I have been carrying some version of the HiTS every day since.  The cord wrapped handle is comfortable and supports holding the knife securely in any grip.  This works well with my edged weapons training.  The blade geometry is excellent and very sharp.  I can go knife geek in the kitchen for food prep with the ATS-34 version or destroy the cardboard evidence of my compulsive internet shopping with the Titanium version.  The nice thing about slicing up cardboard with a Titanium knife is that the cardboard strops the edge on every pass and it never dulls.  The Titanium versions are also light and thin enough to go unnoticed with workout attire.  The 5/32" ATS-34 or CPM®154 heat treated by the legendary Paul Bos holds a great edge and should stand up to significant abuse, should that day come.  Overall I am quite happy with the knives.  I have met, trained with, and talked at length with DB and Joe. They are both stand up guys. This knife package is well thought out and an excellent value for the user.
The HiTS Knife is available directly from Joe Watson's web store or exclusively through Blue Line Gear. http://jwknives.tictail.com/  http://www.bluelinegear.com/