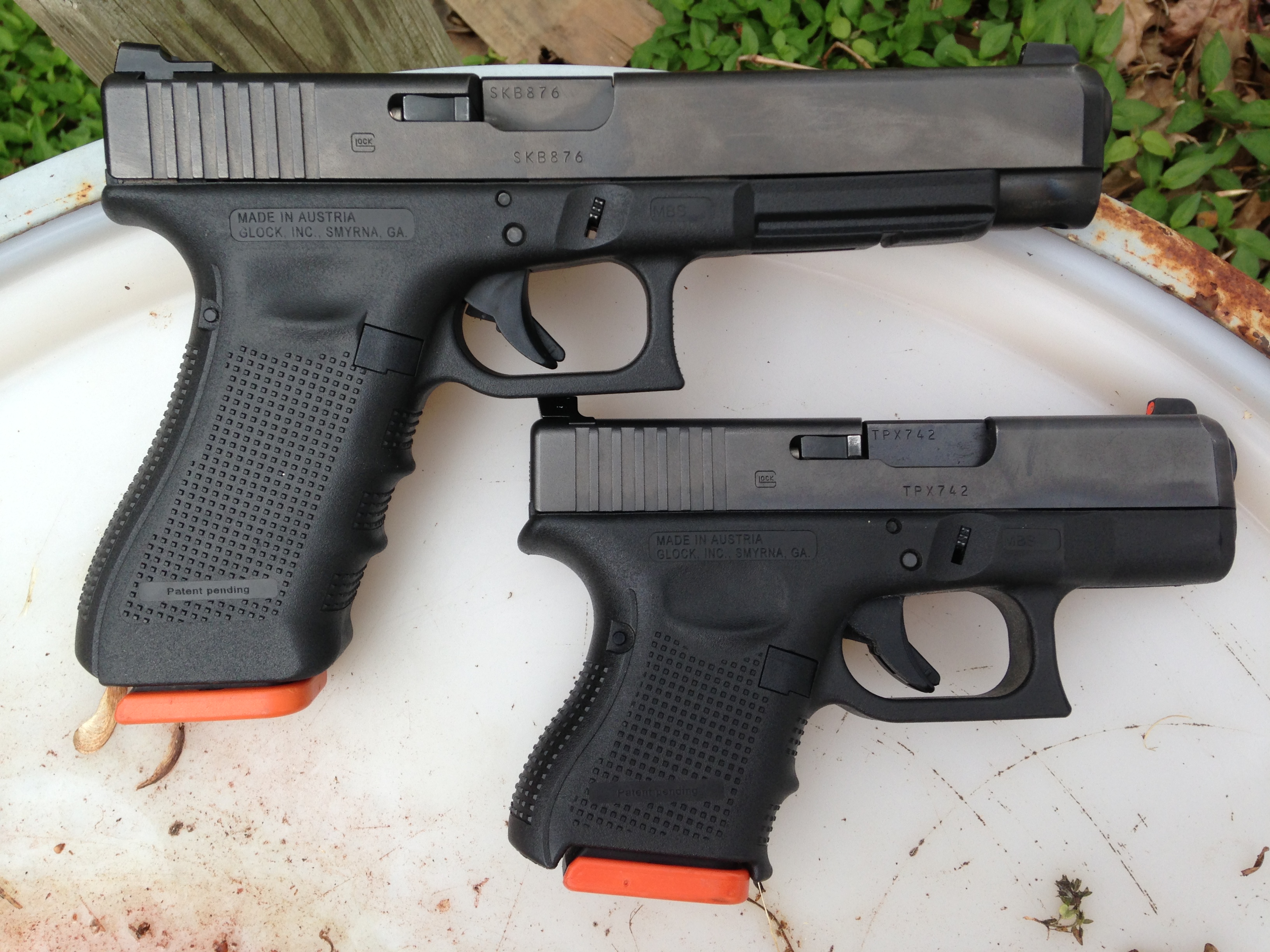 Recently, I've been shooting some drills from concealment with various pistols from the Glock 9mm family.  My thinking over the years on a defensive pistol is that it should be one that fits a couple of simple criteria: a pistol that is reliable, and one that you'll carry every day.  For some, a Ruger LCP fits the bill.  A Ruger in the pocket always beats a custom M1911 in the car when it comes down to needing it now. However, I've always advocated carrying the most gun that you can comfortably carry. Some will say there is an "average" gun fight (IE 1-3 feet, 1-3 Seconds, 1-3 rounds fired).  I feel that there is no such thing as "average" and if I can perform these tasks at 25 yards at speed, the close in stuff is a chip shot.  However, merely banging away at contact distance doesn't equate to hitting stuff at distance if it becomes a lifesaving requirement.  But, that is a conversation for another day.
Another thought process I've had over the years is that sight radius matters.  I've preached and been preached to that once you get outside of conversational distance, sight radius matters in all types of shooting, and that defensive shooting was no different.  Due to this preconception, I've always chosen to carry a Glock 17 or SIG P226 off duty.  My thought process was that the extra sight radius would help me, and that of course, they are much easier to shoot and reload.  Why else would we choose them as our primary duty pistols if not?  I think the combination of the thought process was clouding this core belief.
Recently, I have been shooting some canned drills from concealment.  Some have been shot static, some have been shot after doing Burpees.  What I have found is that of course the Glock 34, 17, and 19 are easy to shoot out to 25 yards.  But, the accuracy doesn't change with the Glock 26 and it is only marginally slower.
The drills shot were Bill Drills and Failure Drills from seven, fifteen and twenty five yards.  When burpees were introduced, I would do five Burpees, immediately stand, and hit the button on the timer.  My concealment garment was a polo shirt untucked, and the holster was a Sparks VM2 at 3:00.  The target was a standard IDPA, and the goal was to keep everything in the down zero and head.
All of this has made me rethink the whole "sight radius matters" mantra as it applies to defensive pistols..  I think that it comes down to good training, aggressively driving the sights, and good trigger control under stress.