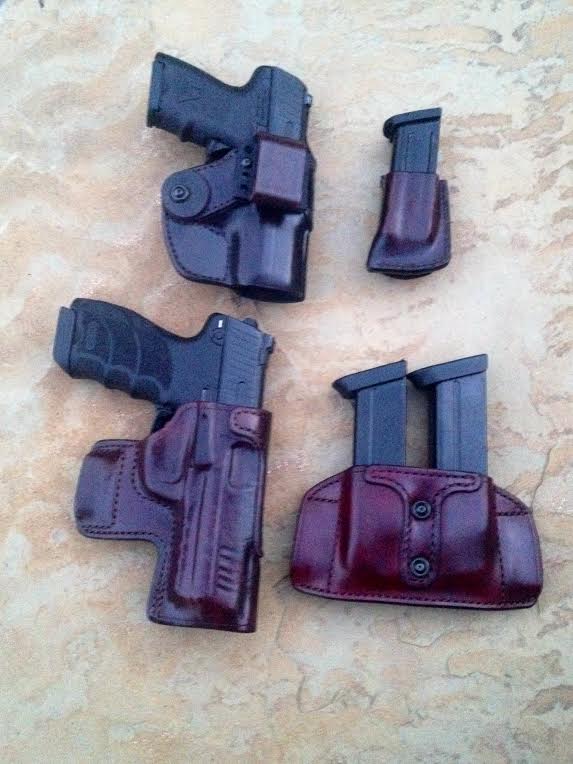 Recently I have been using several holsters and magazine pouches from JRC Holsters.  As much as I am a big user of kydex and synthetic holsters for service and duty use, I am a huge leather snob and prefer leather for concealed carry.  I began seeing some of the holsters on an online pistol forum and I was intrigued enough to call and talk to the owner.  It turns out that I had actually known the owner, Jim Ryan, from the days when he was part of a well know suppressor and class 3 company.  I used to talk to Jim at the Soldier of Fortune Conventions "back in the day".
Jim pretty much disappeared from that side of the industry and recently combined his long experience in the use and carry of firearms with his own love of leather holsters to build some exceptional holsters.  Using predominantly horsehide with a "secret" hardening process for the leather, Jim builds some very tough and efficient rigs.  Being he lives in rural Idaho, I am a little worried about what is in the secret hardening process.  I am sure it's a liquid from some animal that I don't want to know about.  What I do know, is that all the handwork, boning, molding and beeswax burnishing is all done by Jim one holster at a time.
The beauty of JRC Holsters is that the owner is passionate about getting things right.  My first JRC holster was an AIWB rig for an HK45.  I bought the holster on the secondary market and found it worked really well for that type of carry for such a large pistol.  Jim has improved the design based on end user input.  I like the older design for my "Shrek like" build. I picked up one of the older designs for my HK P2000SK deep concealment pistol as well (a majority of people who carry AIWB much prefer the newer design).  I liked his work enough that I called Jim and requested some specific modifications to his magazine pouch as a companion to the HK45 AIWB-CDA holster.  It came out perfect and is one of the most concealable and comfortable double magazine pouches I have ever used.  I am easily able to wear this rig under a polo shirt.  It is very concealable with a very big pistol and magazines.  I was so happy with the initial rig that I requested an Outside the Waistband Holster as well.  I have always liked the Nelson #1/Avenger style holsters and requested Jim to build me one with a 5-degree muzzle forward cant.  I felt that the way Jim does his belt tunnels would be a great match to enhance this style of holster.  When it first arrived I was a little taken back by how square it was under the trigger guard.  It looked "weird"…and then I put it on.  Jim is a genius.  The way it sits over my pocket (I carry at 2:30-3:00), my folding knife is easily accessed from under the holster and it works great by dumping the excess leather.  It was a very smart modification and shows Jim's ability to mix tradition with pure function.  I wore this rig on a very long drive to Tom Given's Tactical conference in Memphis this year, and it was great for being in the car all day.  The level of retention is just about perfect with a good balance of speed and retention properties.  Recently I asked Jim to build a small magazine pouch for the little 10 round magazines for the P2000SK.  Again, it came out perfect.  Easy on and off with the snap and it is no bigger than it needs to be.
While Jim does all sorts of exotic trims and colors, one thing I like about the horsehide cordovan is it sort of changes colors with various highlights.  It makes the holsters look almost antique and gives them years of character in a very short time.  It is kind of cool to give my polymer service pistols a little bit of soul.   My next rig will be a Wildebeest or Alligator trimmed holster for a 1911 project that is at MARS Armaments right now.
Jim is currently running a couple of months on standard holsters right now (customs and exotics take longer).  I expect that to change as more of his leather gets out there.
Link: www.jrcholsters.com