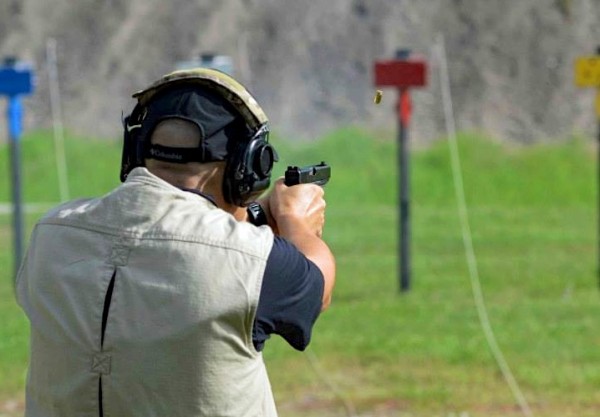 Shooter ready?  Stand by…"beep!"  And they're off…Bam, bam, run, bam, bam.  Crash..burn..oh crap.
What happened?  4 misses, 2 no shoots..but a smoking time.  So what?  Yeah, you were fast, but what did you hit?  But I was fast…Heard that scenario many times at matches.  But what about this one?
"Today in NYC, three bystanders were shot by police as they attempted to take down a murder suspect in front of the Empire State Building (true story)."  I don't want to get into specifics on the brave LEOs facing an armed killer, since 20/20 hindsight is always easier than being there.   However, a lot can be learned from these kinds of events.
WARNING:  The following is based on my opinion and like your opinion, we all got one.  I ask you to check your ____ and continue to read.  YMMV…
So, I've been asked as a LEO trainer, "how come those cops miss that guy when he was 10 feet away?"  "If it was me, one shot one (you know the rest..)"  The interwebs are filled with keyboard commandos second guessing and passing judgement on police when they themselves have not walked in those shoes.
But we still wonder why this happens.  I have an idea.  Sights and triggers.
Sights and triggers are part of the shooting process and they play a significant role. 95% of the missed shots are a trigger problem NOT a sight problem.  I am positive that each and every one of you know how to line up your front and rear sights.  Bravo.  But "how come my shots all go to the left…?"  This is a common problem, and the answer is simple.
According to USPSA Grand Master and author/instructor Steve Anderson, Refinement and Repetition, shooting comes down to two things:
1) Have an acceptable sight picture.
2) Shoot the gun without causing the sight picture to become unacceptable.
Can shooting really be that simple?  The answer is yes.  So what happened in NYC?  My guess is they never had number 1.  Also, if they did have a sight picture, the gun fired and their sight picture became unacceptable (trigger).  Seriously, watch some of the traffic stop gone bad videos online and you'll see the same thing.
"You won't see your sights in a gunfight…"  I hear that a lot as well.  I'm going out on a limb but I think the people who didn't see their sights during their shooting, had never trained to use their sights anyway.
In my position, I'm lucky and honored to speak with officers who've been in gunfights and I get to train with some of elite instructors who've worked defending our country over seas.  They all say the same thing.  "I saw my sights every time…"
There was an incident in Jacksonville a couple of years ago where an officer found himself in a gunfight after he was shot several times.  The suspect was ten yards away and coming in to finish off the officer.  The officer (one handed) was able to land 7 hits out of 14 on the bad guy, and stopped him cold.  The officer said he knew he hit the bad guy because he saw his front sight lift on his acceptable sight pictures.  Remember, when people get shot, they will most likely do what they were doing before they got shot (contrary to any Hollywood show).  You won't see your hits on the bad guy.  What can you see?  Your sights.  Oh, and the officer also competed.  Good job.
The same nay sayers also expound "..it's impossible to see your sights when you're shooting so fast."  Really?  Have you tried it?  You'd be surprised how much you can see when you decide to look.  And here it comes…
A great way to learn to see your sights at speed is competition.  Aha…I threw it in there.  Yes my friends, shooting competition will put you under the test of getting different sight pictures, shooting fast and shooting on the move.  All of which require acceptable sight pictures that need trigger pulls that don't make the sight unacceptable.
Where else are you going to learn and practice that?  At the indoor range, lane 5?  Most ranges won't let you shoot more than a round a second?  How can you do a Bill Drill (6 shots from the draw at 7 yards) at that speed?  Good shooters are shooting at .2 second splits.
Sights and triggers while different are symbiotic.  You jerk that trigger and your happy front sight will dive out of the way.
Before I shot competitively, I came from a learning curve that was mostly academy training followed by "tactical" coursework.  They all taught me the same thing.  The "pull and pin" trigger squeeze.  After you pull the trigger, you pin it to the rear as the handgun cycles then slowly let it out until it resets (the loud click on a Glock).  You are then ready to shoot as all the pre-travel is out of the trigger.
I have two problems with this.   First of all, it's slow.  Second, it's a technique that won't serve you under stress.
At a match when I first ventured out onto the green, I shot a stage and placed pretty low.  A fine gentleman came up to me and stated the obvious.."you're shooting too slow".  Thank you, I said to my friend.  He continued.  "I can hear the click on your Glock.  You're wasting time holding it to the rear".  Okay, I'll bite.  How should I do it?  "You need to prep the trigger, not pin it."
What is prepping the trigger?  When the gun is recoiling, the trigger will put itself back into a reset position on it's own.  By slightly moving my finger off the trigger, the trigger will reset and then I'll have a little pre-travel before the next shot.  Essentially, it eliminates the step of me pinning the trigger and letting it go forward.  This equates to a faster shot AND it's more in control since I can adjust my sights if they became unacceptable.  Pretty cool.
Not to mention that under stress, you won't be "pinning" anyway.  What we see is mostly slapping (which is a topic for another day…)
So now I have a faster and potentially accurate trigger system that will work with my sight viewing at speed.
Sights and triggers.
And how did I get there?  Shooting competition.
Be safe.
Next up:  Stage planning/Visualization.