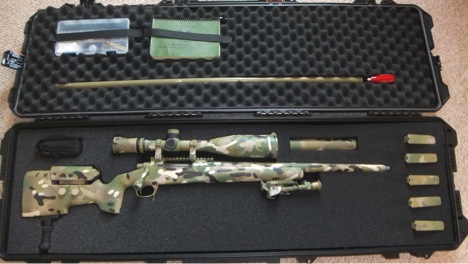 Paint.
It wasn't all that long ago that if you wanted your rifle colored to break up the distinctly black outline of Gene Stoner's creation, you grabbed a can of Krylon, and did it yourself. Of course, some painful lessons were learned along the way about which parts should not be painted, and how best to keep paint off of those parts. Thanks to the internet, and communities of "gun guys" popping up all over it, some were able to avoid the early pitfalls, and come through the Kryloning of a high dollar investment without many vulgarities escaping our lips.
Krylon is still my "go to" method of breaking up that evil black rifle outline, and I have even had some success in my attempts at various types of "digicam". Some success. Not all turned out as I had hoped. Some were flat out disasters. Then came the desire to have certain types of rifles colored beyond my capabilities (or desire to learn).
We have become immersed in DuraCoat, Cerakote, AlumaHyde, and countless other spray on, bake on, paint on coloring methods for our guns. At first, I was of the opinion that Krylon did everything I needed it to do. And for the most part it does. But what it doesn't do, is provide an extra layer of protection for guns in hard use, in harsh environments. Most of the DuraCoats/CeraCoats do just that. And when applied properly, by someone who knows how to properly prepare the gun, and properly apply the medium, it turns out well.
Much better than even my best Krylon job anyway.
When I went looking for specialists in this arena, I found several. Many of whom have been to coloring school, usually provided for a not insignificant fee, hosted by the coloring manufacturer. Honestly, it probably really only takes a solid understanding of the coloring choice, weapons, an airbrush, and some artistic ability (which I lack all the way around). Combined with a metric ton of patience (which I also lack), a trained painter can turn a blah blah ho hum black rifle (or any weapon) into a functional work of art.
Most certainly it is far and above more expensive than Krylon, of which I am still a huge fan, but there are just some guns that deserve more than Krylon and my meager artistic abilities can deliver.
The first rifle I felt deserving of a proper camo paint job was a .300 Win Mag precision rifle that was hand built by me, to my specs, using the absolute best parts, and under the close supervision of a master machinist and mechanical engineer, turned out to be simply perfect. I didn't want to ruin perfection with Krylon. (Ok, I did ruin it with Krlyon). So I turned to GOE Gunworks in AZ, and told Mark (the artist) exactly what I wanted. Three weeks later, rifle, suppressor, scope, and magazines returned in a color pattern and with a quality of application this rifle deserved.
I was so impressed with the work, that I commissioned two additional guns for his work, even though they didn't necessarily need it for all intents and purposes. Both returned in short order, with results even better than I had anticipated, even though I knew what he was capable of.
No, it's not cheap. But neither was the hand built long range rifle. I still use Krylon on most projects, but every once in a while, there is a project that deserves more than Krylon, and deserves more than my gorilla grip rattle can paint job.
Maybe Krylon is all you need. But if it's not, take a look at the many talented painters out there who are properly trained in the application of whichever brand they happen to use. If you are putting your guns through the environmental wringer, you will find yourself much, much happier when your gear is drying, and the rust on your "go to" gun is non-existent.
Links: http://www.goegunworks.com