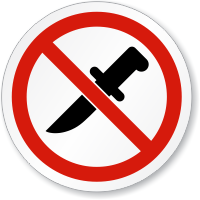 I used to cut out magazine articles and advertisements from in flight magazines with a large pocket knife in full view of other passengers and the airliner's crew.  That was decades ago.  Pocket knives are no longer considered a gentleman's tool; they are weapons subject to detailed criminal laws.
Ask someone who regularly carries a handgun about their home state's law on open or concealed carry, about the law of a neighboring state, or the law in states where they travel regularly.  They likely know the law fairly well.  Now, ask them about the folding knife hiding behind their exposed pocket clip.  It is likely they either do not know their state's law on knifes, or if they know something, it is incorrect or incomplete.  LEOs believe (mostly incorrectly) that some Federal or state law exempts them from limitations applicable to ordinary citizens.
Knife laws vary state to state, and can be more complicated than one might suspect. Federal law on domestic or imported automatic-opening (commonly referred to as "switchblade") knives?  Less likely to be known correctly.   How about fixed knives carried on the belt in a sheath?  Carrying a knife on an Indian reservation?  On Federal land other than the District of Columbia? Blades concealed in belt buckle or otherwise disguised?  Carry based on a concealed weapon/firearm permit/license? In a reciprocity state? When in interstate travel?
So, how to find out what is legal and what isn't?  Internet resources include knife forums; knife legal rights activist organization; the American Knife & Tool Institute.  State statutes and appellate cases referenced by these sites can usually be found online; so can discussion in lawyers' blogs.  The applicable laws are way too varied and complex for discussion here.  Generally what you need to analyze is blade type and size, carry mode, opening and closing mechanism.  Learn knife guy lingo.  Definition is everything.  Don't forget that your AR-15 or other multi-tool may have a blade which may not be considered an ordinary pocket knife.  Note that a law on firearms is not generally applicable to knives, and one on "weapons" may or may not include knives.
My advice:  Determine applicable federal, state, county/city laws, and comply.  LEOs who carry any sort of exotic duty knife in uniform or plain clothes should check their state laws on knives and weapons for a sworn LEO exception.   If there is one, it may limit carrying to when in the performance of official duties.  There are countless knives (that will do your daily chores) that are legal in many, maybe all states.  Measure carefully, as prescribed by state law, and when in doubt, shorter is better. Understand your state's particular terminology; a knife described as one type by the manufacturer may actually be considered another type under the law.  Don't flash a clip, it may subject you to a police pat-down and detention in some states.  Don't display world-class, lightning fast opening skill.
Don't nonchalantly assume anything, lest you end up like I did once.  Far from home (inside the Parliament of Great Britain) with a mildly unusual pocket knife (Spyderco Terzuola lockback, with partially serrated blade, discontinued, pictured below).  Illegal for several reasons.   Who would have thought, after flying across the Atlantic with the knife in my pocket, to a country where swords and really nasty Jack The Ripper knives were sold? Lucky for me the police guard supervisor knew all about the knife, including how to close it, and relished a chance to play with it:

Clink avoided . . . as a professional courtesy, and due to a lack of interest in my other knife, a larger Applegate Fairbairn.