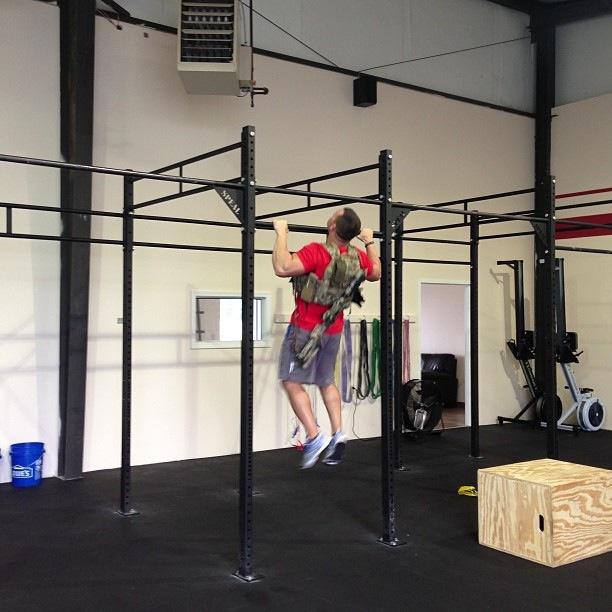 I'm not sure when that it happened.  When I was in my 20's, I thought people in their 30's were "Middle Aged".  When I was in my 30's, I thought people in their 40's were "Middle Aged".  Now that I am in my mid-40's, I'm not sure who to blame now.
I've spent my entire career, and life, looking to running for physical fitness.  In my 20's, and 30's, I had many 40 or 50 mile weeks.  I kept me in pretty good shape, kept the gut off, and provided me with the mental-health-alone-me-time to solve all the worlds problems.  I often heard people say "I hate running, I'm not running unless someone is chasing me".  That wasn't the case for me.  Until the FIRST knee surgery.  I didn't rehab really well.  I surely didn't change my eating habits.  That resulted in weight gain, and a loss of overall fitness.
About a year and a half or so ago, I started doing Crossfit with a coworker.  Well, if you can call it that.  I was doing a Crossfit style workout or two each week.  When I did my research on Crossfit, I was met with a lot of guys who said that Crossfit was a fools gold, that the high repetition would do nothing but cause injury.  And I could see that with my experience with running.  I could also see it by looking at the Crossfit website.  Some of the weights on the daily WODs were ridiculous for me to try to pull.  So, I ate right and did a mix of running, running on the elliptical, and weights.
And then I knuckled under and joined a Crossfit box.  (A box is the term for a small garage type gym that Crossfit seems to thrive in).  I submitted (and somewhat humiliated myself) to taking the on-ramp classes and they were met with much success and ego checks.  I learned a lot about the movements in the different lifts, as well as how to scale my workouts to make the most for me.  I learned that the Crossfit website WODs are structured for the elite of Crossfit, and the rest of us mere mortals need to scale it.  Yeah, and I learned humility.  It was the second or third day we did a little WOD that seemed simple on the white board, and I got my behind smoked by a 24 year old girl.  She finished the WOD almost a full two minutes ahead of me.  But, the big thing I learned was that Crossfit Boxes are a great support network.  The population of any given Box seems to be genuinely sincere in assisting, supporting, and fellowshipping with the other occupants.
Is Crossfit the perfect workout?  Nope.  Is it for everyone?  Nope.  Can people with health issues participate?  Absolutely.  Any workout can be scaled around bad knees, or shoulder problems, or other issues.  It is about goal setting.  My goals are simple.  To work a little harder to remain stronger and faster than the younger guys at work.  And I have observed good results from Crossfit.  I also have set the goal to run a sub-45 minute "Murph" in armor next Memorial Day.
There is a difference between doing Crossfit, and joining a Crossfit Box.  Joining the box was worth every penny to me.  Fitness needs to be functional.  Moderation is the key.