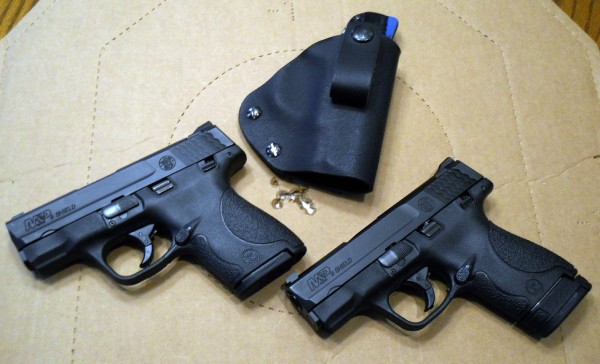 We recently acquired two 9mm M&P Shields for carry/backup and as student loaner guns. (For when a student shows up at class with what a Gunshop Commando told them they needed, rather than what is the best gun for them.)
These were my first foray into the world of the M&P and so far I'm impressed. While I've seen M&P's in class and competition and shot a few rounds through them, I had not owned/carried one until now.
The pistols come with flush fit 7 round and extended 8 round magazines. The extended magazine actually extends the grip in a useable manner, rather than the pinky hook found on the front of many magazines.
While larger that some other pocket pistols, I have found they work very well in a pocket holster or an ankle holster. I've also carried AIWB with the holster in the photo.
So far each pistol has shot 100 rounds in testing and proved completely reliable. While certainly not a complete break in, it is encouraging. The group in the photo was 15 rounds at 7 yards.
More testing and student evaluations to follow.