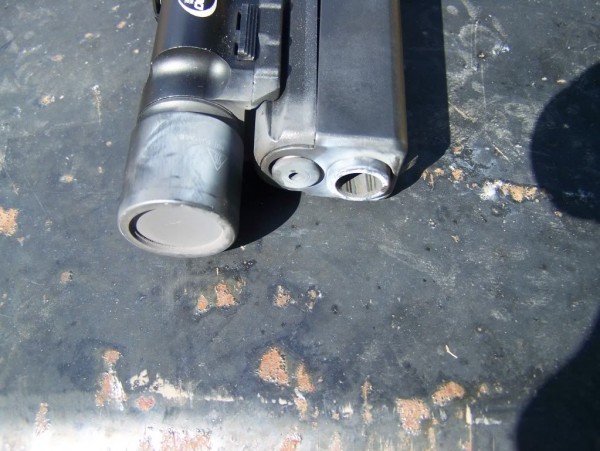 Cleaning handguns after heavy training can be tedious. Cleaning a weapon mounted light can be even worse.  The above pistol had nearly 3,000 rounds through it in a foolish stunt to see if we could make it break.  The gun got so hot at times that I had to rack the slide on my holster during reloads because I could not touch it with Oakley gloves on.  I do not advocate abusing a modern service weapon in the way we did above at any time.  But, sometimes during product development it is necessary.
But, it got me to thinking when I was cleaning it up.  I could simply detail strip the pistol and throw it in the ultra sonic cleaner.  Cleaning the light presented certain challenges.  I tried a few different things.  I dipped the bezel in the ultra sonic.  I used different cleaners on it, careful to select the ones that wouldn't damage the glass.  Finally I got it clean but it took some work.  I also ruined the reflector on a TLR-1 in my wisdom of removing the bezel and putting it in the ultra sonic.  (I have a very cool bronze colored reflector now if anyone finds the need for one.)
The above photo seems to be a better solution during heavy training during the daytime when use of the light isn't required.  You simply wrap a little range tape around the bezel of the light.  It gives you the same presentation and weight of the light without the clean up.  The tape protects the lens, comes off easy, and works with every holster I have tried.
The tape solution is cheap and easy.  Give it a try the next time you head to the range with a pistol and mounted light!