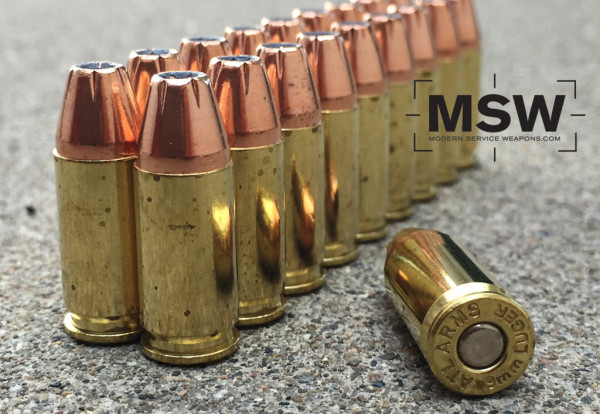 One of the results of the fabled and oft studied Miami Shootout of 1986, where two FBI Agents lost their lives when attempting to take down two violent felons, was the conclusion that the 9mm round used by agents at the time failed to adequately perform its job to incapacitate its target. As a result, the .40 caliber round rose from the aftermath and eventually worked its way into law enforcement agencies across the nation, with the notion that it had the "capacity of a 9mm, and the stopping power of a 45." But this alleged increase in terminal performance did not come for free. Over the years, the louder report and snappier recoil made it hard for many trainees and officers alike to qualify, the ammunition costs more (than 9mm), and there is increased wear on the pistol (as well as the hands and elbows of the shooter.)
Fast forward to 2014, and the same agency that shunned the 9mm two decades ago issued a solicitation for a family of 9mm pistols for its agents. This is not surprising, as I have always found the 40 caliber to have a very snappy recoil that was more fatiguing to shoot for extended periods of time than even a 45 caliber pistol. I found that 40 caliber pistols were more accurately characterized as "the stopping power of a 9mm with the recoil of a 45." I say that in jest, but what I have learned is that with decades of advancement in ballistic technology, high performance handgun rounds in any major service pistol caliber have performed adequately in testing and the field, given the limitations of handgun calibers as a whole.The purpose of this piece is not to devolve into another 9mm vs 45 debate, as both calibers have merits. The point is that 9mm, when a proper defensive load is selected, is a solid performer that makes sense for police agencies and individual shooters. While ammunition prices have increased across the board, but 9mm remains the most economical cartridge of the big three. The decreased recoil means the shooter can shoot more often and longer with less fatigue and reduced risk of long term injury from wear and tear (such as tendinitis in the wrists and elbows.) Split times are generally reduced in 9mm thanks to reduced muzzle flip and recoil, and all things being equal, the shooter has less anticipation from recoil simply because there is less of it.
Police departments have recognized that 9mm is easier to shoot, since many agencies that mandate 40 caliber or 45 ACP will allow officers that have trouble with qualifications to switch to the 9mm in order to meet accuracy standards.
It is interesting to note that the rise of the 40 caliber among police agencies was also linked to the 1994 Crime Bill signed into law by then-President Biill Clinton. By the stroke of his pen, he turned a 15-round Glock 17 magazine (sorry, I meant 17-round magazine here that a kind FB reader pointed out – cranking out an article in the middle of the night means unintended typos/errors) into a $100-175 commodity on the open market, since all magazines manufactured after that magic date in 1994 were stamped and no longer legal for civilian ownership. Magazines owned prior to that date were still legal to be bought and sold. Firearms dealers and manufacturers recognized this, and realized police agencies were sitting on a gold mine of magazines. So they offered police departments a straight trade: brand new pistols chambered for the better 40 caliber cartridge with magazines in exchange for those tired 9mm pistols and their magazines. What a great deal for the police department, and an even better deal for the dealer.
Now that the sun has set for the Crime Bill for over a decade, this is no longer an issue and many departments are still using the same 40 caliber pistols since they are already in the system.
Regardless of why the 40 caliber has had such a meteoric rise, the fact remains that the best ballistic testing we have indicates that with modern high performance defensive ammunition, they all perform about the same. Are there differences? Sure, but they are minor. Skill at arms is a much more significant determining factor than ammunition or even pistol selection. Keeping that in perspective, I select my caliber based on terminal performance, capacity, cost, and my own ability to perform. So bust out that shot timer, hit the range, and choose accordingly.