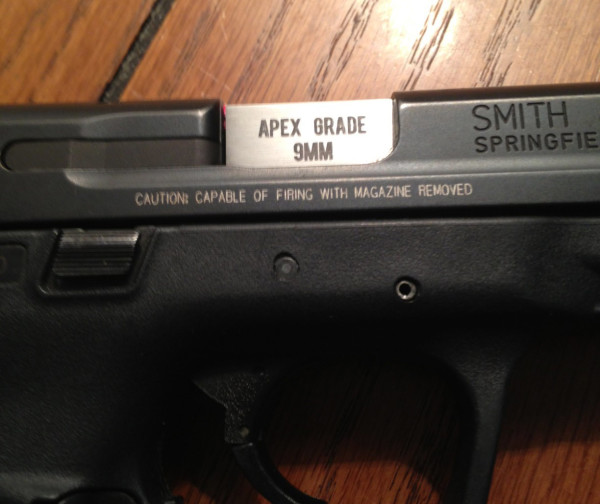 Several weeks ago, Apex Tactical owner Randy Lee and I were talking on the phone and our discussion turned to new products  coming down the line from Apex.  One of the major items of interest to me was the "Apex Grade" 9mm barrel for the Smith and Wesson M&P. My association with Randy goes back a bunch of years.  I still have the early 2006 M&P that we used for the prototyping of the original Apex Hard Sear that started it all. Well, he prototyped, and I was the ape that attempted to break it.  As the conversation evolved, some hints might have been dropped, and a semi-drop in barrel arrived at my door about three weeks ago.
The old gun that had been used for prototyping has an unknown round count, that is fairly high.  Plus a million dry fires.  I've been shooting another brand mostly of late, so the gun was put away in the safe.  .
Let me preface this with the history of the accuracy issues regarding the S&W M&P, particularly in the 9mm full sized variants.  When this gun was in good form, the accuracy was outstanding.  It was pretty much as 2.5 inch gun at 25 yards with good ammo.  With handloads, I could squeak it  down a bit more on some days.  Other 9mm M&Ps I have owned I can't say the same for.  I bought one 9mm M&P and owned it for five days.  With handloads, it was a six inch gun at 25 yards at best.  It was returned to the same gun shop I purchased it from.  I purchased another late model gun, and it was only a bit better.  I sold off all of my M&P stock and moved on.  Now, that was my personal experience.  I know several other guys that are great technical shooters that had the same issues.  Some had moderate success with other manufacturers after market barrels.  Some guys got guns that ran pretty good.  It was, shall I say, hit and miss.
Upon the initial inspection, the craftsmanship is on par or above some of the gold standards in the barrel world. The barrel crown was very well done. The instructions were really easy to follow for the installation of the semi-drop in for even the slower kids like me in the class of gunsmithing.
The first shots fired came on New Years Day.  I have yet to bench the gun at 25 yards, but have not done so on purpose.  Most of the ammo fired was Federal American Eagle 124 grain training ammo, and the bulk of my shooting has been off hand at 15 and 25 yards.  I like to try to judge a pistol off hand before I bench it for accuracy.  The results were even better than when the gun was new.  I shot several three round groups in the three inch range at 25. A few were way better than that.  Another thing I noticed is that recoil seemed a bit softer.  Even during rapid strings the gun tracked very predictably shot to shot.  I don't know if it was just perception being what it is, or if the gun actually shoots a bit softer.
In the coming weeks, I plan to bench the gun and see what it will do with factory and hand loads.  I feel fairly confident from the first shots that Apex has themselves another huge winner.
SOURCE: Apex Tactical