Last month, we trekked out to the last frontier known as the State of Alaska, to do a 1911 Advanced Armorer's Course to the fine folks at Anchorage PD. I enlisted the help of Colt 1911/M16 Armorer Instructor Dean Caputo to help me out with getting some of the guns to run correctly. I was pleasantly surprised to discover that though the agency authorizes the carry of 1911s to folks who meet their requirements, the vast majority of the SWAT guys in our class chose to carry something a bit more modern and forgiving of the extreme elements in which these guys work.
As usual, the class began with an overview of the 1911 pistol, its variants, and basics on how to detail strip the pistol to its component parts and put it all back together. Since we had different makes throughout the 24 student class, the varied approaches different manufacturers use to build the guns (e.g. different FP block devices, built in locking devices, etc.,) required many students to modify their approach from what John Browning originally had in his mind.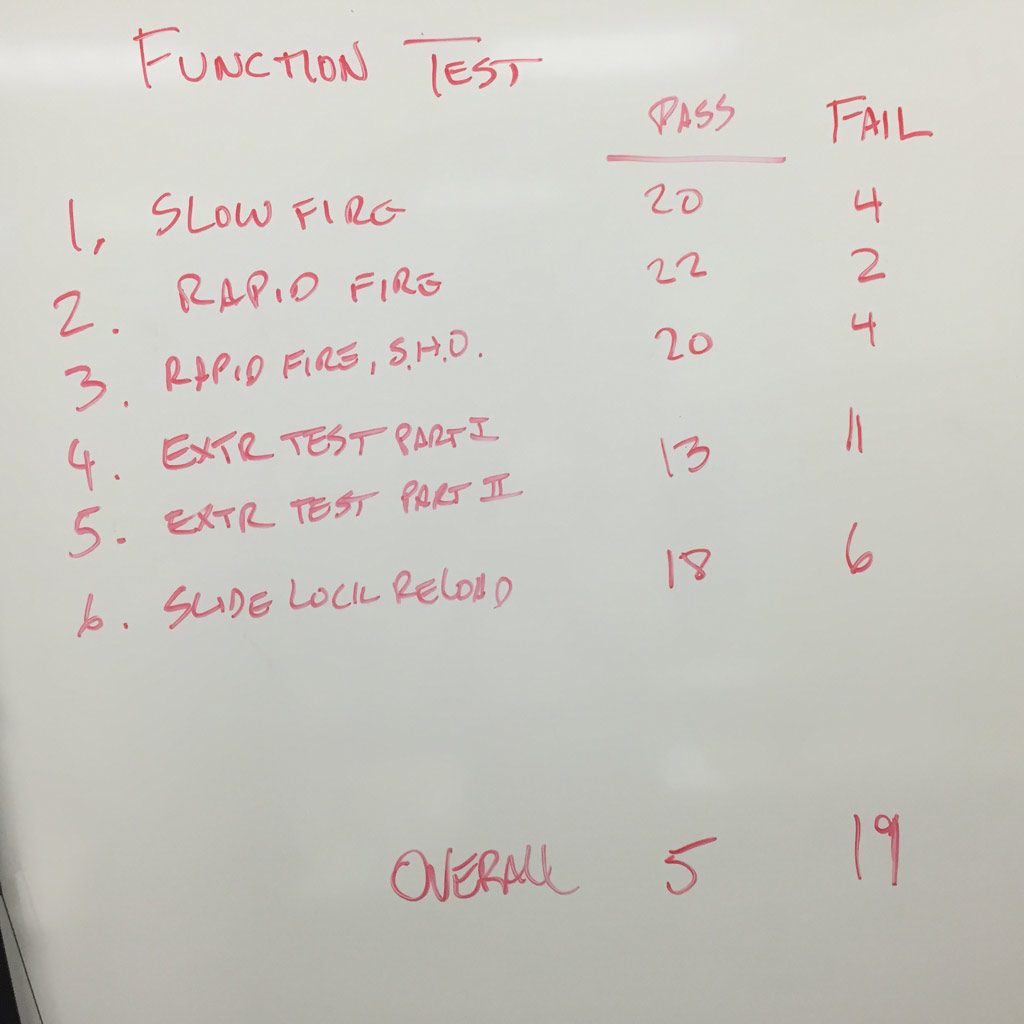 One of the real nuggets we offer in our classes is the 1911 Reliability Protocol, which includes the 1911 Extractor Test (click the link for more information.) The protocol was designed to give end users a way to evaluate all of the critical functions of the pistol without requiring hundreds of rounds fired (which people won't do.) We don't give the full details here as the test on its own wouldn't mean anything outside the context of the class (and is beyond the scope of this article), but don't fret, I am working on getting it out there for the public to see. You can probably infer at least part of the test from the photo above.
Of the 24 1911 pistols (of various makes and models) in class, only five of them passed. Now that doesn't mean that 19 of them would have immediately malfunctioned in a gunfight, causing the demise of the person carrying it, but it does mean that something in the pistol was not right. Maybe the slide didn't lock back on empty mags, or it didn't feed reliably from slide lock, or didn't like to feed/chamber when shooting strong hand only.
Luckily, with Dean's help along with the trusty cordless Dremel, we got all of them working. The class went 8 hours each day, with very short bathroom and lunch breaks, and many folks stayed afterward to work on their pistols or ask questions. I look back to my Glock Armorer's Course, which was 20 minutes of material crammed into 8-hours. Yes, we left early.