Yes, there is another great alternative in appendix holsters. In my quest to find a great appendix holster, I've search and tried pretty much all that's is out there..until a friend recommended to me a new holster from a Philly area company called PHLster (pretty catchy).
I tried two of their holsters for my Glock 19.  One, full size named the Access and the other, more minimalist called the Skeleton.  Both are inside the waistband and designed for appendix draw.
I'll start with the more minimalist Skeleton.  I was very happy when I opened the package and saw my thoughts realized in a holster without me talking with the designer.  On my last holster review (The Q-Series) I liked the fact you could carry with basically a trigger guard cover and some belt retention device (clip or strap).  The benefit of the Q-Series was the ability to re-holster the firearm.  Of all the choices (at that time) I couldn't find anything as good…until now.
The Skeleton is a minimal holster with some extras.  It not only covers the trigger guard, it also has some kydex wrapping around the slide.  Note:  The channel is deep enough to allow for most aftermarket sights.
It has a nice wide leather band with snap that can fit most belts.  What is really nice is the ability to re-holster.  Like the Q-Series, it is small and concealable but can re-holster.  Now I like the Q-Series, but it is rather small and it takes time to line it up right.  The Skeleton is MUCH easier to re-holster.  I was able to shoot a class with it and never felt concerned when I had to get the gun back in.  However, you need to understand that a gun will get hot after shooting several hundred rounds and well…you need to take "care" with the hot slide down there
Feel and fit were as comfortable as possible with appendix carry which is "different" that takes some getting used to.  Overall, I found myself reaching for this holster more often than most of my other ones and is a contender as my favorite.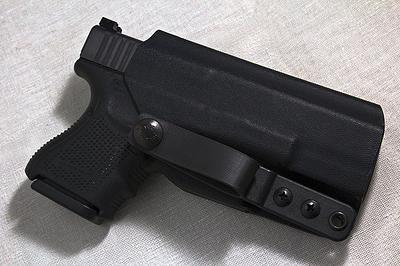 The Access is a full holster that is used in a Inside the Waistband for appendix carry.  Now, having a full size holster in the front of your pants takes a lot of real estate and depending on your build, can be difficult.  These holsters are excellent for repeated draws and re-holstering as in a class or practice.  For some they are also their EDC or duty holster.
Like the Skeleton, the Access is well built with the same type of belt strap which are high quality.  Both molds hold the gun very well and provide a distinct "click" he the gun is securely locked in.  Also the sight channel was wide enough for my carry sights.
However, for me, I found it too big.  Some of my other full size IWB holsters are more cut to the outline of the gun and fit easier in my frame.  Having a holster that is this wide made it difficult to sit comfortably.  I also was aware of the holster while moving.  On the plus size, it hid the frame almost as good as the Skeleton.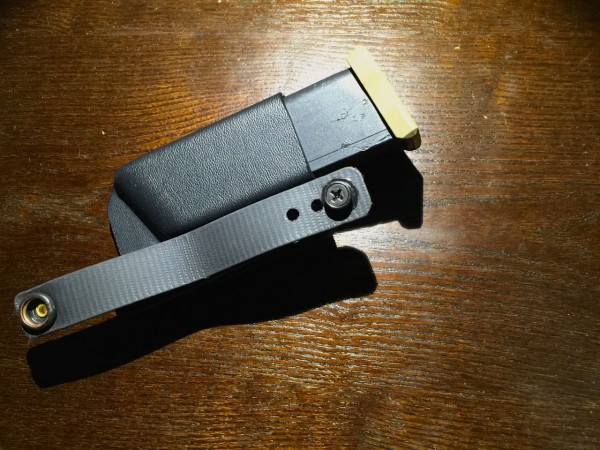 One last piece of concealment gear from PHLster, I got was an IWB Skeleton mag pouch.  Like the Skeleton holster, this is a great piece of equipment.  How many of you carry every day or off duty?  How many of you who do carry, carry a spare mag?  If you didn't raise your hand two times…shame on you.  For the first question, it's better to have a gun and not need it, than need it and not have it.  For the second question, A) you get more ammo, and B) what if your mag is bad and causes constant double feeds?  Strip the mag and then what?  You need to carry a spare mag…
The mag pouch also has a good strap and conceals well with most clothing.  I normally carry the spare in my pocket or in a slim OWB kydex pouch.  I like having the IWB as it hides better.
So there you go.  I feel my quest is over.  I've been using them for about 2 months now and don't plan to change (yet…)
Stay safe and carry your gun! (and mag..)