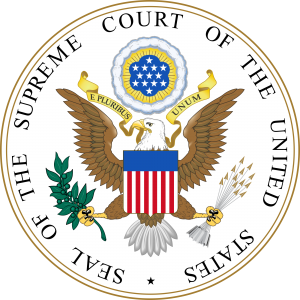 The U.S. Supreme Court is once again considering a case which could significantly impact those who own firearms, both LEO and the non-sworn.  (I previously wrote on the Abramski case, involving the ATF Form 4473 actual buyer rule, HERE and HERE). The recently submitted case, Henderson v. United States, arose in an interesting setting (equitable action for return of property under federal procedural rule), and has an unusual pedigree (the Court of Appeals decision is not officially published, and thus it is not precedential). Some have suggested Henderson reflects an irreconcilable conflict between federal statutes and a judicial rule. Others perceive it to be a forfeiture or 2nd Amendment case. I think it will not be decided as any of those. For a synopsis of the facts, and the legal issue(s) remaining after developments from the parties' briefing, see the Henderson preview page at SCOTUSblog, HERE.
Like Abramski, Henderson was once an LEO (Border Patrol agent).  He entered a guilty plea to marijuana trafficking, for which he received a six-month prison sentence. The narrow question "officially" presented to the Supreme Court was whether after federal conviction, a judge may order the government to transfer non-contraband firearms voluntarily surrendered (to the FBI) as a condition of pretrial release to: a designated person, such as one to whom the defendant has sold the firearms, or; someone (who might be influenced by the defendant) to sell them, for the benefit of the defendant. I think the Court may remand for further proceedings to implement the law/procedure it decrees. Whatever the actual holding, I hope the Court will: provide guidance from which firearms owners (whether or not criminally accused or convicted) and their attorneys can implement a plan to effect dispossession upon firearm disability, and; put to rest erroneous legal positions (FFL requirement for consignment dispossession, necessity for the government or a court to inquire of and approve dispossession arrangements) advanced by the government.
Oral argument (I found it unimpressive, unenlightening, and sometimes mildly unintelligible) was heard on February 24; the transcript is HERE. The government conceded that the Supreme Court could find the lower appellate court's rationale mostly incorrect, but should nevertheless require a legally disabled person to employ the services of an FFL to take consignment possession of firearms for sale or other disposition.  In the government's view, one legally required to be dispossessed of their firearms should not be able to select the next owner or have control over the dispossession process (especially if by sale or gift to a friend or relative, without adequate proof of the transaction's bona fides).  The Supreme Court should reject all of that as nonsense. It is not generally within the province of the courts, not the language or intent of federal statutory or common law, and is, as a practical (and maybe Constitutional) matter, burdensome.
Why did the "return" of Henderson's firearms become a case which reached the Supreme Court? And then turn into such a mess? Let's see how it could have been handled. Then, draw your own conclusions. Under federal law, a person who has been convicted in any court of a crime which is punishable by a prison term exceeding a year (usually denominated as a felony) may not "possess" (actual physical possession of, or direct physical access to) any firearm or ammunition.  [18 USC § 922(g)(1)].  Ownership and the right to sell and receive sales proceeds are not affected by that legal disability. The scope of such disability is asserted by the federal government to include a legal fiction — "constructive possession." According to the government, that is established "when a person has the power and intention to exercise dominion or control over property, either directly or through others."  Lawyers can debate whether appellate courts have accepted that premise as it is argued by the government. (Fingers crossed: "Constructive possession" is rejected in this context by the Supreme Court).
A similar legal disability applies to fugitives from justice, and to others, including persons: using or addicted to controlled substances; adjudicated mentally defective; dishonorably discharged from the Armed Forces; subject to a domestic type or stalking restraining order or injunction, or; convicted of a misdemeanor domestic violence crime. [18 USC §§ 922(g)(2), (3), (4), (6), (8), (9)].
Absent a basis for forfeiture, when an accused is acquitted, a case is dismissed by the court after trial, or an injunction premise no longer applies, firearms are returned to the owner/possessor, or one delegated by the owner to take possession of them.  [18 USC § 924(d)(1), which supports the notion one can enter into assignment/return arrangements without violating the law].
Someone formally accused of a federal crime who is released pretrial is normally and automatically, without much forethought or argument, ordered to do/not do certain things. The release statute enumerates some specific release conditions, including that the defendant "refrain from possessing a firearm."  [18 U.S.C. § 3142(c)(1)(B)(viii)]. That imposition is not mandatory; it is up to the judge whether to impose it. (The firearms disability provision does not require dispossession by an accused). Probationers may also be subjected to similar disability, without regard to the specifics of the offense of conviction.  In my experience (as an attorney practicing primarily in the federal courts for 30-plus years), in a case not involving violence or weapons, unless and until the disability is invoked as a matter of law, the judge can be convinced to leave the question/details of firearm possession/dispossession between counsel for the accused/convicted and probation officials. (If the prosecutor objects, I will argue a heavy burden to prove why the condition should be applied should fall on the government, especially if a conviction did/will not invoke the disability).  For a state case, I suspect similar pretrial release or post-conviction restrictions may be imposed by law or a judge's order after some showing.  Thus — the attorney should have the client make suitable disposition/storage arrangements and document them, before a disability provision attaches or a pretrial release condition is ordered.  The client and attorney should also be prepared to deal with the effect, if any, being accused of a crime has on the client's concealed carry permit/license.

Incidental observation: In case you are wondering what happens when a person legally barred from possessing a firearm accesses/uses one in an emergency. A common law defense of necessity may be recognized in a federal "felon in possession" prosecution.  (Attorney readers, you could begin your research with a 2012 law review article, HERE).
Lessons Learned: The phrase "praemonitus, praemunitus" applies. Translation: Forewarned is forearmed. Part of the preparation for "worst case" scenarios should include a plan for lawful possession/dispossession of your firearms in the event you suffer temporary or permanent firearms disability under federal or state law. Consider the following as food for thought: Never voluntarily surrender firearms to authorities, as that invokes procedural rules and "logistic" issues (LE agencies are loath to returns firearms to anybody; Henderson surrendered his personally owned firearms even though he was only ordered to surrender his agency firearms and credentials); have a bona fide written plan for possession/dispossession and safekeeping ready (maybe your attorney or trusted friend who will appear in court and answer a judge's questions if required), with a standby FFL as backup (also willing and able to participate in court proceedings if required).  Counsel should offer to make in-court proffers at sidebar, with documentation filed under seal, to protect the parties and their privacy interests. If for unrelated reason(s), you have or are going to execute a firearms trust to be effective on execution, or as a standby alternative, include provisions which will apply in case of temporary or permanent legal disability.  If you are to suffer legal dispossession, lawful arrangements can be made for a spouse or adult children living in the family home to take possession to your physical exclusion.  A new lockbox, keyway, combination, safe, and storage location should be implemented as appropriate, and documented. For all storage arrangements and dispositions, use a formal, legally recognized and enforceable document (for example, bill of sale, declaration of consignment/bailment/trust/gift). Inventory lists and change of possession/ownership (as applicable) should be reflected on any firearms insurance policy or other documentation. Those who take possession of unfamiliar firearms might wish to get and document the receipt of independent instruction on the operation and maintenance of each firearm acquired. A final thought:  The Gunbroker.com or other similar firearms buy/sell account of the accused/convicted should be promptly deactivated.
Of Interest:  NRA's amicus brief is HERE; Henderson's Reply Brief is HERE.
Disclaimer: No MSW post constitutes particularized legal advice, or creates an attorney-client relationship with a reader.