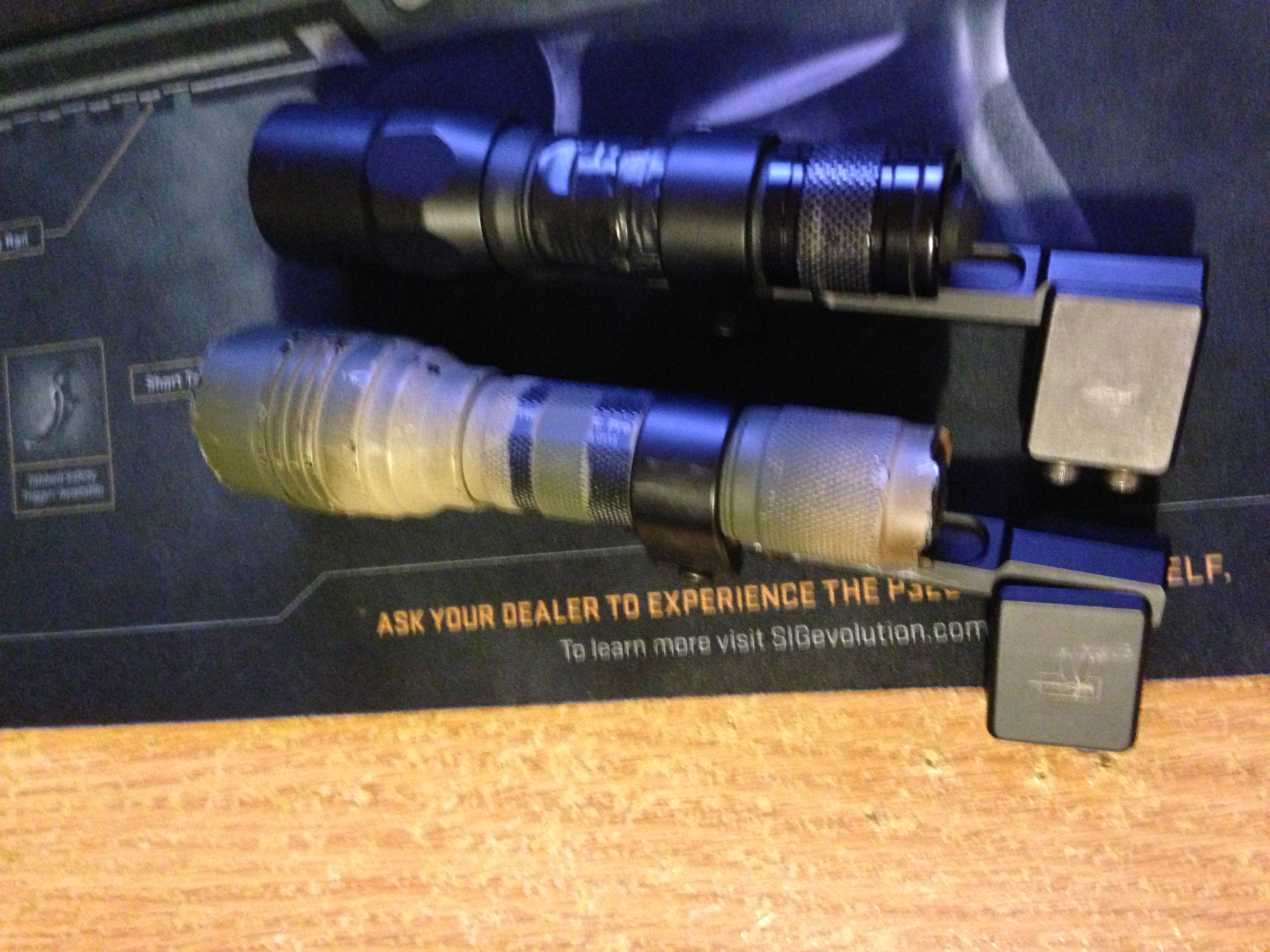 I seem to keep learning the same lesson, over and over again.  Buy once, cry once.  The lower light is a Streamlight 600 lumen.  I picked it up at a bargain of $50.  I liked it a lot, and at the time my Surefire's were all 200 lumen.  After a little bit of T&E, I mounted it on my issued HK416D.  I trained and used it at work for about a year without issue.
A few weeks ago, we were called to serve a warrant for a .gov agency on an out of state suspect wanted for really bad things.  Due to the layout of the house, we decided to surround it, and have the negotiators call them and ask them to come out.  The outside temp was around 10 degrees, so during the prep time, I changed out all of my batteries on lights and comms.  I tested everything and it was light and bright.
Long story short, we went to the scene and it took approximately 15-20 minutes for the negotiators to make contact, and then for the suspects to come outside and be taken into custody.  Once secure, we had a search warrant to execute, so we began a slow and deliberate approach on the house.  A set of rickity stairs led to the apartment.  I got to the top of the stairs, began to pie off the door, and actuated my light.  (Note- the light had been in the cold for about 25 minutes at that point).  The light was so dim it was useless.  I said some inarticulate words at that point, and transitioned to my pistol once we got into the first room.  The rest of the time, the X300 Ultra on my pistol worked great, and it was uneventful.  We turned the scene over to detectives and went back to the building we staged out.  I showed a couple of the guys how dim the light was, and swore I'd order a Scout Light as soon as I got home.  After our debrief, I picked the rifle up, and the light worked as advertised, the same that it did during gear prep.  I took the light apart later, and couldn't find a defect with it.  I also changed out the light for a Surefire when I got home.  Later, I replaced it with a Scout light.
I seem to learn the same lessons over and over again.  Most of it is an old opinion I have always had.  "Try new things so you have a first hand opinion".  These opinions seem to keep falling back to "Buy once, cry once".