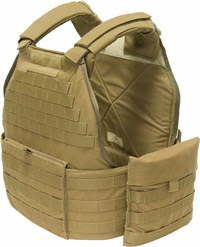 Body armor and ballistic rated panels (for use in packs, briefcases, or other off-body use) are described best by the well-known Kafkaesque adage:  It is better to have it and not need it, than to need it and not have it.  I don't mock the "tacticool" nature of body armor, and I avoid debating the SWAT or military "wannabe" aspects of owning it. (I readily acknowledge you are not alone if you do). I think armored materials are something worthy of consideration for anyone who frequents gunfighting classes, shoots regularly, or because of employment or other lifestyle particulars, has concerns of going where negligent friendlies or armed hostiles might be present.  The days of body armor being only for LEOs passed (somewhat quietly) years ago.
Executive Summary:  Let's default to my deadly force paradigm:  If you CAN afford it, and CAN do what you need to do when it is deployed (adequately conceal it, run and move effectively, maybe in confined space, and shoot, with additional bulky kit, maybe 18 pounds worth), go for it.  If you acquire it, study up on and observe the manufacturer's storage and care specs for the particular product.  Unless a specific federal, state, or local law prohibits the ownership of such products, the non-sworn MAY own/wear body armor and ballistic-rated materials.  SHOULD you buy such products?  That is for you the reader to answer, as is how/when to use it.  If you buy, buy the best-tested you can afford which is convenient to deploy, fits properly, and can be stored and maintained to suit your lifestyle. Expect some ribbing from "friends."  How about the MUST?  It is beyond question the products save lives.  Yours and/or the life of someone you "cannot live without," regardless of who is slinging shots. At the very least, overt soft armor and plate carriers provide convenient, user-friendly platforms to attach identifying patches, pouches, and other "things."  And plates do provide a good weight-bearing workout.
A brief legal refresher, to clear up any misconception brought on by recently proposed federal legislation (see link below, and note the proposed effective date for new purchases).  Body armor is legal for law-abiding (no criminal conviction or committing a crime while wearing) persons, whether or not one is an active LEO.  Federal law (18 USC § 931, part of the "James Guelff and Chris McCurley Body Armor Act of 2002") currently only prohibits the purchase, ownership, and possession of body armor, if a person has been convicted of a felony that is a "crime of violence."  [Guelff and McCurley were LEOs killed in line of duty shootings by armored criminals.  There was also concern about the heavily-armored criminal actors in the 1997 "north Hollywood bank shootout." For an explanatory statement of the Congress, go HERE].  An exception may apply if the body armor is necessary for the performance of employment related activities, as certified by the employer.  The term "body armor" means any product sold or offered for sale, in interstate or foreign commerce, as personal protective body covering intended to protect against gunfire, regardless of whether the product is to be worn alone or is sold as a complement to another product or garment.  [18 USC § 921(a)(35)]. One well-known state law which bans sale other than in-person transactions, is Connecticut (HERE).  (Please post a comment below if you know of another state or local restriction which applies to law-abiding persons).
Twenty or so years ago I went to a USPSA match in cold weather and forgot a jacket.  For several of the early morning stages, I wore a Safariland Hyper-Lite™ vest (threat Level IIIA) to keep warm.  The other shooters have likely long forgotten my silly appearance and their reaction (eyes rolling). I still have it; it has served me in other venues over the years.  I have also worn overt soft body armor at a shotgun class to diminish the pounding from a high slug count, and carried a rifle rated plate (weight about eight pounds) installed in a backpack during a high profile public event.  Rigorous, but quite bearable.  If you must go in what could be harms way, whether at work or play, armor and other ballistic materials ought to be on your shopping/wish list.  Whatever you consider, know today's products offer many choices and spectacular protection, with bearable discomfort. They are, for certain, not your father's armor.
Links:
Disclaimer: No MSW post constitutes particularized legal advice, or creates an attorney-client relationship with a reader.