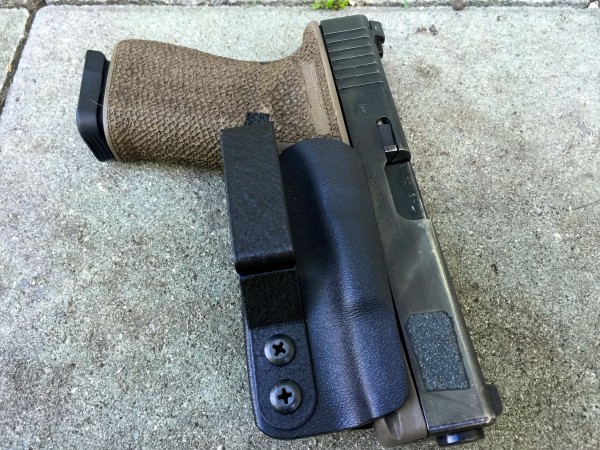 No, this is not a James Bond holster from Q Branch (but that would be cool).  This is the brain child of Gary Quesenberry, former Department of Homeland Security agent and contestant on the History Channel's "Top Shot" Season 5.
Per the website http://qseriesllc.com/index.html he designed this holster to meet the demands of concealed carry wearers that is comfortable, concealable and have the ability to reholster.  That is a fantastic trifecta which got me interested.
I carry the Glock 19 (currently) as my off duty carry (stippling by Boresight Solutions http://www.boresightsolutions.com/home.html) and usually carry it appendix inside the waistband with either the Custom Carry Concepts "Shaggy" (http://www.customcarryconcepts.com) or for deeper concealment, the Vanguard 2 by Raven Concealment (http://rcsgear.com).  What caught my eye with the Q Series was the fact that in concealed like the Vanguard 2 but and still had the ability to re-holster (to do this with the Vanguard 2 you need to remove the holster from your belt and apply it back to the gun).  I also liked that it was tuckable with different colored belt loops.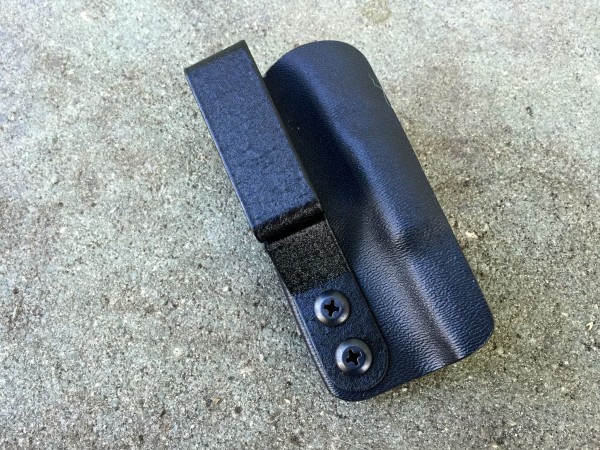 I got my Q Series for the Glock 19 with my 10% LEO/Mil. discount (email them) and put it to the test.  On first impression it did as it claimed and concealed as well as my Vanguard 2.  I also tried carrying it with my shirt "tucked".  Short answer..it works.  It works better with a darker color shirt in my opinion but you have to have your waistline slightly "puffed" out so the shirt looks uniform around the belt line.  I'd feel confident with a blazer to go along with it.  This is a nice option for the times you have to wear a suit.
Finally came the real test.  I did plenty of dry practice to see how the re-holstering worked.  Not bad.  I then took it out to the range for some drills.  I was pleased to see it worked although not as smooth as my Shaggy.  You have to get used to lining the gun up perfectly to get the holster to lock in.  That is the real scary part.  You have to give it a final push to lock it firmly and with striker guns, it made my you know what pucker.  For this review, I put myself through it.  Something else was noticeable.  As the drills went on, the slide and barrel got hot and there is no material to keep it from "touching" you in certain private areas.  It was uncomfortable…but not a deal breaker.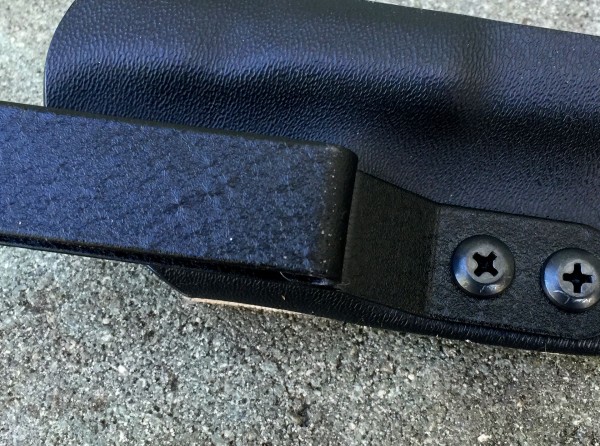 As you can see I put some moleskin on the back side as it rides deep and sitting in a car gets painful.
I will recommend this holster if you need good concealment and like to tuck your shirts.  I wouldn't use this in a high round count class.
As will all appendix carry options, you need to be careful when you re-holster especially with striker fired guns.  Not for people who never practice….
Pros:  Deep concealment, tuckable, different colored belt clips and the ability to re-holster (if necessary).
Cons:  This type of holster has no material by the slide and barrel (which get hot), can be painful sitting in cars, only available for Glocks (M&Ps coming).