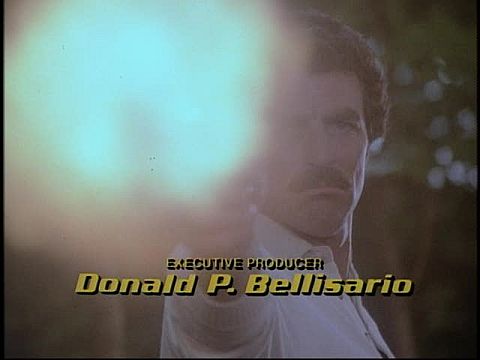 1980's television taught us so much.  The Bren Ten was controllable for controlled "triple taps".  A Ruger Mini-14, when fired with the stock folded, was guaranteed to only hit the dirt beside a moving car, and if it did hit the car, it was only a tire.  The car would then flip over 96 times, and then it would show both of the occupants getting out and merely dusting themselves off.  A Smith and Wesson Model 29 (and oddly enough the SPAS-12, and HK P9) would blow the hood open on a car as it traveled towards you.  That bad guys could be armed with the same weaponry as the good guys, but always lacked in marksmanship skills.  And those that are serious carry a M1911 in their waistband with no holster.
1980's television was a constant struggle between good and evil.  It was scripted and most of the times the good guys won.  It was neatly finished in an hour, unless of course it was a cliff hanger episode that was a two-parter.  A trip to the medical examiner's office always had the PI or police officer interviewing the medical examiner.  And the viewers did not have to see the deceased's spleen to figure out "whodunit" that the latest crop of CSI type shows do these days.
Today, sometimes we catch an old show and think "How in the hell did I watch this?".
For every one of the good action shows, there were a dozen buddy cop dramas, or even the occasional buddy cop/school teacher with a superman suit.  Sometimes it was hokey.  But, it was always entertaining, unlike the current fad of reality TV.  Genuine turn your brain off for an hour and enjoy.
If 1980's television taught us anything, it taught us to enjoy the small things…….
Zeus…Apollo…..Patrol!