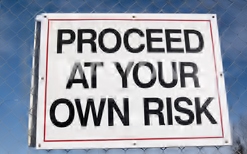 Executive summary:  Usually a bad idea, often a very bad idea.
[This is a follow on to prior posts, THREATENING DEADLY FORCE : MUSINGS ON "BRANDISHING" AND "WARNING" SHOTS, and "CASTLE" DEFENSE: WHAT CAN–MAY–SHOULD–MUST YOU DO]
"Can/should I hold someone at gunpoint?" A common question when the topic of guns and defensive use of deadly force is discussed.  The questioner's "gunpoint" hypothetical usually poses a home invasion, robbery attempt of the questioner, or "in progress" interdiction of someone committing a property crime, or a violent crime against the questioner or another person. The question is another one to which I respond with my smart aleck lawyer's answer:  "I don't know, can/should you?"  It lends itself to analysis similar to what I discussed in prior MSW posts on the use of deadly force —  my paradigm:
CAN / MAY / SHOULD / MUST

For the purpose of this post, holding someone "at gunpoint" is not necessarily muzzling the threatened person(s), openly holding an exposed firearm in any specific "ready" position, or a mode of "display" permitted or prohibited by a state "brandishing" statute.  I use the phrase here to mean the display of a firearm coupled with the express or implied threat that a failure to obey commands will result in the use of deadly force, that is, the gunpointer WILL shoot.  (If unprivileged, usually considered a serious felony, such as an armed assault or assault with/by deadly weapon).  Consider the following for your analysis of the SHOULD element of the paradigm.
The CAN:  Yes, it has been done.  By the aged and frail, even when outnumbered. You can find the stories on the internet.  Surprisingly, stories on gunpoint failures are absent. (The embarrassed don't admit, and the dead don't speak).  Reality check: Anything beyond a brief taking of someone at gunpoint and then allowing/urging them to make a hasty retreat is rather complicated. It requires command presence/confidence for an extended period of time, advanced tactical skills (CQB, firearm, improvisation, less lethal), and most important —  in-hand firearm retention training.  Gunpointing is difficult at best against one adversary, and almost impossible to effect solo over multiple adversaries.  (Unless one or both are incapacitated — see example here).   Your hypothesized home invader and robber are not likely first time rodeo attendees.  He/she/they may have planned in advance to implement a response (you can bet it is ugly) if caught in the act or resisted by an uncommitted homeowner/victim.  Questions to ask yourself:  Do you know the experience, skill, or mindset of the adversary? Does he/she have a second/concealed weapon? Does your adversary know that action usually beats reaction?  Can you multitask with a gun and phone in hand to secure family members or other innocents, handle possible criminal confederates, admit/direct responding LEOs?  Does your gunpoint position give you overwatch on avenues of ingress? What is the adversary willing to risk?  What are you? Are the interests of other innocents simultaneously at stake? Do you feel lucky?
The MAY: Probably as mind-boggling as the CAN.  In analyzing whether a sustained holding of someone at gunpoint is lawful, the gunpointer may have to address these questions on state common law (cases) and statutes, and know which applies when a gap or conflict arises.  Is gunpointing the use of force?  If so, deadly or nondeadly?  When is that level of force allowed and against whom?  If gunpointing is not actual use of force, is threatening deadly force lawful? When? What kind of force can be used to stop what kind of crime? Can deadly force be threatened when only nondeadly force can be used? Can a non-sworn make a lawful arrest? If so, under what circumstances?  What are the elements of the various felonies for which use or threatened use of deadly force is permitted? What are the elements of assault, and of kidnapping and related false imprisonment crimes?  Are there exceptions for self-defense?  Defense of others? Defense of property? Apprehension of criminals? Termination of in-progress crime? Is some magic incantation required to detain someone at gunpoint or place a person "under arrest?"  May deadly force be used on a noncompliant gunpointee? Under what circumstances? Is the effect of any SYG law or its presumptions affected by holding someone at gunpoint or shooting them after they appear compliant? If I let a violent criminal held at bay go, can I be liable to others injured in his/her flight?  If I hold someone at gunpoint does any civil immunity statute protect me?
The MUST:  Taking someone at gunpoint momentarily to stop a lethal attack on you or another innocent, or an in progress crime, may be quite compelling.  Holding someone at gunpoint seems to be a horse of a different color, unless it is to prevent someone from continuing/escalating their criminal behavior, or acquiring/reacquiring a weapon.  I think it is a certainty that the more time spent in the presence of a physically unrestrained miscreant, the more likely you are to suffer serious injury.  If a miscreant can get to someone you cannot live without and hurt them, or has been wounded or grounded and you are unwilling or unable to flee the area/premises, then I suppose it must be done.  Bad analysis of any of the paradigm elements might unnecessarily place you in a MUST situation purely of your own making which runs afoul of the MAY.  Worse still, it may cost you your life.  (See prior post — MAY/MUST QUESTIONS ANSWERED CORRECTLY. . . SHOOT FIRST, LIVE).
My thoughts, what say you?
Disclaimer: No MSW post constitutes particularized legal advice, or creates an attorney-client relationship with a reader.