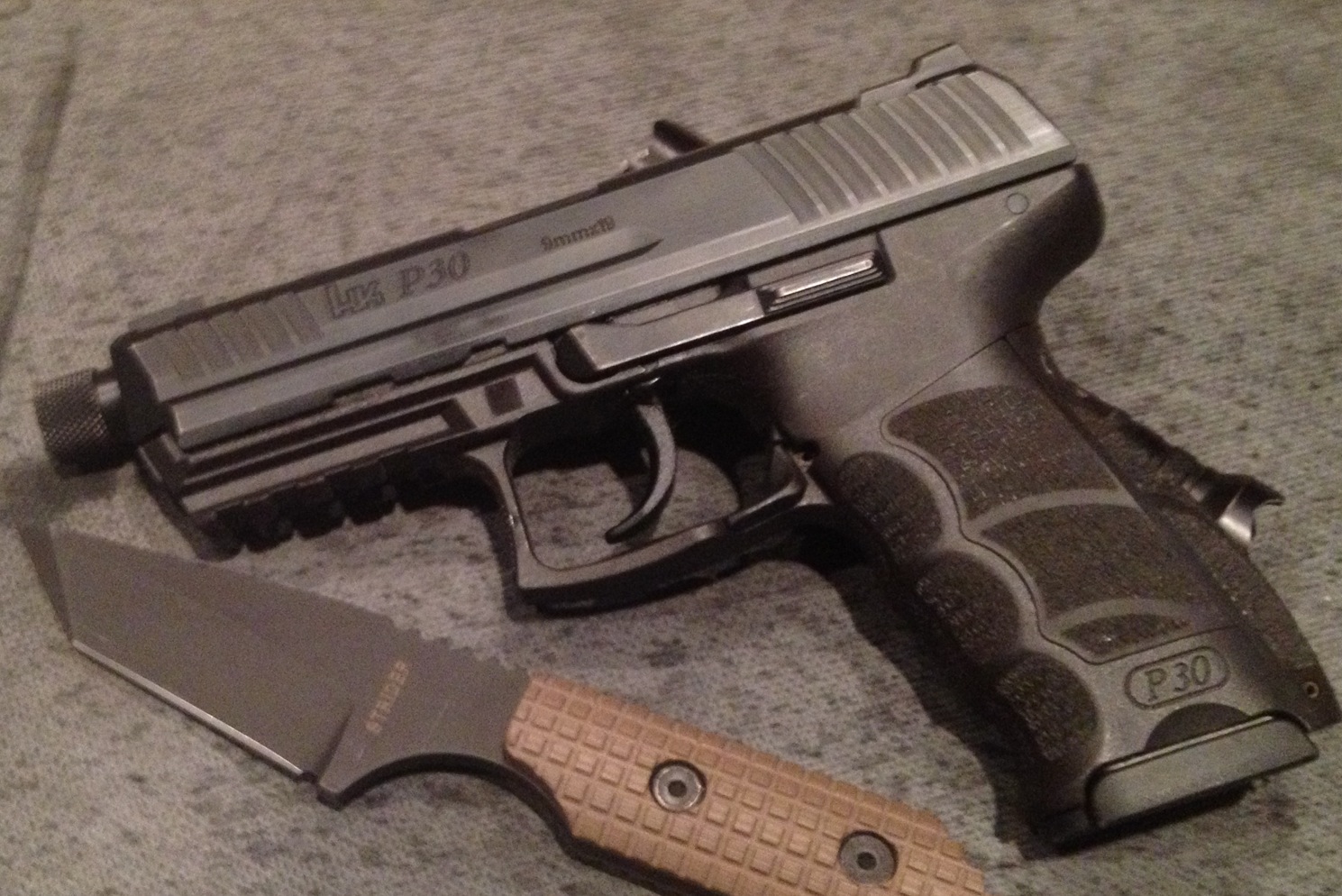 I have been carrying a 9mm HK P30 for my primary pistol for a while after having epic issues with my last newly purchased Glock 19. I have been very happy with the HK P30 with its out of the box performance. It is disturbingly reliable, has consistent and very positive extraction and ejection (even without a magazine), is more mechanically accurate than its more popular competitors, and actually doesn't need anything done to carry as a working pistol. Mine is a V2 LEM that is the heavier of the LEM set-ups. It has the HK luminescent sights that are not tritium (due to a ban in Europe), but do work really well when simply hit with a light. I set my guns up with small back straps and side panels. The P30 is one of the most adaptable pistols made to tailor the grip to an individuals taste.
I spent a month "learning" the LEM trigger with all of the Variant 2 parts installed. I have other guns with the "Light" Variant 1 LEM parts and the only complaint is that the trigger reset is not very positive and a little "vague". I ordered a new light Firing Pin Block Spring and a Light Hammer spring and installed them in my pistol with no issues. I left the heavy Trigger Return Spring in place (these are tough to change without some specialized tools). By leaving the Heavy TRS, I turned my gun into what is known as the TLG LEM, which is named for the set up preferred by firearms trainer Todd Green who has a significant amount of time on these guns. This allows for a lighter trigger but with a more positive reset from the V2 configuration.This is my favorite set up for this gun. Many others who have converted to the HK P30/HK 45 pistols with a LEM trigger favor this configuration as well.
I found running this gun that the LEM trigger takes some time to get used to. With that said, I also think this is the best trigger system out there for an issue trigger for typical law enforcement personnel. For those doing a lot of people management at gun-point versus straight up gun-fighting, I am of the opinion that having a good bit of initial take up is a good thing. With the LEM, it is very light in this stage, but tactile. I like this. It is not the hot ticket for pure shooting at speed compared with a tuned 1911 or modified Glock, but I have found that a light trigger with limited take up is not a good thing for those with typical minimal law enforcement firearms training.
On the other hand, typical DA/SA guns require a lot of work to run well and are tough for people with limited training time to master. I believe the LEM variant triggers strike a good balance. I was not initially a big fan of the LEM, but I have evolved in my opinion since I began working with them. I am still trying to maximize my trigger press with the LEM, but it is improving with every range session.
The other issue I noted with the stock P30 is the sights. The big luminescent 3 dots with their blocky configuration do not lend themselves well to maximizing the accuracy potential of the P30. I started with a configuration that I use on my HK .45's with a 10-8 rear and stock front. This works well for me with the HK45, but the P30 seems to have a different front sight height and the "dot" was not centered in the U for my (poor) eyes. I solved this problem by setting my P30's up with a 10-8 Performance HK Rear Sight and a Dawson Precision Tritium front. I find this to be ideal for me as far as sight picture. I have been able to shoot some very tight groups with these sights when my trigger finger cooperates. I sent my slide to Dawson for their expert installation of the front sight and their work is outstanding.
I have an additional pair of P30's, both a standard and P30L as a dedicated light gun. These are essentially spares to the one I shoot, carry and beat the piss out of. My daily carry gun is a "do it all" pistol. With this in mind, I added a longer P30L barrel that has been threaded. I will eventually get a suppressor for this gun, but my main reason is to allow for a little more length if I run the gun with a Surefire X300 installed, plus I like the way it looks. It is a HUGE unnecessary expense for most, but I like it. I always prefer to run factory extended barrels for threading rather than aftermarket. It is just a fairly expensive way to go. In the case of the HK, you are getting a match quality barrel with the factory unit. Unlike the P30's competitors in the service pistol market, they do not need a match barrel or various fixes to attain consistently tight mechanical groups. A good shooter can do stellar work with the P30 and HK45 series guns. Additionally, they do not need any kind of aftermarket extractors or internal parts. They are more expensive and harder to find parts for, but you also don't have to really do anything to them. They run reliably right out of the box. I would like to see some of the "match" parts that are available for the USP series available for the newer guns, particularly an over-travel stop.
Overall, the P30 has exceeded all of my expectations. I never thought I would move away from the Glock for a service 9mm, but I have. I have always had great luck and outstanding performance from HK's .45's, and they have hit a home run with the entire line at this point. I have been a big critic of HK customer service over the years. This is one area they have also made gigantic strides in over the last few years. HK customer service has been great anytime I have called for various questions or needs. They are turning guns around sent in for changes or modifications in less than a day in some cases. If you are looking for a very reliable service pistol, the HK P30 should be a contender that is looked at seriously.