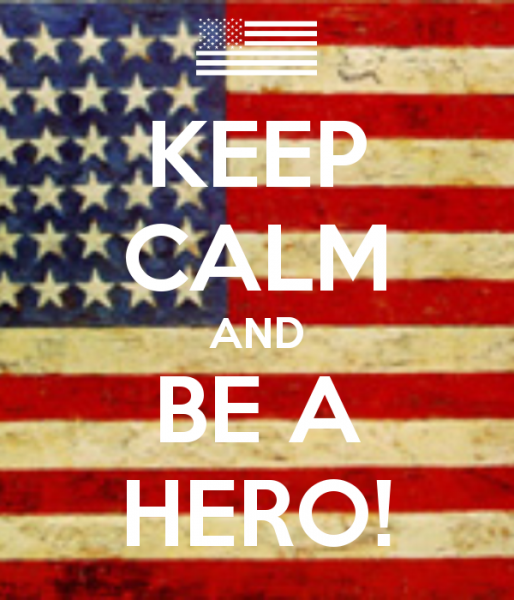 Recent stories where the non-sworn (usually referred to as a "citizen" or "civilian") successfully assisted a police officer caused me to write this post.  One "all's well that ends well" scenario involved a man who took shots when he witnessed an in-progress armed robbery and believed a responding officer was in danger of being ambushed. The officer took cover and the robber was captured later.  (See here and here). Another, a more common scenario, involved bystanders who helped subdue a subject who might have overpowered the officer.  (See here).  Similar stories and videos on topic pop up on TV news reports and officer interest websites from time to time. (See examples, here and here).  As an MSW reader, you likely already know that being a "hero" aiding police is, like policing itself, dangerous business.  Thus it is no surprise; not every "hero" comes through unscathed.  (See here).  Also not surprising; simply having a cup of java in public with an officer is not risk-free.  (See here).  Finally, would it not just plain suck to aid an officer .  .  . and then someone else gets the credit? (See here).
Scenarios where a non-sworn might come to the aid of a street cop include a traffic accident (possibly officer involved), traffic stop "gone bad," fight arising from a subject resisting arrest or escaping custody, apprehending a fleeing criminal, unruly crowd, or an officer facing multiple assailants or ambush.  Most cops will tell you that they abhor being distracted when they are "involved," and do not want or need "backup"  from the public, with some universal exceptions — when it is clear they are incapable of administering medical self-help or are disabled, need substitute comms, are losing a fight, when outnumbered, about to suffer the loss of their sidearm, or have been disarmed.
I admit I am inclined to and have come to the aid of a lone officer more than twice. I will analyze the decision whether to render aid using my deadly force paradigm: CAN ~ MAY ~ SHOULD ~ MUST.
CAN: My considerations would include: Mentally and physically up to the task (e.g., can exhibit command presence/voice, able to engage in foot pursuit, grappling, fighting, shooting, use improvised weapons)? Possess the necessary knowledge and experience with LE duty gear and equipment (e.g., handcuffs, radio, OC spray, collapsible baton, retention holster), traffic, animal, or crowd control, trauma/medical aid (splint, wound pack, tourniquet)? Have/carry your own equipment and kit that can be deployed for another? Able to improvise for universal precaution?  Familiar with TCCC "care under fire" and "tactical field care?"  Know how to extract a wounded officer to safety using an improvised drag device? Can you operate a patrol rifle or shotgun? Make a precision "rescue" shot? Corral a loose K-9? Follow directions from an AED and integrate it with CPR? Administer an emergency OC decon? If you render aid, should you pursue the bad guy(s) or remain with the officer until relieved by sworn LE or medical personnel?
MAY: Yes, it is true that absent a specific statute or special circumstances, there is rarely a legal duty to come to the aid of a stranger who has been injured or is in immediate peril. That is not entirely true when an LEO is involved.  In many states, it is a civil infraction or criminal offense (usually lesser misdemeanor) not to assist an LEO (may include all sworn peace officers or just state police) who has requested or commanded assistance.  (The criminal offenses are rarely charged).  A statute may be general or impose parameters on request for assistance (e.g., only to help effect an arrest, or to thwart an escape or in-progress crime), and may state when the request or demand of an LEO may be refused or ignored.  Such statutes (or case law) may provide that a person aiding an officer may employ levels of force like an LEO, and may be granted the same or other criminal and/or civil immunity as an LEO.  Civil immunity may also be achieved under a broader "Good Samaritan" statute when aid is entirely voluntary. Examples of state statutes requiring assistance and/or granting immunity to those who aid LEOs, include (in no particular order and without analysis of elements): Florida (Stat. §§ 776.05; 843.06); Kansas (Revised Statutes § 22-2407); Ohio (Revised Code § 2921.23); Alabama (Code § 13A-10-5); Maine (Revised Statutes § 402); Oregon (Revised Statutes § 181.190); New York (Penal Code § 195.10); Oklahoma (Statutes § 21‑537); Delaware (Code § 1241); Arkansas (Code § 5-54-109); Idaho (Code § 19-205); Hawaii (Penal Code § 703-307); Massachusetts (General Laws Ch. 268, § 24): Indiana (Code Title 135, § 35-44.1-3-3); Nevada (Revised Statutes § 199.270); Washington (Revised Code § 9.01.055); Georgia (Code Annotated § 16-3-22); Virginia (Code § 18.2-463).
SHOULD:  As with this element of my paradigm to use deadly force, only you can decide whether you wish to risk all you are/have and will be/have to help a stranger. Under consideration here is whether you would feel more obligated because the beneficiary of your being a Good Samaritan is a public servant who has taken an oath to put his or her life on the line for you and yours. Another question for this element of the paradigm is whether you can aid the officer under circumstances that you will be recognized by witnesses and others responding as a Good Samaritan who has come to the aid of an in trouble or downed officer, not a miscreant's confederate. Communication is critical, especially when deploying a weapon or securing one from or returning one to the officer.   If you decide to render aid, I suggest (if possible) you first communicate with the officer to see what is needed, to diminish immunity issues. And, always make sure 9-1-1/dispatch knows someone not in uniform is aiding their officer.  Be prepared, when response arrives to an officer needs assistance call, it will be dramatic and overwhelming.
MUST:  While your state law may recognize that one must aid an LEO, the rare enforcement of such laws suggests it is above and beyond what is in reality demanded of the non-sworn.  If you are caught in the middle of a gunfight between an officer and the bad guy(s), your interests are aligned with the officer and thus it is fairly obvious what you must do to survive.  If you know you will never "forgive" yourself for not rendering aid to an officer whose life may depend on your rendering aid, keep calm and be a hero.
Asking for help or offering it to someone in distress is difficult for most of us. However, that doesn't mean it can't or shouldn't readily be done.  The risks of aiding police can be uncertain and considerable, and the public reward limited (shaking hands with some police chief or sheriff and smiling wouldn't necessarily make my day; I would rather be out on the agency's range training with free ammo).   Heroes do not always get the obligatory handshake and press conference, but so what. The unsung are equally worthy.  Unlikely heroes do it all the time.  We are all made better when they do.
Disclaimer: No MSW post constitutes particularized legal advice, or creates an attorney-client relationship with a reader.