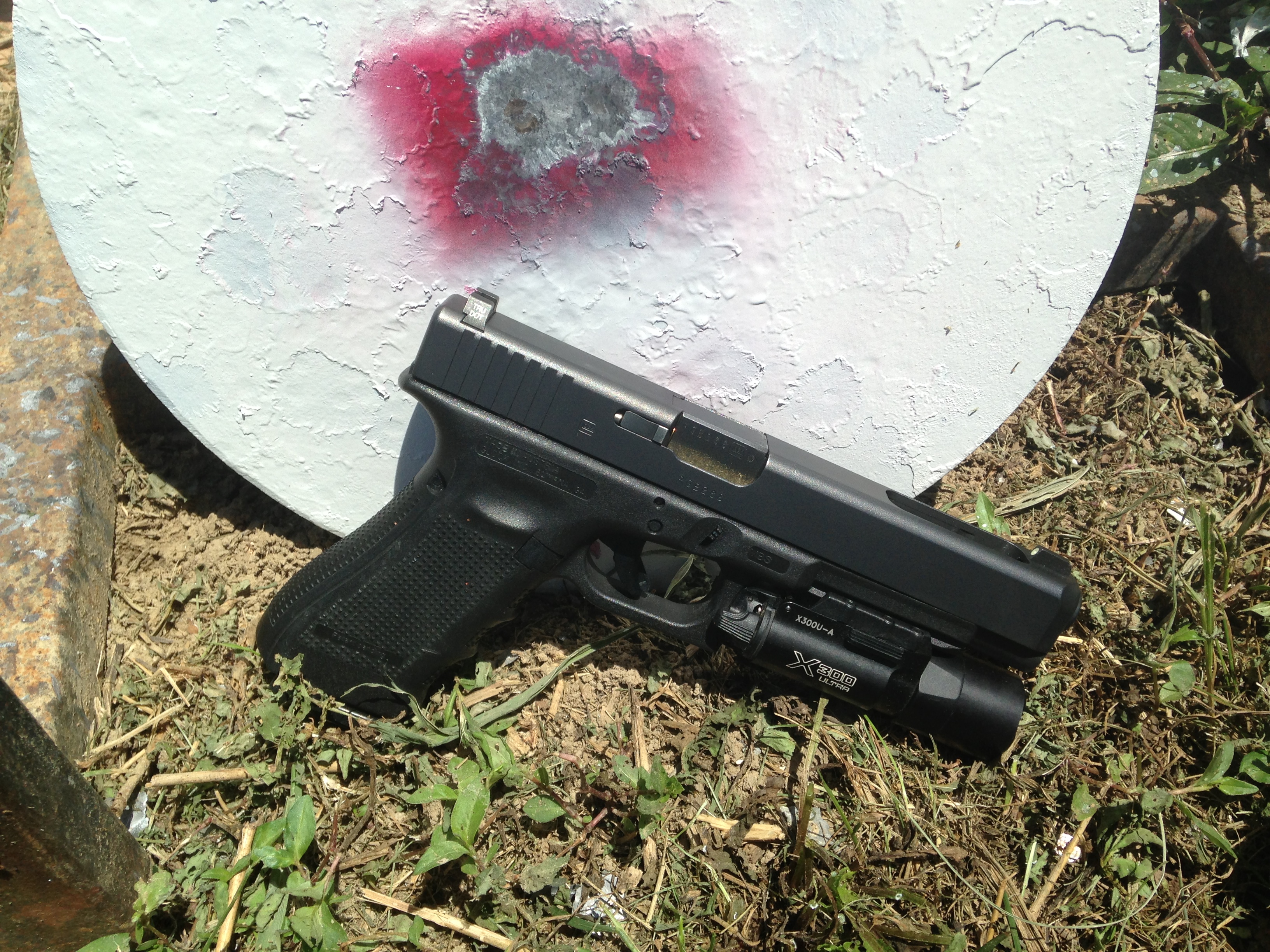 For the early part of my on again/off again relationship with the Glock pistol, I had fits that I could shoot those little bitty, caliber and half sized groups at seven yards with repeatable boredom.  The problem I experienced, along with many others it seems, is that the group was consistently to the left of point of aim.  I am a right handed shooter.
I started becoming a serious student of the Glock seven or eight years ago due to work.  I fought it, aimed to the right for qualifications, and drifted sights as a solution.  The most frustrating thing is that when ball and dummy drills are introduced, no movement would be observed in the front sight.  It drove me crazy.
Then about six or so years ago, I was helping out with a cadet class at the state police academy when I observed the same thing with a group of cadets.  Right handed shooters were grouping left, and left handed shooters were grouping to the right with no visual clues during ball and dummy drills.
I went home and began to isolate parts of the shooting sequence to see if I could not figure it out.  Eventually, holding the gun with only pressure on the front strap and back, I began to hit point of aim/point of impact.  Eventually, I found out that I could death grip the gun as hard as I wanted as long as I only placed grip pressure squarely on axis of the front strap to the back strap with no side loading.
Some people have called the problem "Glock milking", or simply milking the grip on a Glock with the strong hand.  I don't believe the terminology is quite right as milking will manifest itself in some sight movement during ball and dummy drills.  This is not the case with introducing side load into the strong hand of the pistol.
Some folks have successfully countered the issue with stronger pressure on the support hand of the pistol.  It does seem to be hit and miss, however.
All I try to do is this.  With the strong hand, I place a moderate amount of grip on the pistol to support it out in front of me.   The support hand fills in the gaps and provides 360 degree pressure on the gun.  I put just enough pressure front to back that a magazine of shooting will leave a checkering imprint on the meat of my my palm under the thumb.  I also found that in placing pressure front strap to back strap it gives me extra lock out on the strong side wrist, stabilizing the gun shot to shot for faster sight return.