[I was looking to make this one of the "Made In The USA" posts, but it turned out the two items I reference here are not.  They are nevertheless worthy of consideration as additions to your comprehensive home/tactical medical kits.  My prior MSW post pictures of tactically-oriented medical items I stock at home and carry are here and here].
I recently added two kit items as a result of my never-ending quest to be fully prepared to play first responder on myself and to provide others (who might attend to me or need items for their own use) medical kit items I have determined are easy to use and effective. They are: MEDIHONEY®  (gel, paste, and dressings; New Zealand by way of Canada) by Derma Sciences, Inc., and the four-inch version of the OLAES Modular Bandage (China by way of South Carolina) by Tactical Medical Solutions: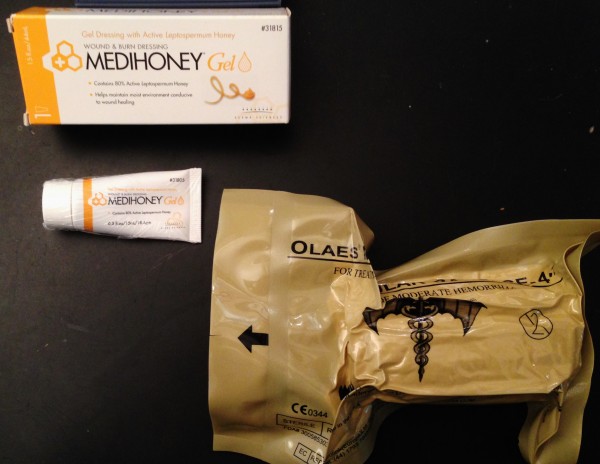 The medical-grade honey products are a bit pricey, but I found Amazon to have these reasonably priced.  They are especially good for the bad and ugly oozing, difficult-to-heal wounds like ulcers, pressure sores, and burns (including sunburn).  I recently recommended the gel to a friend who suffered a rifle muzzle burn on his hand.  I have used the products on my own burns, and on my dog's severe leg ulcers with very good results.  I am convinced the medical grade honey has germ-fighting ability and promotes rapid healing, as touted, with no toxicity.  I apply liberally and use a cover bandage.
Thankfully, I have not had occasion to use the OLAES®.  It is light and easily packed/carried.  Deployment is relatively simple, the particulars are dependent on the nature of the wound.  It includes elasticized wrap (with pad, "Control Strips" to prevent inadvertent unraveling, and "pressure bar" which also doubles as a cup for ocular injury), with built-in attachment clips. Also included are "Z" folded gauze and occlusive dressing. The instructional video is here.  I am told it has received thumbs up from TCCC types worldwide, and is considered by many to be a product advancement over comparable trauma bandage systems.  Price is under $7.  Here's inside the sealed wrapper: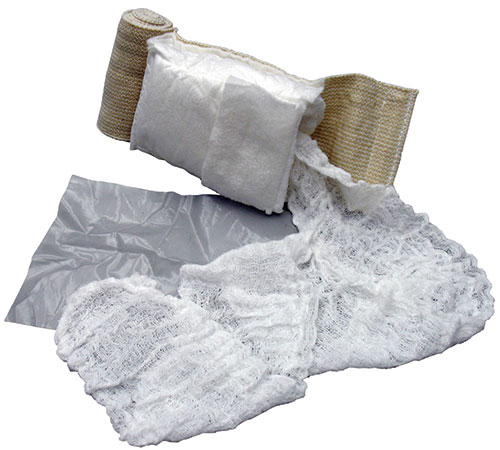 Have a safe 4th of July.  But be prepared for all things trauma, big and small.
[As with any medical kit, read and follow package instructions/directions, practice deployment before actually needed, and heed any cautions/warnings].