Most everyone is familiar with Blue Force Gear's Vickers Combat Application Sling, which has become one of the industry standards for two-point adjustable slings. But that is not the only sling product they offer. Blue Force Gear continues to innovate, and offers a full line of sling options to fit each user's needs. A couple months ago, I ordered the new Rapid Emergency Detachment sling swivel, which is designed to allow the user to rapidly and easily remove the sling should he need to. This swivel is works in conjunction with common push-button sling swivel sockets used by many quality manufacturers today.
The swivel replaces the common push-button release and replaces it with a pull knob at the end of a short stainless steel cable coated in black nylon. This allows the user to rapidly release the sling should he need to get out of the sling in a hurry. The knob shape is designed to be anti-snag so that the chance of accidental release is minimized.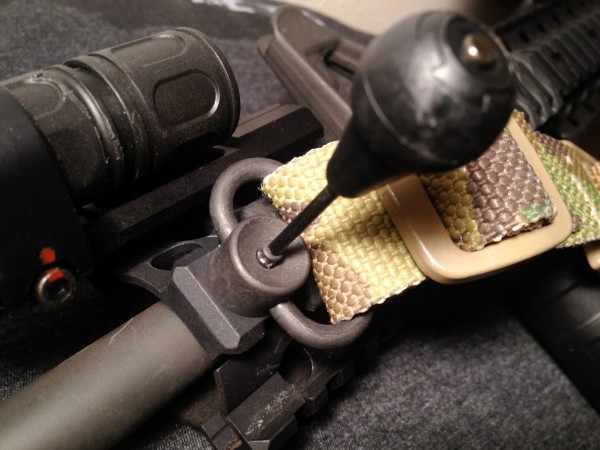 I installed the RED swivel onto my Vickers Combat Application sling and it plugged right into the front socket of the Centurion 12.0 rail. Since I occasionally use the front swivel to stabilize the front end against a barricade, I wanted to see how the RED swivel would work in this application. At first blush, it looked like it may interfere or accidentally release. The folks at Blue Force Gear state that a pull on the cable greater than 15 degrees will not release the sling, but I needed to see for myself.
The problem with making anything easily releasable is that it necessarily increases the chance of accidental release. The unique knob shape and specific pull angle required to release the sling is designed to minimize this possibility, so I wanted to see for myself.
I ran a bunch of drills on various barricades and had a shooting buddy (who is also a seasoned law enforcement firearms instructor) run it hard as well. The detachment knob/wire setup looks odd at first, but actually works out pretty well. The sling stayed secure during training, including shooting supported off the barricade, yet was easy to release when I wanted to get out of it.
I haven't had the opportunity to run it in a ton of different environments, so time will tell what situations, if any, the RED swivel is not appropriate for. Not everyone wants or needs this feature on their sling, but should you need to get out of your sling in a hurry, you will want something like the RED on your weapon system.
As with any piece of gear, run it hard in training before relying on it in the field.
Source: http://www.blueforcegear.com