Knowing how to successfully take down bad guys in cars is an important skill – especially for working street cops and some in the military. Defending against bad guys who want to get into your car is an equally important skill set for everyone – but that is a different class.
Last spring, Tim Lau and I, along with several other law enforcement officers, spent two full days with International Tactical Training Seminars, aka – ITTS, and its lead instructor – Scott Reitz, working on our ability to take down a car occupied by one or more Bad Guys.
There are a number of Vehicle Assault courses out there for those who can take them. The ITTS class is built around a manageable multiple officer cell using handguns. And it takes its tactics and techniques from those proven viable by specialized teams in the greater Los Angeles area. The tactics and techniques taught can be used with shoulder fired weapons.
If you aren't familiar with Scott Reitz, he worked Los Angeles PD for thirty years, the vast majority of it within its Metropolitan Division and more than a few years on their SWAT team. His background is laid out in his book – "The Art of Modern Gunfighting."
Class started with a very focused safety brief, which included Scott's rule on how those of us who handle firearms a LOT are the ones most likely to screw it up just by the law of averages. The rest of Day 1 was on the square range. After Scott introduced and demonstrated a technique, we worked drills to reinforce it – on both paper and steel.
The training focused on the fundamentals and getting solid hits – on demand. Only hits above the target's nipple line were acceptable. Why? How much of a person is visible above a car door.
Team movement and assignments were discussed on a dry erase board before we began doing them on the range. By early afternoon every drill was done as teams.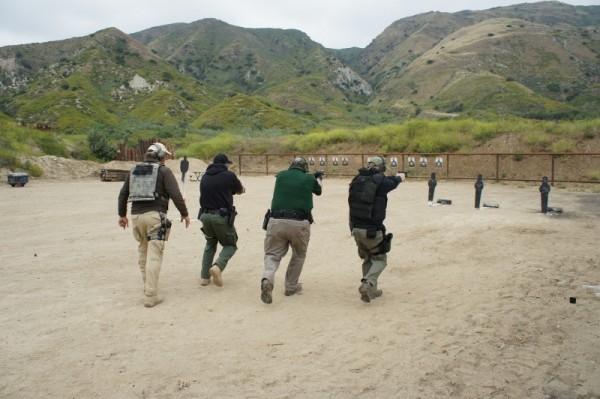 When taking down a car you are going to be within an arms length of it. Based on that, the likelihood of you taking a round to your hand or arm is pretty high. One of the drills we worked repeatedly started off with a two hand grip on the pistol for an initial shot or two before peeling the support hand off and finishing the drill strong hand only – while getting solid hits.