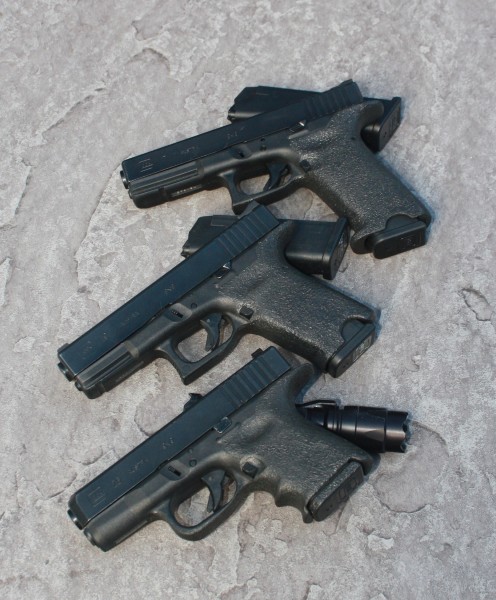 There is a new name to the list of those doing quality grip reductions on Glock frames – Lew Gosnell. I met Lew through our association with Gunsite, where Lew also teaches when he's not doing his full-time job as a police supervisor.
Compare a Glock Gen 3, a Gen 4 and a Gosnell frame and it is a case of thirds. With Lew's modification the back of the frame looks a third smaller than a Gen 4 which looks a third smaller than a Gen 3.
He bevels the magazine well creating an angled surface aids in starting the magazine on its way. This style seems to come from Devel pistols done back in the early 80s.
On the full-size and mid-size frames Lew cuts a scallop in both sides of the bottom of the grip – in case the shooter needs to strip the magazine.
Some may not need a beavertail on their Glock but all three pistols Lew sent had them. Given the popularity of the Grip Force adapters, there might be a method to Lew's madness on this.
On a full size frames, Lew extended the front of the magazine well to create what he calls a grip anchor – a hook under your pinkie.
Lew undercuts the trigger guard at the top of the front strap. The "high cut" slightly raises the top of the front strap and gets my hand just a bit closer to the bore line.
As a lefty, I find the edges of the stock Glock magazine release annoying when I'm not wearing gloves. Lew de-horned the bottom leading edge and corner – an under-appreciated touch.
Several of us shot these over the course of the summer. Positive comments were heard across the board. One co-worker has carried a reduced grip Glock 21 since the mid-nineties. He liked the texture and the feel of the finished product, and did not notice any difference in the size of the reduction.
I measured the frame dimensions on all three pistols. Grip circumference was consistent at 5 ½". Around the grip, the frames were 1.2" wide and 1.9" long. From the trigger face to the back strap was 2.8". And on the G17, from the undercut trigger guard to the grip anchor the front strap was 2.48";
These modifications are offered individually or as a package. Prices run from $30 to re-cut and contour the underside of the trigger guard up to $295 for the whole package.
Lew has worked over both of my Glocks.
While Glock frames fit most hands without issue, Lew's work allows the rest of us to get a pistol that fits. He can found at www.glockgripreduction.com