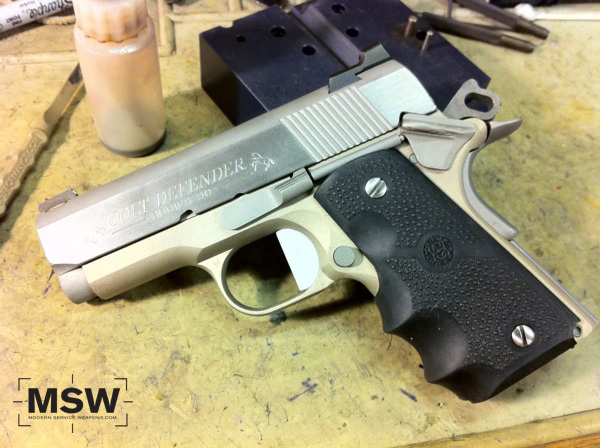 Earlier today (at the time I wrote this), 1911 guru Bill Wilson posted an excellent article on his blog on the secrets to making a short format 1911 pistol work reliably. Bill explains, "the basic functional difference between a full size (as John Browning designed it) 1911 pistol and a compact version with a 4.25″ or shorter barrel is slide mass and speed." The point of the article was that these guns can indeed be made to run reliably if you know what you're doing. The key lies in controlling spring weights, slide speed (hammer spring and firing pin stop geometry), a carefully tuned extractor, and careful ammunition selection. Follow the right formula, keep up on your preventative maintenance, and you can have a reliable compact 1911 (assuming it was set up correctly to begin with.)
In our 1911 classes, Hilton and I have always recommended against the compact format 1911s, and Bill's advice seems to run contrary. But upon careful consideration, it really doesn't. Remember that we speak in the context of large unit or agency issue, and the caveats above are simply impractical to do for a department issuing a hundred or two of these pistols. Even if the agency allows the individual user to carry a sidearm of choice, many times the ammunition chosen is dictated by policy and won't necessarily fit the parameters outlined in Bill's article.
Contrast that to the current production M&P or Glock 19, which will typically run right out of the box. Yes, I am aware some Glocks have extraction issues, but this is usually solved with a drop in FRE from Apex Tactical Specialties. I have found that inside of 20 yards I have no performance deficit in terms of speed or accuracy. In fact, I would argue that I gain speed in the form of faster recovery from recoil and quicker followup shots on target as evidenced by my Bill Drill times. As for marksmanship, I can usually shoot 280 or better on the FBI Bullseye Course with my G19 which is within 90% of my ability with the 1911 on the same course of fire. All this with a pistol that costs a fraction of a quality 1911 properly set up for service use.
I'll end with an experience at a marksmanship course a few years back. My good friend, a dyed-in-the-wool 1911 fanatic Dean Caputo, and I were attending a course with Larry Vickers. Dean was shooting his Colt Officer's model that he had deemed 100% reliable. Before a scored course of fire, I asked him, "Are you sure your pistol is going to work?" He gave me that look like I had just snuck out of his sister's room four hours after the prom. Much to my amusement, his pistol choked halfway through the course of fire. Now Dean has quite a bit of 1911 experience, and immediately diagnosed the problem. He had just over 200 rounds through the pistol without changing the recoil spring, and the Officer's model is very sensitive to weak recoil springs. A spring change was all it took to get the gun back up and running (for the next 200 rounds.) Contrast that with a Gen 2 Glock 19 he's had for decades. I think he was on the original spring that came with the gun, and it had miserably failed the armorer recoil spring check. Yet it kept chugging right along through an entire GSSF match. The on site armorer examined the gun and upgraded just about every small part with the latest generation versions.
Sure the 1911 is pretty, has a great trigger, and its aesthetics are unrivaled. But if we are to be honest with ourselves on what is the most practical choice for a defensive firearm, the choice seems fairly obvious to me.