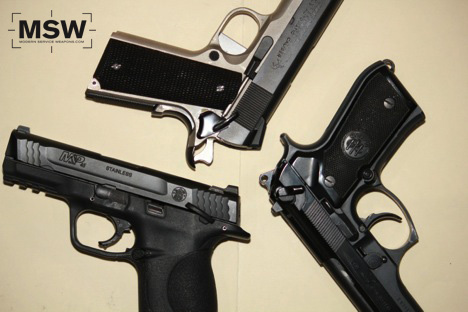 The question is not meant to have a definitive answer. The answer will depend on your own use and experience. I wish only to offer some thoughts on the matter. The arguments on the thumbs down side usually lean towards users not wanting to have any obstacles to overcome when they need to fire in whatever high stress scenario they can imagine. The arguments on the thumbs up side tend to lean towards the user desiring some additional layer of protection from an unauthorized user being able to fire, and either thwarting their attempt completely or merely giving the owner time to react to the attempt. Being that this article is being presented on Modern Service Weapons, my thoughts are geared towards those who use pistols as just that, service weapons.
It is usually taught by most defensive tactics and patrol procedures instructors that going "hands on" with a suspect or subject while you have a pistol in your hand is a bad idea. I absolutely agree. It should be easy to see how that could lead to bad things happening, whether it be a gun grab, sympathetic fire or whatever else you can imagine, having a person in one hand and your pistol in the other should be avoided. But what about those times when it can't be avoided? Perhaps you are covering down on someone who suddenly decides to run. Maybe you are executing a warrant service and encounter someone face to face as you enter a room. The point is, we don't always have to luxury of having both hands free when we need to make contact with or control someone. Having a safety on your pistol may be to your advantage in those situations.
Granted, not all thumb safeties are created equal. I don't have the space or time here to fully analyze which brands or styles are better than others or why, only to say that ergonomics are very important in determining the effectiveness of the various designs on the market. Frame mounted or slide mounted, push up or push down, whichever the type is that you have, the key to success is to sufficient practice with it. I have heard some soldiers and police officers say that they leave the safety off for "routine" use but if they were to get into a struggle, they would then engage the safety. I won't offer an opinion on the feasibility of that plan, only to say that none of them whom I have questioned could say that they had ever actually practiced it in a force on force training scenario.
I also cannot figure out why so many people are absolutely, positively, 100% against having a safety on their pistol but when asked if they would want their rifle or shotgun to not have a safety, they look at me like I am crazy. For some reason, it is accepted that rifles and shotguns should be equipped with a safety but pistols should not. I totally agree that we should follow all of the rules of gun safety and not have our finger on the trigger until we are prepared to fire, keep the weapon pointed in a safe direction and all of that. No question about it. However, things can move pretty fast out there and we can sometimes wind up in a less than ideal situation. For those who have no choice in what they carry, this is simply an academic argument. For those who have a choice, do yourself a favor and give it some thought. It might not be as crazy as you once believed.