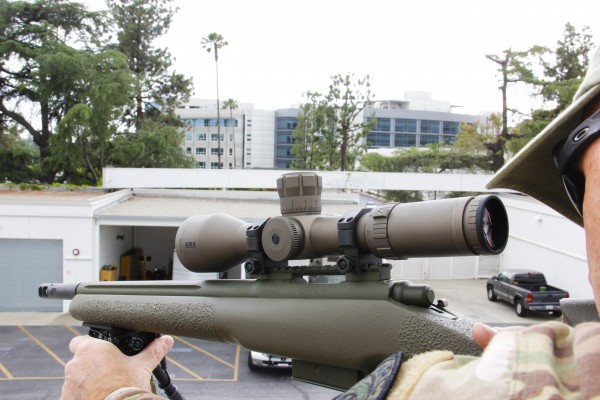 Riflescope, glass or precision optic; there are just as many terms for the tubular magnifiers that sit atop your prized weapons as there are manufacturers and options for these pricey items.  Quite a few have come and gone throughout my locker over the years, but a handful have stayed based on use, repeatability, glass quality and overall ruggedness.  The few hours I had at SHOT this year I was talking with Darryl Bolke about optics and he said I needed to see the new offerings from Bushnell.  Evidently the look on my face made Darryl respond with, "Seriously, you need to believe me on this one."  Hearing that from a trusted friend, I followed and we met the Director of Military and Law Enforcement Sales, Tom Fuller.  An hour later, with an exchange of business cards, I had arranged for two of their new production scopes to be sent my direction when they came off the line.
Shortly after the meet at SHOT I had a Bushnell Elite, Extended Range Scope (ERS) sitting in my office awaiting mounting to a rifle.  The flavor they sent out was a 3.5-21×50, with a 34mm main tube in Flat Dark Earth.  Having done a bit of research about this scope before it arrived I had read many favorable reviews and really wanted to get it out of the box and onto a rifle.
Bushnell shopped around what was wanted and needed in a scope that would be abused by military, law enforcement, high power rifle shooters and people who wanted a solid optic.  Going back to the drawing board and meeting with the right people over the past year or two, Bushnell took their already popular HDMR and improved upon that platform.  What came off the shelf is what we have here, the ERS.
The ERS took shape from the HDMR, but appears to have been influenced internally by some of the European optics that have been favored by the those described above.  Take a look at the adjustments on the turrets that feature a 0.1 Mil click value, gone are the ¼ MOA adjustments that most of us have seen for decades on US made scopes.  The First Focal Plane (FFP) reticle is also something that has been borrowed, all for the better I might add.  Couple these with G2DMR reticle made popular by George Gardner of GA Precision and the shooter has a good foundation for an optic.  Bushnell added the Zero-Stop feature to their locking turrets, which allows you to mechanically stop when you turn the turret counter-clockwise and get back to you desired zero.
The glass on the ERS is incredibly clear and I learned that this is because Bushnell employed some newer methods in glass selection, sourcing, grinding and polishing.  My guess is they took lessons from the Europeans here too; end result is better clarity while still keeping costs to the consumer down a bit.  That said it is not the same glass you will find in a Schmidt & Bender, Kahles, Swarovski or Premiere; but it is nice to look through.  Compared to one of my S&B's it is very similar in the lower powers, but once you start creeping up the difference is noticeable.  Still, the glass on the ERS is impressive and at 21 power you can see some fine details at .308 yardages, which is where most of my shooting is done.
How does all of this add up and work when sitting atop a rifle; pretty damn good!  I tossed the ERS on what started out as a Robar SR-90, but the barrel became shot out and it went back to GA Precision for a face lift.  Zeroing the rifle and optic was completed in minimal rounds and then I deferred to the instruction book to set the zero-stop.  Yes, I may have lost points on the "man card" referring to the directions, but I wanted to see how easy or difficult this was to perform.  Step by step with a few twists of an Allen key and boom; it worked.
I was able to take this combo and track the turrets up, down, left and right a few mils each direction and when I can back to zero the rounds landed where the crosshairs hovered.  Taking it out on steel incrementally out to 800 yards it was spot on for the day.  Shooting at 100 yard intervals I came back to zero before going back out to a different yardage and it was true each ring of the steel.  Impressed, you bet.
The look that I gave Darryl at SHOT is no more and I am leaning towards more of these for the type of shooting I do on a routine basis.  For the price, I am beyond sold.  I think Bushnell hired the right folks for this project and they are looking towards the future with their optics.  Bushnell, give them a look…