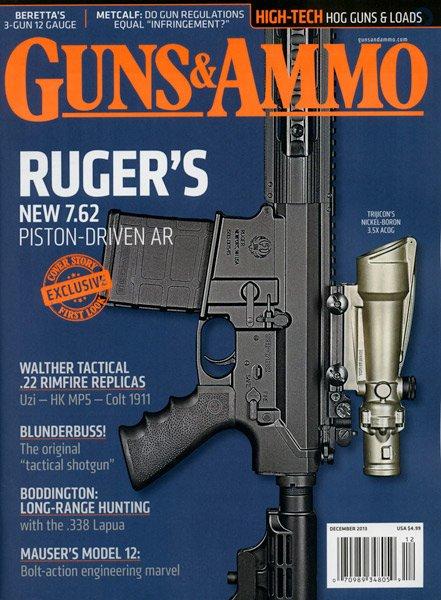 In the 2013 December issue of Guns and Ammo, Mr. Dick Metcalf managed to kick over a hornets nest when he gave us a glimpse of his true colors.
"Many argue that any regulation at all is, by definition, an infringement. If that were true, then the authors of the Second Amendment themselves, should not have specified "well-regulated."

I wondered whether those same people believed that just anybody should be able to buy a vehicle and take it out on public roadways without any kind of driver's training, test or license.

I understand that driving a car is not a right protected by the Constitution, but to me the basic principle is the same. I firmly believe that all U.S. citizens have the right to bear arms, but to me the basic principal is the same". — Dick Metcalf, Guns & Ammo
Mr. Metcalf then posted an apology of sorts, that basically stated that he should be able to write whatever he wants, without being held accountable, as it was his First Amendment right.
"How do I feel about that? Disappointed. If a respected editor can be forced to resign and a controversial writer's voice be shut down by a one-sided social-media and internet outcry, virtually overnight, simply because they dared to open a discussion or ask questions about a politically sensitive issue . . . then I fear for the future of our industry, and for our Cause. Do not 2nd Amendment adherents also believe in Freedom of Speech? Do Americans now fear open and honest discussion of different opinions about important Constitutional issues? Do voices from cyberspace now control how and why business decisions are made?"  Dick Metcalf
First off, in many states, no driver's license, or training is required to buy a car.  There are no "reasonable" restrictions to it.  For him to make surly comments as to such show how out of touch with reality that he is.  The second thing I'll point out is that there is no constitutional right to own a car.  I'd expect that weak argument from the Brady Center, but not from someone who claims to be for our "cause."  The truly hypocritical part of it is that Mr. Metcalf states that he believes in "reasonable restrictions" on the Second Amendment, but then hides behind the First Amendment to duck responsibility for his actions.  Apparently, Mr. Metcalf has not been paying attention to those with whom he seeks to open communications.  The left seems to want "compromise" similar to what Mr. Metcalf speaks of.  In my near 45 years of being on the face of this Earth, the "compromise" I have witnessed in the gun control arena has been nothing short of us giving up our rights and gaining nothing in return.
I'm pushing 20 years as a police officer.  The thing I have noticed is that criminals do not follow laws.  Strange, eh?  The thing that I have noticed, and my colleagues around the nation seem to agree on, is that gun control measures do nothing to reduce crime.  It is a false premise to restrict the rights of law abiding citizens who DO NOT commit crimes.  You don't make my car harder to drive sober to cut down on drunk drivers, Mr. Metcalf.
Gun control pundits quickly jumped all over Mr. Metcalf's comments as praised him for being "courageous." Well, perhaps he can find gainful employment writing "controversial" pieces for the Brady Center.  Because, I'll tell you that from his comments we aren't fighting for the same "cause."   From looking at the strawman questions written by Mr. Metcalf in his "apology", it is clear that he doesn't get it.    He doesn't understand that infringing upon the rights of people who have committed no crimes in hopes that it will give him safety from people who won't follow the law anyways is short sighted and ignorant.
Criminals just don't follow laws, Mr. Metcalf.  I am at a loss why people like you just don't get that, but believe that more laws will make you safer?  And that you don't understand that people who have done nothing……NOTHING…..have to lose rights so you can have the false sense of safety.  A false sense that never will equate to safety.  You claim you are asking the "hard questions", but those only seem to be "hard questions" to the gun grabbers.  To the rest of us, they aren't questions at all.
I think that we are much better today as an industry than we were a few days ago.   We don't need people like Dick Metcalf speaking for "US" when he is intent on making "well regulated" out to be "well legislated".   We have to be responsible.  We have to be responsible with our Second Amendment rights and understand they have consequences.  But, we also have to learn that our First Amendment Rights come with consequences.  I think that lesson may sink in with Mr. Metcalf in the coming weeks.