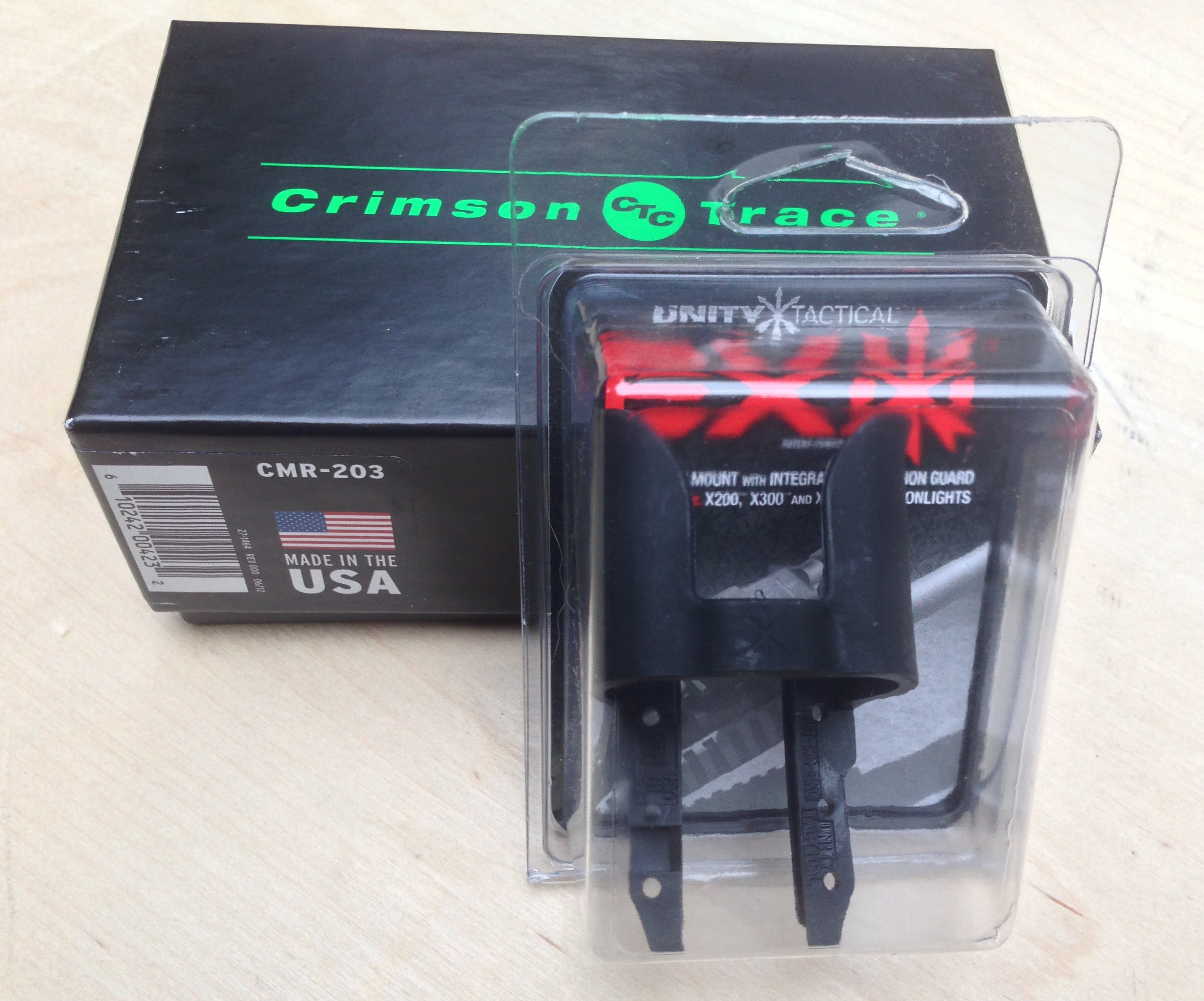 I recently completed a stripped Gen 2 Noveske Chainsaw Grade lower and topped it off with a BCM mid-length upper with a Centurion Arms rail.  For my optic I chose both a Trijicon ACOG (the compact 1.5 X 16S, see here) or a short base EOTech (see here).  A good looking, well set up AR with optics, Made In The USA!  For white light, I mounted a Surefire X300 Ultra.   Fits and looks good, and is lightweight  . . . I even like the way the activation switches work, except for one issue, see below.  (Prior Jerry Jones MSW post about the Surefire is here).
My particular usage presented two issues.  The first was the accidental activation of the Surefire.  Unity Tactical recently designed a product, the EXO ($27.95,  free shipping, here), which serves as a protective mount for Surefire X300 lights.  The EXO fits perfectly, was easy to install, and completely solved the problem of accidental activation when the rifle is held, slung, or stowed.  I thought at first the protective wings might impede or change how I position my hand to work the switches, but they do neither.  Well done Unity, the EXO is a winner, and Made In The USA.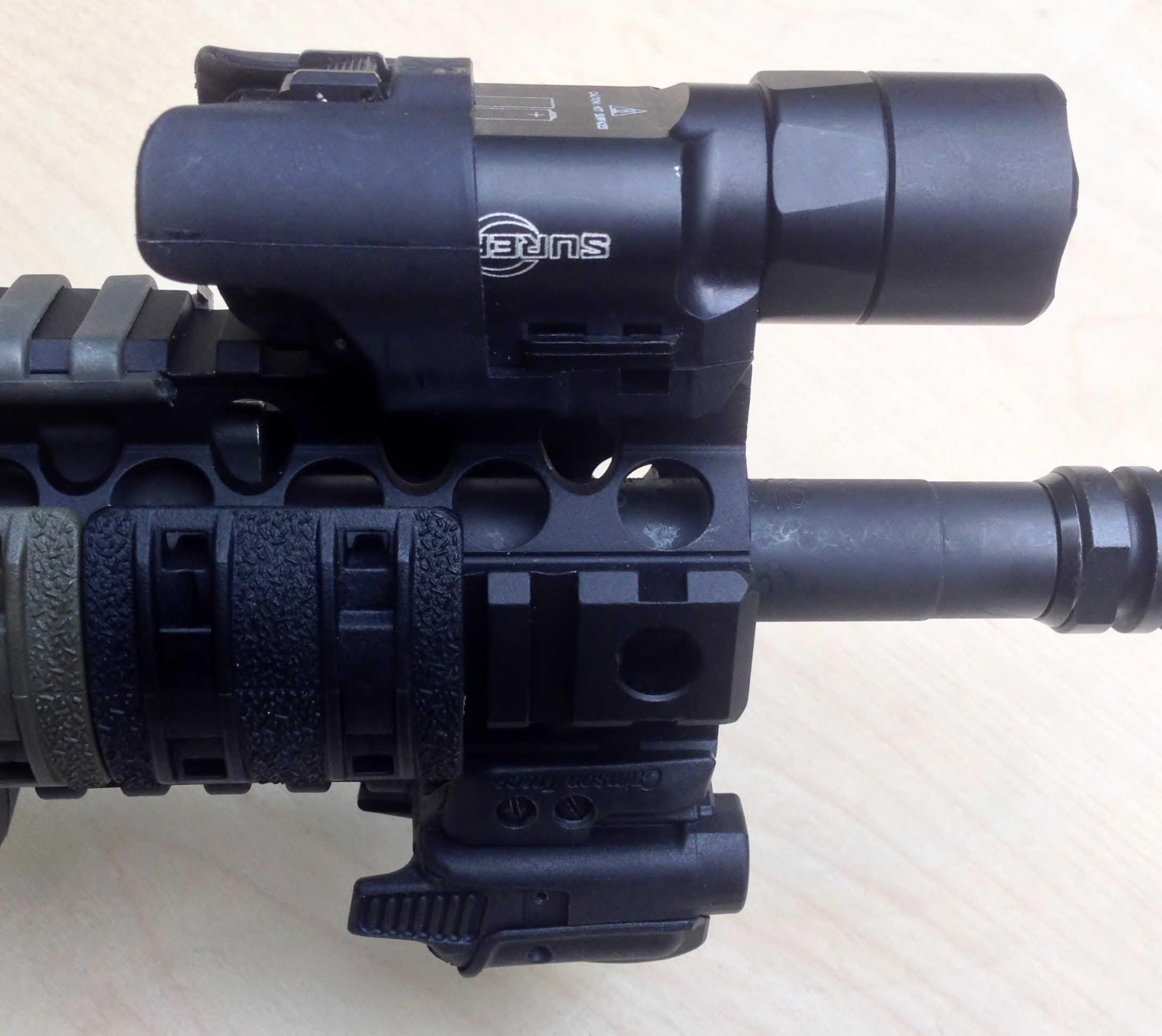 The second issue: I wanted a second aiming solution which could address my somewhat unusual eyesight related problem.  I am basically a southpaw, but one of the few things I do right-handed is shoot a long gun.  Thus, I use my non-dominant eye.  This does not allow me to keep both eyes completely open when I use an optic.  My left (dominant) eye, must be partially or completely closed to get an instantaneous dot/target focus.  Most iron sights are of limited use to me as well.  My proposed solution was to find a modestly priced compact laser device suitable for non-Mil/LEO use.
I purchased the Crimson Trace Railmaster, another product proudly Made In The USA.   It is a green unit, the CMR-203 (here), which can be had for about $230.  It mounted easily, and on the six o-clock rail was very easy to zero (as the instructions promised) at my selected distance of about 15 yards.  The Railmaster is well-made, it seems quite rugged, and visibility is very good both indoors and outdoors, except  in very bright daylight it was a bit difficult to find quickly on white paper.  Otherwise, target acquisition comes quickly and easily.  Rapid follow up shots were also easy to put to POA.  (I look over the optic or cant the rifle slightly,  The green laser is visible in the EOTech window, but that method is not useful to me).   The activation switches are quite pronounced (the unit is also made for handguns), so when slung or stored, there is a tendency for inadvertent activation.  Practice may eliminate that.  (I have not owned any laser device before the Railmaster).
I hold with a mild "C" and activate the Surefire with my thumb, and the Railmaster with my index finger.  When not activating the Surefire, I rest my thumb on the wing of the EXO, which perfectly shields the activation switches.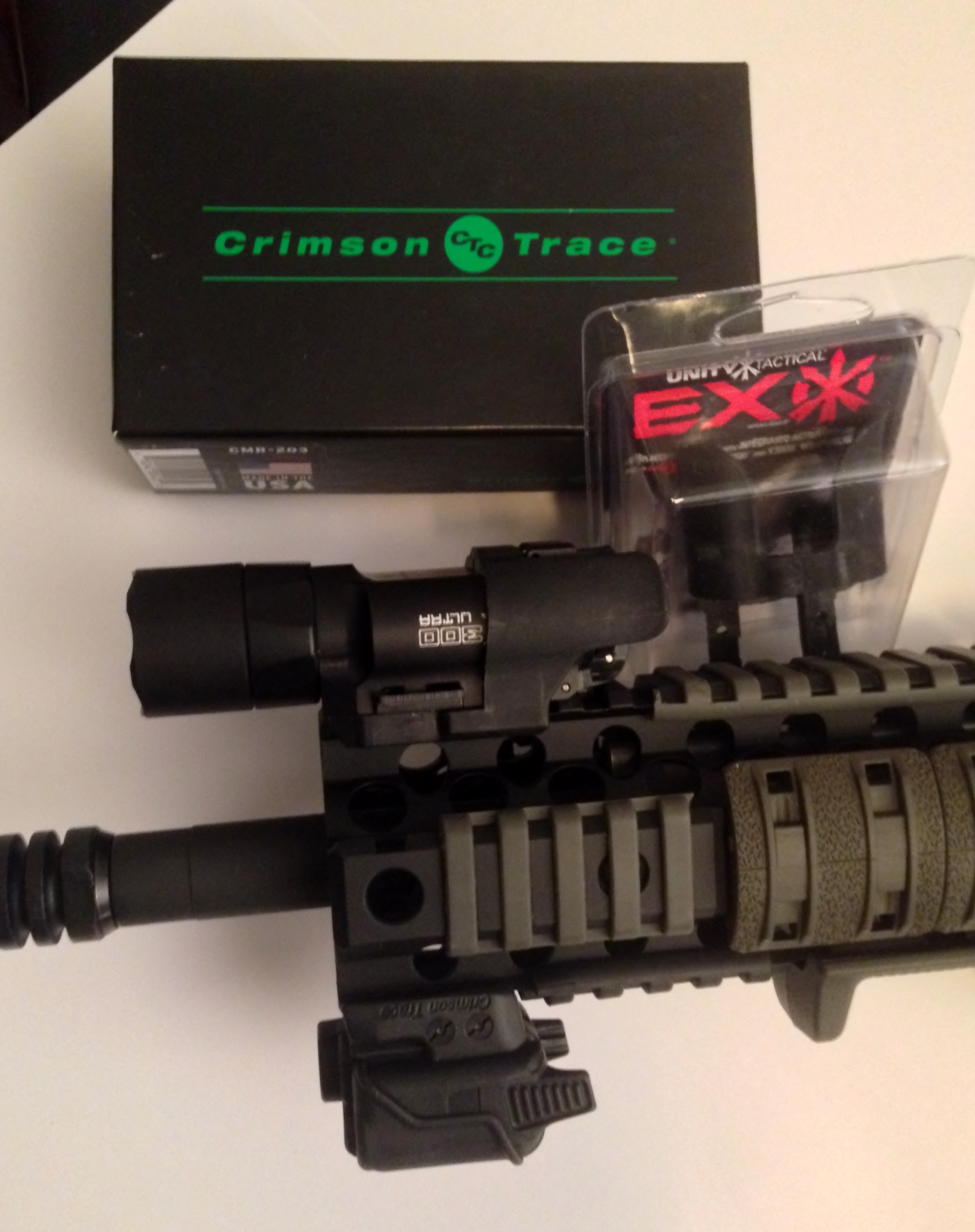 So there you go. Two AR issues solved with well-made products that function as advertised.   To give thumbs up to these products, and to honor and show respect for our veterans gone, retired, and those still serving proudly in harm's way, I note you just can't beat —