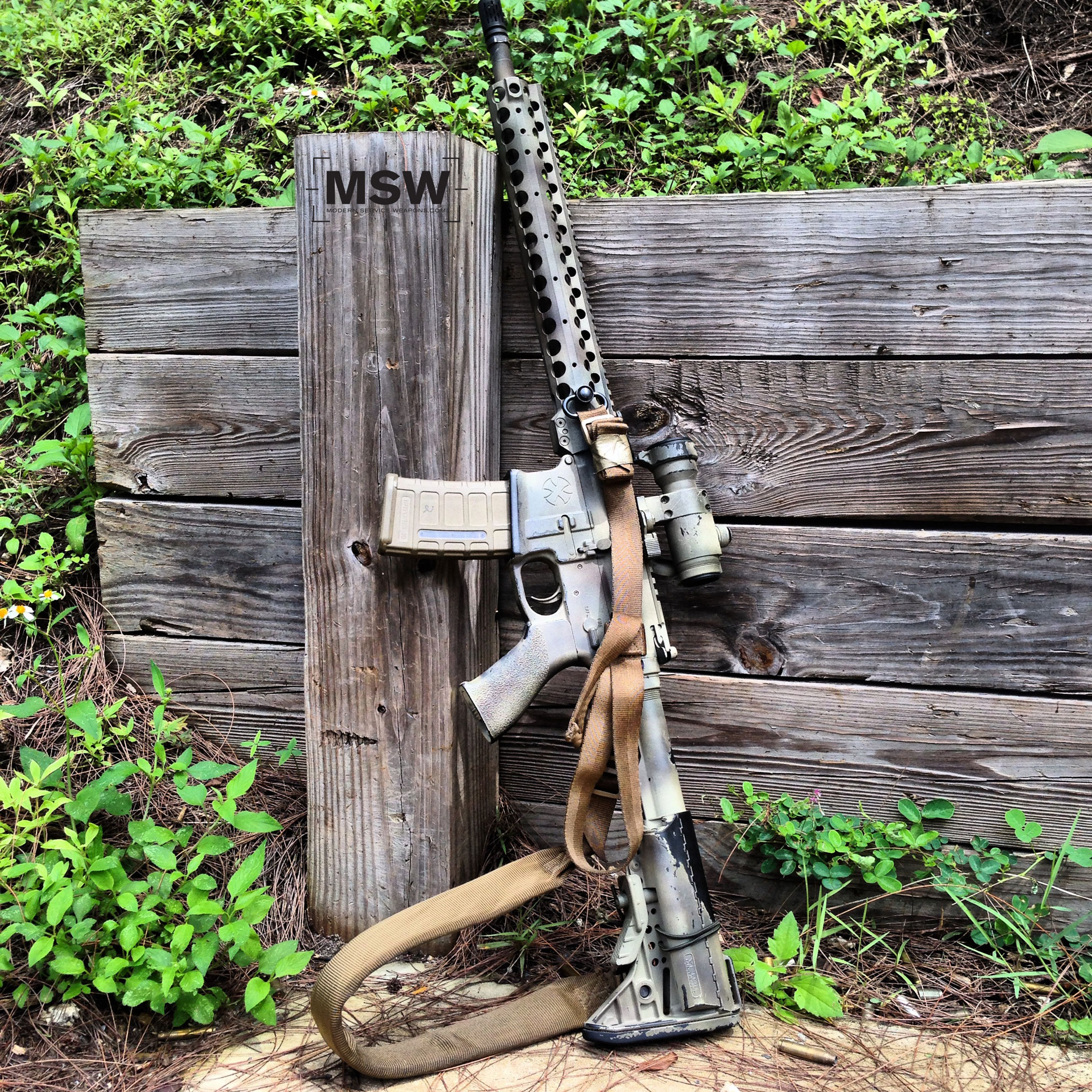 After receiving my new CMR rails from Centurion Arms, I was dying to run the new tube on something.  I had a few parts lying around from Palmetto State Armory – a 16″ M4 profile upper and a complete bolt group – so it seemed like they were all meant to go together.  
To fit underneath the CMR, the standard front sight base was cut down and recontoured.  A new Battlecomp 1.0 and the Aimpoint PRO recovered from the original upper on this rifle finished out the build.  The lower, one of the prototypes of the Noveske Gen2 receiver, wears a Geissele SSA trigger, Tango Down grip, and a Vltor A5 stock system.  A padded tan VTAC sling with QD swivels (which interface directly with both the CMR and Vltor stock) rounds out the package.  A few minutes with some Krylon Camouflage on the new components satisfied my craving to paint everything, and we were ready to hit the range.
If you have never used one, a muzzle device is quite a bit of fun.  I have a lot of time on the Surefire MB556, which provides excellent muzzle tracking, but also produces some significant and unpleasant side blast.  It is a real drag when shooting near cover or down on the ground in unconventional positions.  I have been running the Battlecomp for a while now, and find it to be a reasonable tradeoff between added blast and vastly improved muzzle management.  In one of my standard drills – present from low ready and fire 5 rounds in a 8″ circle at 20 yards – the Battlecomp let me consistently shoot the drill clean well under my standard par time of 2.4 seconds.  My best run was 2.02 clean.
You will probably also note that my rifle is missing a light, vertical grip, and backup sights.  I have not yet decided on what to add, but it was liberating to shoot such a slick and lightweight rifle for a bit.  Mounting the gun from ready or recovering from reloads was quite smooth as there were no obstructions on the forend.  Conversely, hand positioning was not as consistent as I am accustomed to, as there were no index points.  I'll be adding a light and vertical grip fairly soon, so that I may resume my normal firing habits.
The CMR is the coolest forend rail I have used thus far, and like the Geissele trigger, I want it on every one of my guns.  It is worthwhile to note that the forend does heat up fairly quickly due to a combination of increased contact area on the large barrel nut surface and the thin walls of the tube.  Thin, light, and securely mounted doesn't come free…  During normal training, the heat issues were mitigated by simply wearing gloves.
I'll be working with this rifle quite a bit more in the coming months, so expect to see more evolution of the setup as well as cruel new drills.