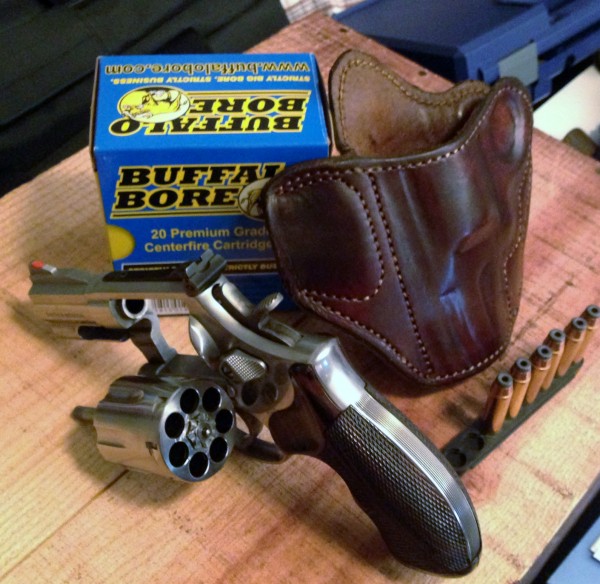 Let's see what we have (embedded hot links for the curious): 
·        Smith & Wesson stainless "no-lock" L frame revolver, Model 686-4 (Distinguished Combat Magnum Plus, 7-shot round butt) in the 2.5 inch variation, circa 1996, one of the last with a hammer mounted firing pin
·         Ammunition by Buffalo Bore, "Tactical Short Barrel Lower Recoil Low Flash" 158 gr. .357 Magnum JHP (other loadings available), brass by Starline, velocity > 1,000 fps
·         Craig Spegel checkered extended boot grips
·      ·  Lobo Gun Leather "Enhanced Pancake" holster, nice design, appearance, and fit, maker delivers reasonable price and turnaround time
      Quality made in the U.S.A. products, making a highly concealable, versatile, capable, and reliable carry package.  A carry package not commonly seen, but quite a serious contender and still formidable in 2013.
      [Also pictured, not made in the U.S.A.:   Quickstrip™ reload strip (8-shot, loaded to 6) by Tuff Products  (maker/vendor of nifty, well thought-out specialty items)]