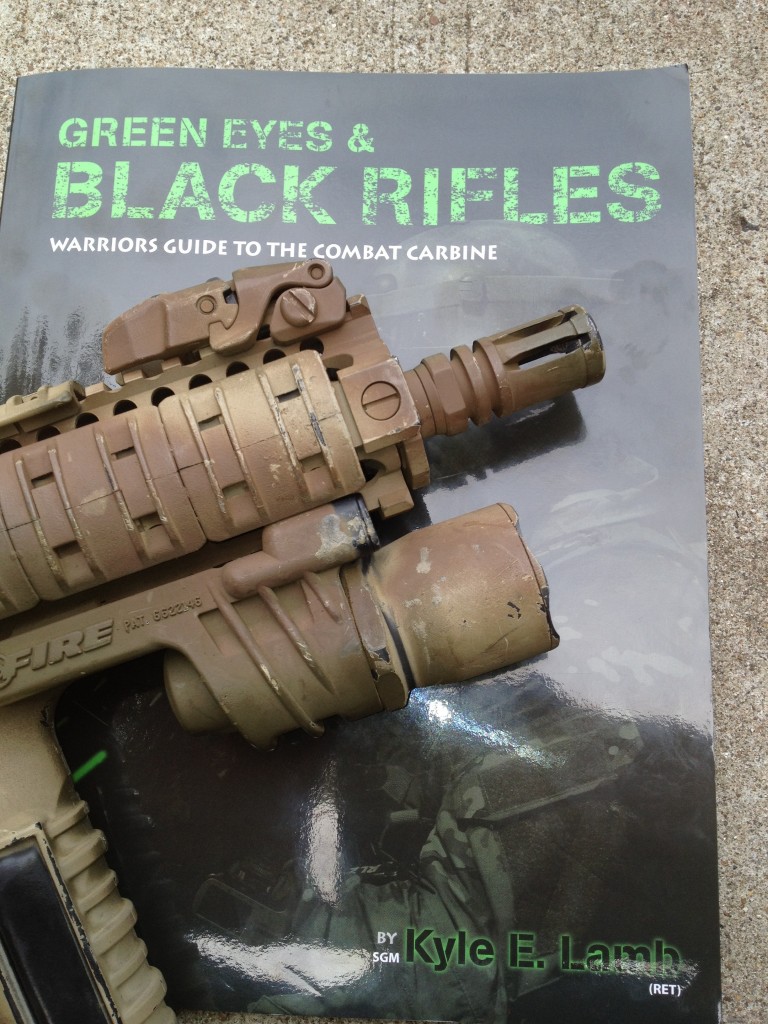 I made a Brownell's order last week. I ordered  some Aervoe camouflage paint, and three Viking Tactics padded slings.  Well, the tricky marketing department at Brownell's baited me with "those who purchased this also like this" type deal.  It was for the book "Green Eyes and Black Rifles- Warriors Guide to the Combat Carbine" by SGM Kyle Lamb, US Army (Ret.).  Having both poor self control for shiny things, and an American Express with virtually no limit, it was the perfect storm for an impulse buy.  So I clicked "Add to cart" and my order was on the way.  I forgot about ordering the book until I got back into town last night.
I opened the box to inventory it and noticed the book at the bottom.  I sat down with Family Guy playing in the back ground, and began the read.  I got up early this morning and finished the book.  Wow.  All 218 pages.
A little background: I've been around AR style rifles since the early 1980's.  I've had an AR in my police vehicle since 1997.  I've been to numerous courses, both big schools and police training, every chance I get.  I've been to a couple of factory armorers schools.  I say all of that not as a "look at me, look at me" statement.  I say it as a primer of someone who has been around the modern evolution of the AR, and who has been to a bunch of schools.
Even if you have been in a cave for most of recent history, SGM Kyle Lamb should need no introduction.  He spent over two decades in the United States Army, with most of that time in Special Operations.  He is currently the principal of www.vikingtactics.com.
Kyle Lamb's "Green Eyes & Black Rifles" is a must have resource for the AR style platform.  Kyle states in the forward that he is not a writer, nor a poet.  While that may be true, the book is very well written and is well laid out by subject matter in a relevant order.  Not only does Kyle explain the subject matter at hand, it is very well illustrated.  I'd venture to say there is close to 1,000 pictures alone in the book.
Even if you are a veteran AR shooter, the book is a great resource.  Kyle has some very good insights into the platform, various add on accessories, and styles of fighting with the rifle that are proven.  And plus they just made sense for those of us who want to know the "why" behind techniques.
I highly recommend you check out "Green Eyes and Black Rifles".  It is worth the read for the novice and pro.