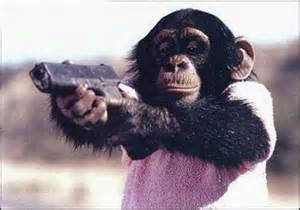 When people see the topic of evolution, it usually brings forth some heated arguments.  This article is about how we fail to evolve as firearms and tactics instructors.  This failure of evolution has brought forth a lot of heated arguments as well.
I don't see this failure as much in the larger, more mainstream firearms and tactics schools as I do in the smaller ones.  Certainly it exists in larger schools.  I see it more often in training at the local level, and mainly in institutional organizations and police training. These schools often have instructors that have been around a while, and generally they haven't been to a school to upgrade their skills and knowledge since Carter was in office.  And the curriculum shows it.
This is not a slight toward those of us that have been around a while.  I'm closer to 50 than I am 40 these days.  And I understand that larger organizations are harder to change when it comes to policies and curriculum.  The bigger the ship, the harder it is to turn.  Got it.  Check.  It is the mentality that change is bad, and some instructors/organizations are down right hateful about it.
A couple cases in point:
Going back about five years, I attended a firearm's instructor in-service on the carbine.  The first morning of class, the lead instructor enters the room carrying a cooler.  Instructor introductions are completed, as well as the admin paperwork, and the lead instructor opens the cooler.  He asks one of the students to make a note of the time.  He then pulls an EoTech red dot sight from the cooler.  He states that the EoTech had been in the cooler, which had been in his freezer over night.  He tells all of the students not to wipe the glass, and to hand it around to see if it was usable.  When it came to me, I could see the dot, but of course it was fogged over due to the temperature change.  We wasted 27 minutes of class staring at the EoTech, before it was finally clear to see through.  The lead instructor then proclaimed that red dot sights were useless and a liability to law enforcement.  And further went to state that we had been shooting people with iron sights for years and it worked just fine.  HUH?????  He then sent us all to the parking lot to get our rifles, and also sent instructions that all red dot sights must be removed before coming back in the building.  He instructed that we would shoot the course for the week with irons "like real men".  WHAT?????  Welcome to 1970.  We went to the parking lot, I pulled the Aimpoint off my rifle and successfully completed the course at the end of the week.  When someone brought up the topic of red dot sights and why the instructional staff was so violently against them, the staff presented a diatribe of information that was current and correct for 1970.  It had no bearing to the current crop of red dot sights available today.  Their catch all was the fogging issue of taking the rifle from a warm cruiser into a cold environment or vice versa.  I posed a question to the staff.  If their family was being held by a hostage taker, would they prefer the police sniper who was going to take the life saving shot to use iron sights "just to be safe"?  I pointed out that snipers use glass on their rifles going back into the 1960's and have found work arounds for advantage of a magnified optic as it comes to fogging.  I got a befuddled look.  The subject was changed fairly quickly after that.
Another large agency was having a high level meeting to allow weapon mounted lights among the rank and file of their 1200 or so troops.  Most of the meeting was staffed by the rank of Major or higher.  The academy Lieutenant  and the Lieutenant  that was the SWAT team leader was also in attendance.  Both Lieutenants had heavy, full time SWAT backgrounds and were the products of the best training that money could buy.  They pushed for a training program for weapon mounted lights, and authorization of such equipment for the rank and file.  As the story goes, a Colonel leaned across the table as the SWAT LT was giving the presentation about proper usage of a weapons mounted light and stated "Hell son, we'll have officers pointing guns at people during building searches at two in the morning.  We can't have that."  The LT didn't miss a beat and told the Colonel that when you did a building search without a weapon mounted light at two in the morning, you generally pointed guns at who ever you found inside.  The purpose of a building search was looking for bad guys.  I'm sure the Colonel presented the same befuddled look I had witnessed from the inservice instructor.  Here it is several years later, and that agency is still strictly prohibited from using weapon mounted lights, unless assigned to SWAT.
I'm at a serious loss to understand this mentality.  And it is frustrating for many of us to say the least.  To stay proficient, we must evolve.  Our opponents seem to have no problem evolving.  We must evolve our equipment, and our tactics if we are to survive.  As instructors, when we quit learning and adapting, we begin to cheat our students.