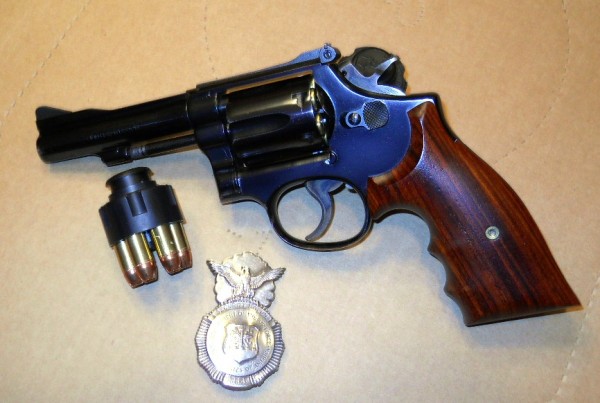 During a recent Women's Only Handgun Selection Seminar, I allowed the students to shoot my S&W Model 15-2. I decided to shoot it after the class, as I don't often get the chance since I usually shoot and teach with semi auto pistols. It was a walk down memory lane so to speak, and also good to see that I could still run a wheel gun pretty well.
My introduction to the Model 15 was in 1977 upon entering the USAF Security Police. As it was the policy to issue a different weapon at each duty assignment, I had eight different Model 15's over the years.  I was again issued a Model 15 when I joined my current department in 1988, carrying it until 1989 when we converted to semi auto pistols.
My fiance bought this one as a Christmas gift after I talked about having one as my first duty weapon. (She's A Keeper).
Mine has the narrow grooved trigger and hammer spur. As I recall my Air Force issues had the wide target trigger and hammer spur. They had seen a lot of ammunition and some hard usage, but they always shot and were accurate, despite the appearance.
I installed a Wolff spring kit and polished the internals, as well as adding the Ahrends Cocobolo Retro Combat Stocks. I wish my duty guns had those modifications back in the day. It has some holster wear, but other than the spring kit and stocks, it's original and in great shape.
I would compare the S&W Model 15 to the Glock 19 of today. Both fit the niche of a very effective fighting handgun without unnecessary weight or complication, and will get the job done as long as the user does his or her part. There was something about being armed with a revolver named "Combat Masterpiece".