Meet the Wilson Combat (WC) Tactical Elite (TE), a really nice full size 1911 with a unique flanged cone barrel.  The claim of softer recoil and faster shot-to shot-recovery (due to almost two ounces additional weight) is not a false boast.  I base this on the comments of friends who have shot my TE, and from personal experience.  There are a couple of pistols in WC's expansive current offerings I now might like better, but that in no way diminishes this rather unusual iteration of the 1911.
I contacted WC and inquired about the TE for this post.   Anthony of WC checked around and advised:
"The Tactical Elite was developed to be the softest shooting, non-compensated five-inch gun that would fit a standard holster.  Originally the shop used .45 ACP comp blanks and cut them down. This added labor was the main reason the Tactical Elite was one of the more expensive offerings in the line.  The Stealth is basically the Tactical Elite in a compact package. Currently the flanged barrel is machined into the actual barrel blank — a superior way, but much more expensive to manufacture.  I am a big fan of the Tactical Elite.  I find the extra weight in the barrel to reduce muzzle flip and enhance reliability with heavy loads. My "Go To" five-inch gun is an older Tactical Elite that has been reworked by the shop several times."
Back in the day (circa late 1991 or early 1992, IIRC), I decided I wanted a WC pistol for EDC and informal local club competition.   I called WC (I think it was actually called Wilson's Gun Shop then) and spoke with Frank of the sales staff.  Being an impatient fellow without much knowledge of the inner workings of a custom gun shop, I asked if there was anything in stock ready to ship.  I was told no completed pistols were available and there would be a longer than normal wait as everyone was preparing for SHOT.  After my audible grunt, Frank said he might be able to sell me a special pistol after return from SHOT.  I asked the price — about half of what it costs today.  I was hooked, never having seen the gun or even a picture, and not realizing that the flanged cone barrel made it unsuitable for iron sighted "practical" shooting competition.  It was then and still is now.  I learned many years later that the idea for the pistol came about because shooter demand for 45 ACP compensated pistols waned.  In the day, people actually competed with compensated single stack 45's, and sometimes with weird and unreliable 11 and 12 round magazines.  Neither I nor WC can find the original paperwork for my pistol.  Vic Tibbets, the renowned WC shop manager, doesn't have specific recall of my pistol, but believes it was one of the earliest TE "conversions" made.
I received the pistol circa February 1992,  a Parkerized Series 80 Colt Mark IV Government Model, with the odd-looking cone barrel, ambi-safety, Wilson "Nite eyes" tritium rear sight, and tritium front sight.  It also featured a proprietary slip on magwell held on the frame by hooks hanging on the grip bushings behind the grip panels.  The magwell is user installed in a few minutes, with a minimum of grip panel modification.  Despite being accustomed now to more expensive magwells integral to the MSH or welded on to a shortened frame,  I remain very satisfied with the form, fit, and function of this WC product.  The magwell is WC Item #188, in blue.  The trigger pull had slight take up and broke at 3.25 pounds.  It seems a bit less now.  "Wilson Combat" in small script lettering is cut into the right side of the dust cover.  Those darn Series 80 "extra parts" are not noticeable in any respect when running the pistol.
For many years I carried the TE in a two gun rotation, alternating with a SA Custom Shop Champion made to my specs, in a Kramer paddle (MSP) or Kramer IWB holster.  I cannot think of any of the numerous five-inch 1911 holsters I have used over the years which were ill fitting because of the barrel flange, including the totally modern Kydex one pictured below.  The TE then became a safe snoozer for years, but went back into rotation in 2011.
In 2000, after about 13,000 flawless rounds downrange (except a rare poorly reloaded 200 grain SWC induced failure-to-feed) from once or twice monthly practice sessions and several medium to high round count 2-5 day classes, I sent it back to WC for a new tritium front, a plain Combat Pyramid rear (WC Item #463), and to have it refinished (slide re-Parkerized and frame and small parts matte hard chrome).  A new sear spring was installed then, as the grip safety had acted up (the particulars of which I don't recall).  I have since logged approximately 8,000 additional rounds downrange with factory practice and carry ammunition, again without a  malfunction, except for a couple of magazine induced failures — over life practice only magazines that I pitched after a second malfunction.  WC 7 or 8 round Series 47 magazines were used exclusively in the day.   My preference now is the eight round ETM's, which I purchase with a replacement spring and follower kit.   I have also used WC 10 round magazines in the TE and the 8 round Cobra magazines by Tripp Research, without incident.
I ran the TE in classes with a guide rod buffer.  I do not use a buffer for carry.  My preventative maintenance over 20 years has included replacing the: recoil (usually rated 18#) and firing pin (extra power) springs every 1,500-2,500 rounds; plunger tube spring (once); firing pin (once); firing pin safety plunger (once) and its spring (twice), and; extractor (once) .  Except for springs, I kept the old and still useable parts, marked as "used spares."  All replacement parts were purchased directly from WC.
Naturally, the time I proudly showed it to Hilton in 2012, Murphy's Law (and dangerously close to the related Finagle's) saw a golden opportunity and struck.  Hilton noticed something was not right when he attempted to cycle the slide.  Turned out the reverse plug was out of round in the thinner area.  Not an easy find, but without question my bad.  I had failed to notice it after a 200 round practice session and field cleaning.  Another law was in play, Hilton's Law: Never let Hilton Yam fondle (let alone shoot) your 1911.  While he may exclaim "nice gun" and really mean it, there is a better than even chance Hilton will find something that is or is going to be an issue, or something that can be done to it to make it more duty/carry ready.  I replaced the plug (WC Item #25 RP), and as Hilton suggested, I also bought a spare.   Thankfully not a quotidian occurrence, but nevertheless, a bit more than a slight inconvenience. But, I bet it is GTG now for 20 more years.
As they say on the internet, without pictures, it doesn't exist.  So here is my TE after touch up of holster and other wear on the slide and on barrel cone and flange, done with Brownells Creme Formula Dicropan.  It sports a more recent style of WC grips than what came with it.   Holster is Kydex from Cane and Derby.  If you are ordering a new TE, some personalization changes are available.  See specifications and upgrade selections here.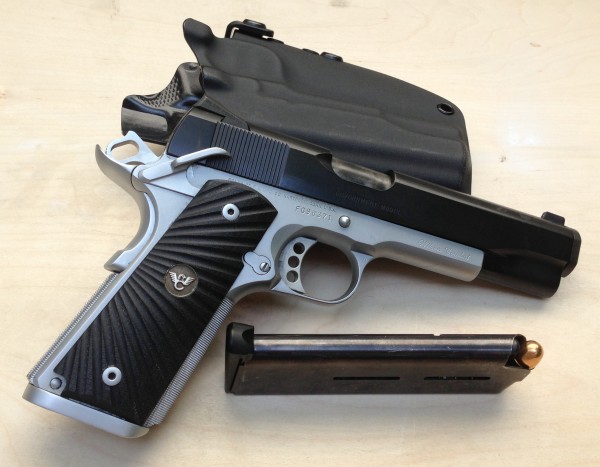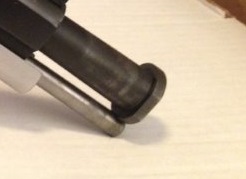 I misplaced the test target that accompanied the pistol. So, instead, here's a "Bill Drill" (draw from holster, 7 yards, 2.74 seconds, on an 8 inch splatter circle) I shot for this post, using my longtime factory practice load for carry —  230 grain Federal American Eagle TMJ (AE45A).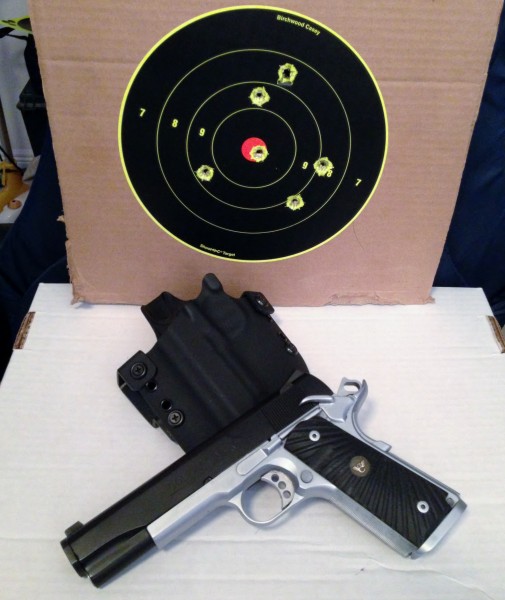 Speaking of early editions, here is the TE shown with a prototype of a totally made in USA range bag from HonorPoint, in Kryptek Mandrake, featuring Zip Off Technology.  There is an additional unfolded workspace panel at the bottom.   More on it in a future post.  Leather OWB pancake holster (yes, LH is stocked) by WC.