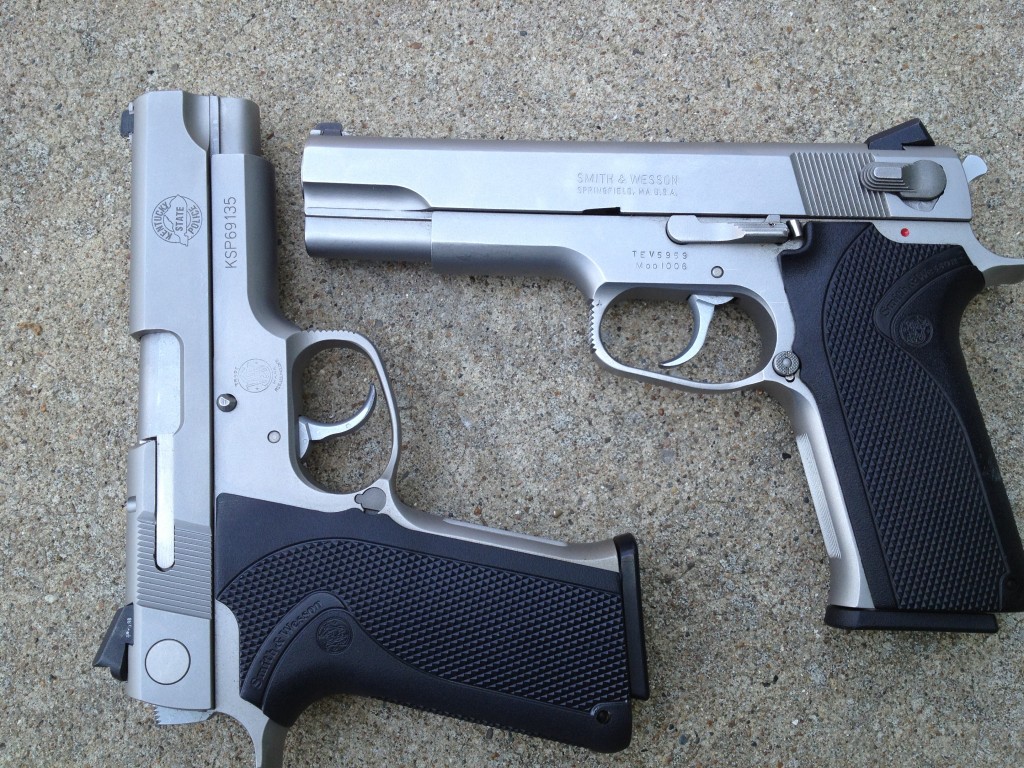 When you look around today in police holsters, we see a lot of plastic.  Polymer pistols are the new norm.  They offer a lot.  Durability, weight reduction, increased mag capacities in some cases.  This always has not been the case.  The metal pistol ruled the scene for a while, before Gaston set the world afire.
Going back to the 1990's, the second and third generation Smith and Wesson pistols filled a lot of cop holsters.  The guns were built sturdy, but a little heavy.  The extra heft made them a pleasure to shoot.  The Smith and Wesson 1076 was a pretty popular model at that time, and  I carried one for a couple of years in the mid 1990's.
The 1076 featured a SIG style frame mounted decocker, and lacked the slide mounted decocker/safety that was found on most of the Smith pistols of that era.  It was a traditional double action (DA/SA)).   It featured a 9 round magazine standard, but rumor had it that the FBI had some extended capacity magazines that were contracted with their pistols.  The "Standard Catalog of the Smith and Wesson" shows that in the heyday, the Federal Bureau of Investigation ordered 10,000 Smith and Wesson 1076's, but due to some problems, the initial batch was rejected back to Smith and Wesson.  Rework was completed, and the FBI accepted about 2,500 pistols.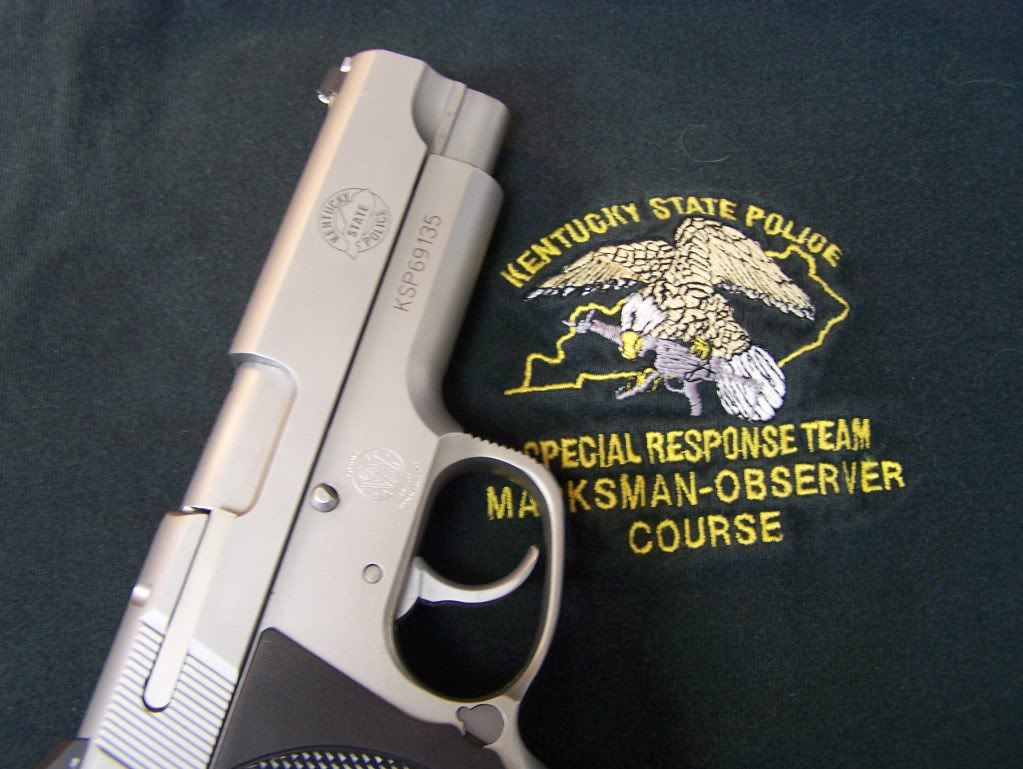 Another large user of the 1076 was the Kentucky State Police, who issued the pistol to all sworn personnel until the middle of last decade.  KSP had a good run lasting a dozen or so years, and was pretty pleased with it.
Another model offered was the 1026, which was basically a exact copy of the 1076 with a five inch slide and barrel.  The 1006 (the five inch pistol pictured above) was offered up with the traditional Smith and Wesson decocker/safety.  The 1066 was identical to the 1076, but it shared the slide mounted decocker/safety of the 1006.  The 1046 and 1086 were traditional double action pistols in service length and five inch respectively.
Many still romance with the 10mm guns to this day.  The "TEN" takes many of us back to our youth, sitting in front of the television on Friday nights, watching Sonny Crockett lay waste to the bad guys of South Miami with the Bren Ten.
A couple of companies still offer factory 10mm pistols, including Glock with the G20, and G29.  Gray Guns Inc in Oregon offers a conversion for the all steel SIG P220 pistols to 10mm.
While many tend to surround themselves with the politics of the birth, and eventual death of the 10mm cartridge in law enforcement circles, the Smith and Wesson 10xx pistols were solidly built pistols, and saw a lot of honorable service.