Readers of this site know by now that most of the contributors here are big fans of the Geissele High-Speed Triggers. A few weeks back, MSW writer Joe wrote a review of the Super Dynamic 3-Gun Trigger. And earlier this week, Scott Ballard reviewed the Super Tricon Trigger. The major downside to the Geissele trigger systems is that once you have one in your rifle, you want one in every one of your M4 rifles. 
One of the most popular models is the Super Semi-Automatic (SSA) trigger, a non-adjustable combat trigger designed to drop-in to a quality lower receiver and provide a reliable, two-stage trigger with smooth take-up and crisp break at a weight suitable for a service grade rifle. There are no adjustment screws for the end user to monkey with and screw up.
Geissele triggers are precisely machined from castings, and then "super finished", the same process used to manufacture aircraft transmission gears. Sear surfaces are wire EDM cut to half a thousandth of an inch tolerance. All parts are deburred by hand and then cryogenically treated. Multiple QC checks are made prior to packaging and delivery. The lengths that Bill Geissele takes in manufacturing these triggers is evident in their performance and reliability. I have long been wary of aftermarket match triggers in the AR platform, and have seen many let go in carbine classes. In my experience, Geissele's triggers have been as reliable as the GI format trigger.
Recently, Geissele released their G2S trigger. It is functionally identical to the SSA trigger, with a change in the hammer pin retention. Additionally, the G2S deletes the laser engraving on the parts, has slightly different pins, and they are only spot MP tested. Geissele advertises that there is no difference in the feel and reliability between the G2S and SSA. At $165, the retail price on the G2S is $45 less than that of the SSA.
Those familiar with the Geissele triggers will find no surprises. The trigger system installs in 10 minutes, and as advertised, there is no perceptible difference between the G2S and the SSA's feel. One of the qualities of the triggers is that they tend to get smoother and break cleaner over time. I don't expect the G2S to be any different. I haven't had a chance to run long term testing on this very new addition to the Geissele lineup, but will be sure to report back once I rack up some big numbers on the trigger.
For anyone wishing to upgrade the rest of their AR stable with Geissele triggers, the G2S will help you do so without completely breaking the piggy bank.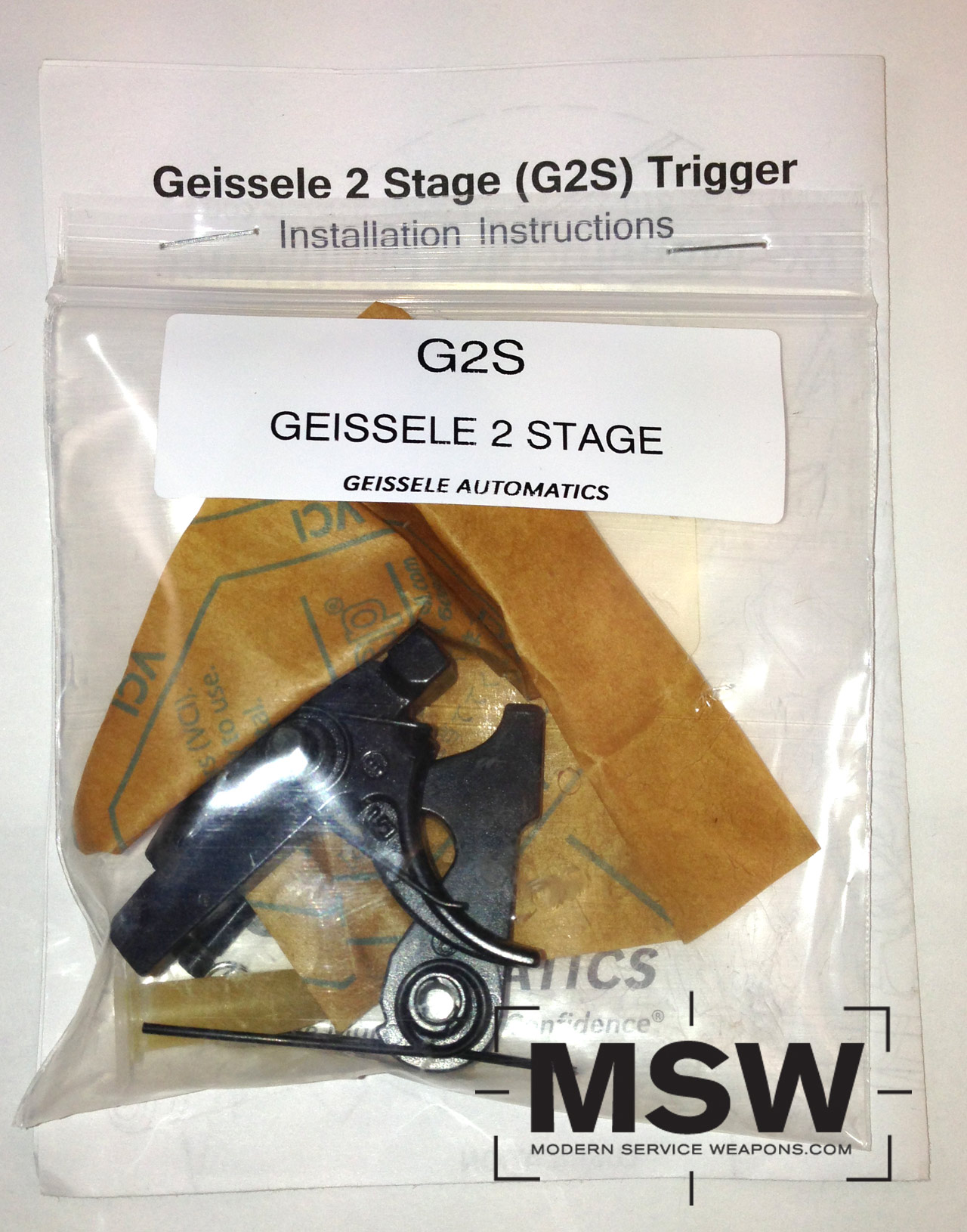 SOURCE: http://www.geissele.com