Colt was recently awarded their first pistol contract on a 1911 pistol since the early 1950's.  The United States Marine Corps awarded Colt Defense a $22.5M contract for the 45 caliber pistols slated for elite special operations units.  I was contacted in November to develop a Program of Instruction (POI) on the pistol, now called the M45 CQBP.  Accordingly, I made arrangements with Greg Rozum of Colt to work on the pistol.
The M45 CQBP is based on the Colt Rail Gun, and from that model a number of changes and improvements were made. After initial units were submitted, extensive testing was done and based on initial findings, improvements were made by the Colt Team headed up by Greg. Colt Range Master Patrick Rittmon also provided design help. Patrick is a Marine and has an extensive background in Marine Corps weapons platforms geared for serious social encounters.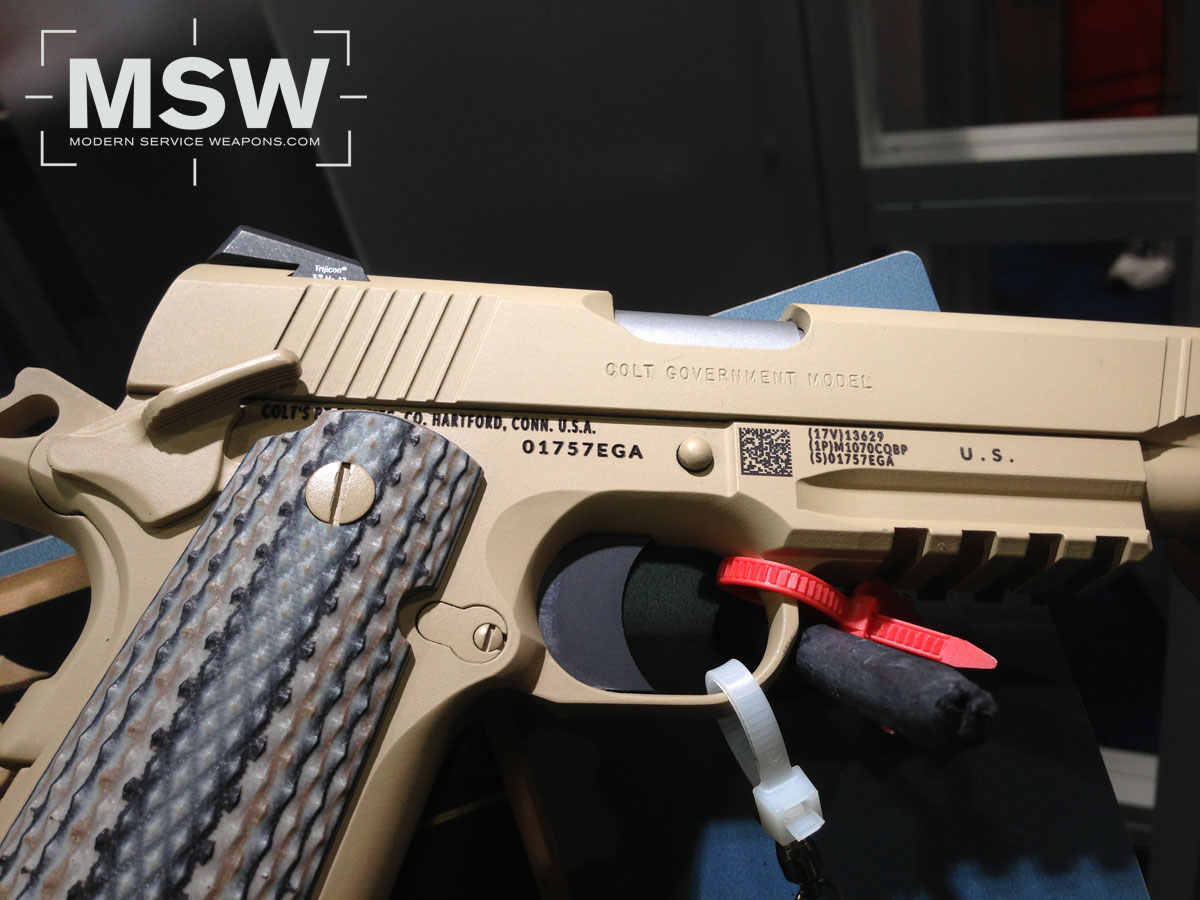 Greg spent a lot of time explaining what improvements were made and why they evolved. Such changes included moving the front slide serrations farther toward the muzzle and making the serrations wider instead of narrower, strengthening the dust cover and 1913 rail to meet USMC durability requirements.  Internal parts have been tumbled and electro nickel-plated to eliminate the need for polishing. A ten pistol interchangeability test, along with an endurance test, had to be performed to meet standards.
Dual recoil springs with a shorter recoil guide have replaced the standard "GI style" setup we have become accustomed to. The dual spring setup was designed to dampen the recoil physics to prevent damage to the frame and slide in addition to extending the life on component parts.
One of the design goals was to minimize hand fitting and filing, with the exception of the thumb safety. By and large, Colt has met this design goal.
I was skeptical of the Wilson 47CB Mags. I have run any number of the Wilson magazines, but this one is different. The spring is stiff, the magazine uses a round follower and holds seven rounds.
I made it clear to Greg that I wanted to shoot the pistol and run it hard. At my own agency, I was forced to adopt a duty pistol that I had no part in selecting. We quickly discovered problems, which eventually led to failures occurring in the field. Ultimately, the pistols were replaced. Therefore, I am always skeptical of new guns, but I digress…
Greg and I went into the factory and picked up a random CQBP off a rack of new pistols. The protective wrap on the slide was still in place.  Pat Rittmon then met us and handed me a box containing 29 fully loaded Wilson 47 CB mags. "I can shoot these?" I asked Pat and Greg. Pat grinned and said, "Go ahead." Pat had a mirthful look on his face reminiscent of the cat that ate the canary. In Pat's case, he was the lion who just ambushed all the vultures!
Greg put up a target and explained that the pistol had not been zeroed yet. Normally after being built they are brought to the range for test firing and sight in. I peeled the wrapper off and quickly examined the pistol. Greg and Pat had other business to attend to so they left me to my devices.
I began shooting the pistol and immediately noticed how soft shooting this pistol felt. Settling into a steady rhythm I slowly depleted the box of magazines I was given.  I finished and the first thing that struck me was that the CQBP had suffered no malfunctions. In my 32 years I have never had a pistol not suffer a malfunction right out of the gate. This pistol was given to me right off the line. I didn't break it down or lubricate it. I shot this pistol rapidly and heated it up.  When I finished up, I noticed that my elbows weren't aching.  Those of you who have been active in the LE/MIL field know what I am talking about – the Tylenol bottle in the range bag is not for show.
I field stripped it the pistol, gave it a once over, wiped it down and then put it back together. Greg and Pat returned and Greg asked how it went. " No malfunctions whatsoever." Greg looked into the box and said, "Oh, you shot them all?" I told them both that I was somewhat impressed by the performance of the pistol and the mags.  I expect most pistols to have a few hiccups right out of the gate. Then once they settle in and run, it really isn't a big deal. If they fail repeatedly, that's when I become concerned.  I wanted to clean the pistol but Greg said no, he has people for that. We spoke in depth over lunch on the design and improvements made on this platform.
After lunch we went back into the factory and Greg brought me to the CQBP line and selected another pistol. I wanted to perform an in-depth detail strip. I warned Greg that I was going to "bang" on this pistol.
"Go ahead Frank; it was built for the Marine Corps!" I whipped out a 10-8 Armorer Block. Greg hadn't seen it before, so we discussed the merits of the Armorer Block. I explained Dean Caputo had turned me onto to it. This has proven to be an invaluable tool in my classes and is now standard in the Colt Armorer class tool kits. Pay attention because you'll see this again.
I had hoped to work on the pistol that I had shot. I have extensive experience with Cerakote. It is always easier to take apart a pistol finished in Cerakote after shooting, as the excess material loosens up. After taking photos to develop a Power Point Presentation, Greg went over the parts with me and patiently answered all of my questions. I put the pistol back together and we returned it to the Pistol section. Greg and I returned to his office and sent me on my way with a number of PDF files containing diagrams to assist in developing the Power Point.
It was a very productive trip to the Colt factory, and I would like to extend my appreciation to Greg and Pat for their assistance.  I am definitely interested in purchasing this pistol when it becomes available!