Back in my early days of carrying a gun, I bought some holsters with the structural integrity of a Dandelion.  I've since learned that acquiring decent gear generally means making a decent investment.  Production holsters are readily available, but the good ones are costly.  Quality custom gear is even more so, with a few exceptions.  If you want to save a couple of bucks and still get the customer service and quality products you deserve, check out the small custom shops.  Below are four, "Mom and Pops" that I have used and which I recommend without hesitation.  (Look for  links throughout the article.)
Spencer Keepers is a long time holster maker and firearms trainer quietly thriving in the heartland of America.  Spencer is the owner and founder of Keepers Concealment which specializes in Appendix Inside the Waistband Holsters  (AIWB).  His flagship holster is the  patented "Keeper,"  which was named by Craig "Southnarc" Douglas. Keepers Concealment has expanded their product line to include the Keeper Lite and the Errand (which is intended for smaller pistols like the Glock 42/43 and the Smith & Wesson Shield.  Spencer is not only an advocate of AIWB but also conducts organized live-fire classes for those who choose that carry method.  Appendix carry is maligned and misunderstood by many folks.  I was fortunate enough to have taken one of Keepers' classes at the Police Society Tactical Conference in Memphis this year which was focused on AIWB.  I encourage everyone to seek him out.  He's as good of a shooter as he is a teacher as evidenced here (Spencer Keepers on the right).
Eclipse Holsters is run by Jessica Hazelaar.  "Jess" is the owner/operator of Eclipse Holsters.  She shoots competitively and is a very outspoken supporter of the Second Amendment.  She grew up in Alaska and now makes her home and holsters in Virginia.  Eclipse is known for making rugged, affordable concealment and competition gear with the option of custom printing.  I have three range holsters of various colors and designs including my daughter's college mascot.  It's really sharp looking and made quite the stocking stuffer.  Customers have the option of having their own  image put on a holster, as well.  The quality of Eclipse products is just as exceptional as the service.  Jess includes a handwritten thank you note with each holster.  I have three Eclipse holsters and am looking forward to purchasing more.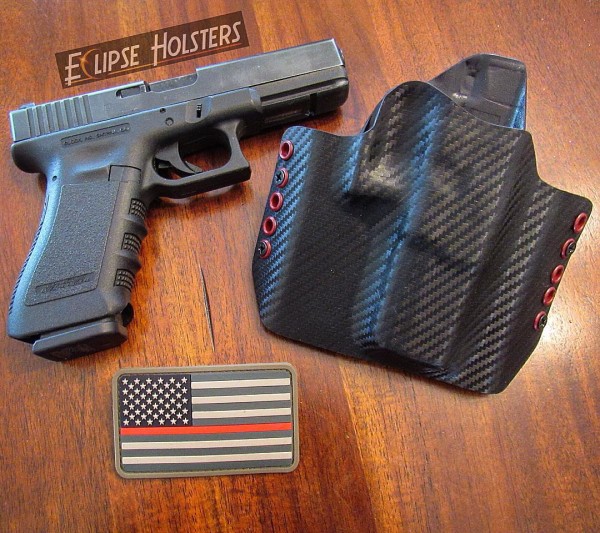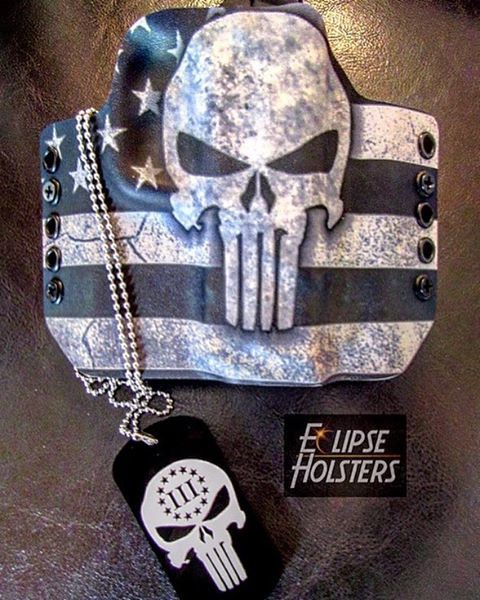 RGrizzle Quality Concealment Holsters
RGrizzle is small shop run by Ryan Grizzle (who is a completely self taught holster maker) and his wife, Kay.  In a recent communication, Ryan told me making quality leather goods is his passion.  It shows in the quality of the products that leaves the RGrizzle shop.  Mine are not only functional but aesthetically pleasing. In my opinion, RGrizzle's leather products are as good as anything on the market for about 2/3 of the cost and the turn-around time is only about three months. The first time I ordered a holster from Ryan, we communicated back and forth via email several times about what I wanted.  I made the order on the website.  Ryan emailed me asking if I was certain about my order because what I ordered isn't what we'd discussed.  I had made a mistake on the order and Ryan caught it.  I can think of no reason to buy leather from another custom maker as long as RGrizzle is in business.
The Ozark Holster Company is run by renowned good guy Dustin Osborn of Missouri.  He offers not only quality concealment holsters but also range gear at an affordable price point.  I have hybrid Inside-The-Waistband OHC holsters for every carry pistol I own.  OHC also offers different color options for their gear.  I have several pieces of purple gear that my daughter used when we attended a class as a family.  We bought three range holsters and six double magazine carriers for about the cost of a case of .40 caliber ammunition.  Dustin has gained a large following from students and instructors of firearms training schools.  A friend of mine who runs a high profile training company sees a lot of Ozark Holsters and speaks very highly of them.  Dustin has a sterling reputation for integrity, quality control and customer service.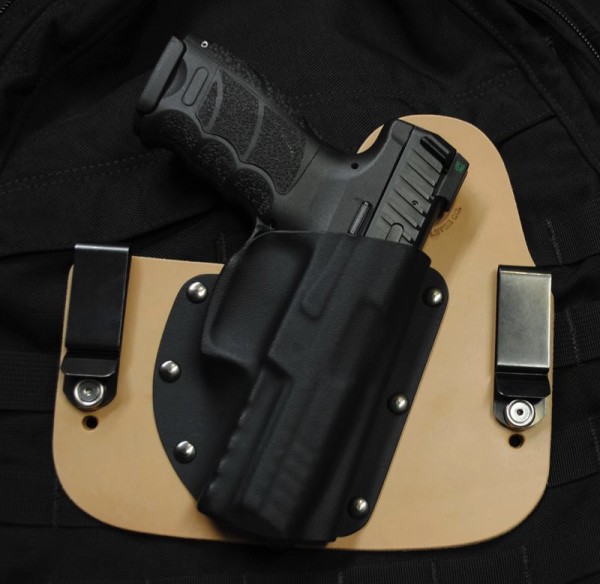 Why Do Business with the Small Shops?
The small shops have financial and emotional investment in their products and actually do the work.  These folks have staked their livelihood on every product that leaves their shops and are actually involved in the process of making your holster from stitching to shipping.  Invariably, the "Mom and Pop" shops offer a customer satisfaction guarantee that is backed up in action and not just words, as is often the case with the big companies.  When you call the customer service number, you are likely to get an actual human answering the telephone.  Those qualities are rare in a business today, and that's why we should be spending our dollars with the little guy…or gal.