"Evil is real," he said somberly, and he would know.  With decades of law enforcement experience in the Memphis area, specialized security work and dedicated research on the topic of armed self-defense, Tom Givens does know.  He's an exceptionally experienced firearms instructor, author, competitor and student.  He is a longtime member of the American Society of Law Enforcement Trainers, the National Law Enforcement Trainers Association, the International Wound Ballistics Association and the International Association of Law Enforcement Firearms Instructors.  As IDPA member number A00008, Tom was there during the creation of that organization and was among the first members of The Police Marksman Association.  Givens has investigated a staggering number of shootings over the last four decades, including dozens involving his own students.  With that knowledge and experience, Tom has served as an expert witness on firearms and police training on the state and federal level.  Tom has authored four books including his most recent, Fighting Smarter.  He and his wife, Lynn own Rangemaster Firearms Training Services.  In the firearms training community, Tom is nothing less than a legend.  Lynn is quite the shooter and instructor in her own right.  Each year, Rangemaster hosts The Tactical Conference.  That event culminates in a realistic shooting competition.  Lynn placed third in the 2015 match against some heavy hitters.  Underneath her kind, unassuming exterior is the blue twisted steel of a gunfighter.  I jumped at the opportunity to attend their three day Firearms Instructor Development class. Here are my thoughts.
Day One
     After the introductions, obligatory paperwork and the issuance of a 200-page training manual, the class work began. Tom's teaching style is honest, serene, deliberate and often humorous.  Despite some memorable moments of jocularity during the class introduction, there was no doubt as to the goal of this training:  learning how to teach others to save their own lives with a handgun.  Among the other topics covered in the classroom were firearms safety, marksmanship, principles of adult learning, behavioral science, ethics, survival mindset and the basic operating systems of the most common defensive handguns.  Of course, there was the obligatory training block on firearms safety which is always appreciated.
Coaching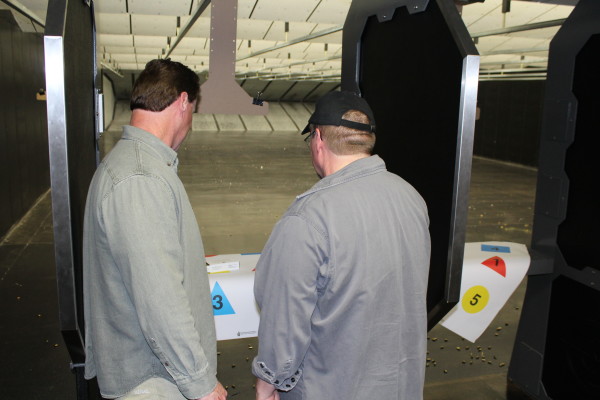 The first day started in the classroom at 9:00 a.m. and we were on the range before noon.  There were 10 of us in the class.  We were each assigned a partner on the first day.  Students coached one another from the first drill to the last.  These teams were switched twice, so each of us were able to coach and be coached by three different students.  The primary focus of the professional instructors (after safety, of course) was to help us learn to coach our students.  My first teammate was relatively new to firearms and had just recently completed her concealed carry course.  In just a few relays on the range, she was pointing out flaws in my technique and helping me become a better shooter.  Another student coach, a 21-year-old with very solid skills, caught a technical mistake I was making with my weak-hand-only grip just before I shot the qualification courses.  That tip saved me a few points on my scores.  It was a unique training situation which offered the opportunity to hone one's shooting and teaching abilities simultaneously.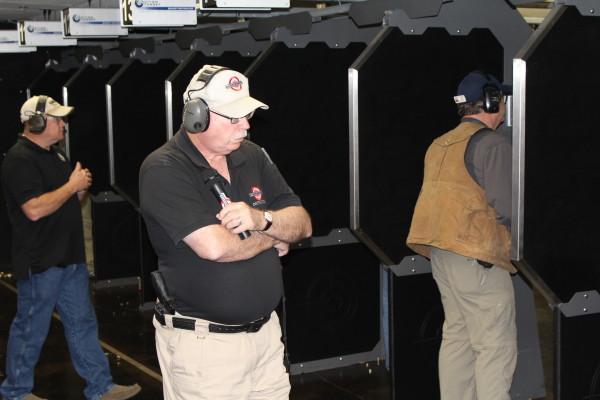 Reality Based
     This class is geared toward concealed carry and how to instruct students to defend themselves with a firearm.  In that spirit, most relays started with a holstered and concealed handgun and spare magazines.  Solid equipment is a must for real life and for realistic training.  There are a lot of draw strokes stuffed into this three-day class and a flimsy holster or magazine carrier will likely not survive the training nor will it allow for safe operation.  Acquire quality equipment and become familiar with it prior to attendance.
Tom believes the term, "street crime" is a misnomer.  The most common venue for stranger violence is the parking lot.  Since different threat distances require different decisions from the respondent (whether or not to move, how much time is advisable for sight alignment, etc.), it's important to be able to gauge that distance somehow. Tom uses car lengths for measurements in critical distance assessments.  How far is it from the back of your car to the front if you were, say, loading groceries in a parking lot?  How about two car lengths?   Most folks can visualize that distance and apply it to a survival situation.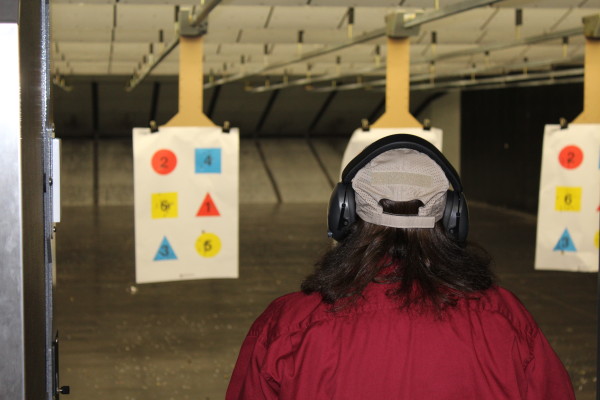 Live Fire
     Many trainers including Rangemaster have found that, "hot" ranges (where students are required to keep their guns loaded between relays) are safer for the students both during training and in everyday life.  Keeping one's pistol loaded is good practice during an armed encounter.  That practice is best reinforced during…practice.  Also, students with "loaded" pistols during training tend to shy away from fiddling with them unnecessarily.  We all know how many folks have been injured or killed by "unloaded" guns.
For The Record
Over three days, we each shot nearly 1000 rounds.  The third day was mostly testing.  We had to pass a challenging written test (much of it fill-in-the-blank) with an 80% score or better.  The passing score on both shooting qualifications was 90% minimum.  These timed courses were the FBI standard qualification course and the Rangemaster qualification course.  The Rangemaster course is similar to the FBI course, but it has a smaller qualification ring and focuses more on realistic shooting distances and speed.  Both courses require 60 rounds of ammunition which is a lot by today's standards.  As it turned out, all students did well and everyone passed the course.  The class average was 94.4% on the FBI course and 94.8% on the Rangemaster course.  That's saying a lot considering that a few of these ten folks had very little experience with firearms going into the class.  Don't misunderstand:  Instructor Development is not a beginner's class.  Students would be well-served to arrive at this class with better than average holster, reloading, and general gun handling abilities beforehand.
Have a Say in the Matter
     One of Tom's pet peeves is people who have the ability to carry and choose not to do so.  Sixty-five people have graduated a Rangemaster course and later been involved in a shooting.  Their record is 62-0-3.  Sixty-two of them prevailed.  None of them lost, but three, "forfeited."  Those three chose not to carry their firearm that day and were murdered for their omission.  There are over 5,000,000 violent crimes every year with 750,000 of those considered to be Aggravated Assaults (involving weapons and likely to cause death) and 350,000 robberies.  Between statistical data and Tom's first-hand accounts, students shouldn't need much more convincing that concealed carry should be a part of their lifestyle so they can, "have a say in the matter."
The Danger of the Comfort Zone
      Attending training like this can take some courage.  It's much easier to stay safe and cozy inside our comfort zones, but there's nothing to be learned in there.  Get out there and seek some training.  There are only a handful of upper tier organizations out there teaching from actual experience and qualified research.  Rangemaster is among the best of them and they offer courses all over the country.
There were brief moments of irreverence during our intensive three-day class, but Tom's closing comments were anything but.  His final coaching moments with our class was a motivational speech on mindset.  I won't share it here, because it should be experienced firsthand.  I said earlier that Tom knows that evil is real from personal experience and dedicated research.  What else does Tom know?   He knows what it takes to survive an armed encounter.  Most importantly, Tom knows how to teach others to do so.  When I asked Tom what message he considered the most important for his students to take away from his classes, he said, "that you are on your own. What happens to you and your family is the result of choices you make. Choose not to be a victim."