I heard on a podcast that sporting a nylon "tactical" belt is a "tell" that there is a concealed handgun not too far away.  I am not all on board with the "tell" analysis, but OK fine, we ( 🙂 ) likely should all plead guilty. Doesn't every serious gun-toter have at least one belt from The Wilderness, and one of those ultra-stiff, high-tech, superhero style belts made with indestructible fabric and a "special" buckle — maybe from AresGear? (Both are awesome — so I am told 🙂 ).  For many however, leather has been and remains the belt king. For some, "tactical" may simply be inappropriate. Maybe you're a federal agent, an LEO who no longer wears a uniform, a concealed carrying non-sworn who has to "dress-up," or a former "operator" now in corporate security or executive protection. Or maybe you simply want a changed look and a bit more "comfort." What to do? Go with a leather belt specifically made for handgun carriage. If the don't go tactical podcast is correct, all the better.
After many years of sticking mostly with holster makers' matching leather belts, I decided the imperative for a belt that is a perfect color/cut match to leather holster/pouches, is a bit overstated, and there are less expensive alternatives.  In my experience, the alternatives work well with OWB/IWB leather holsters from various makers, and also with various paddle holsters. Enter The Beltman and BigFoot Gunbelts.  To me, their raison d'etre: A liner to stiffen the belt. Especially important with suit/dress pants which can fit only a 1.25-inch wide belt. The Beltman's are dressy in appearance and can be ordered with a polyester stiffener. Bigfoot's are more rugged looking, and have a spring-steel insert. Take your pick, I like them both.  A lot.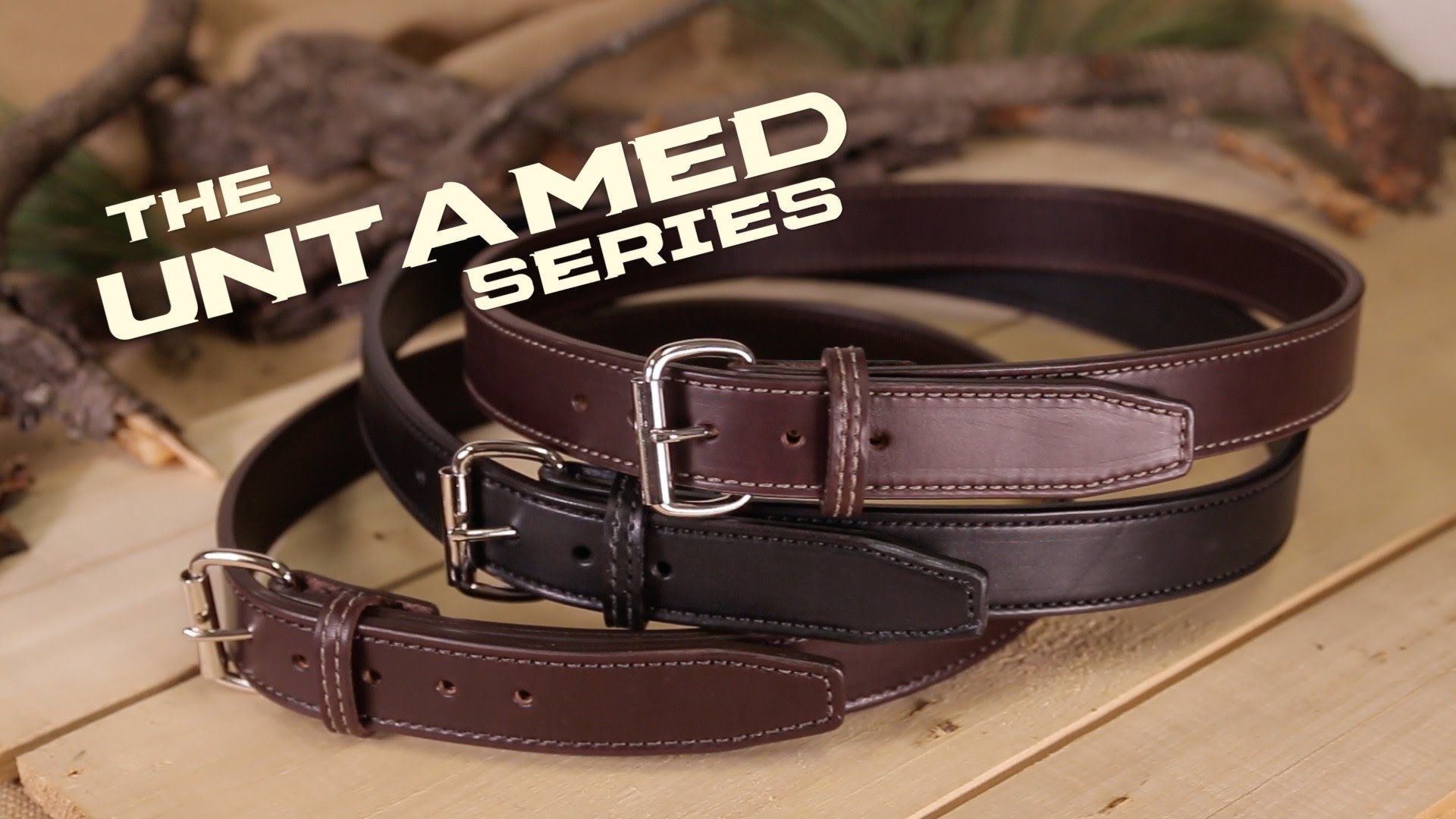 I won't bore you with details about such things as personally selected hides, small shop quality control, great stitching and edge finishing, ability to use your own buckle, as-promised shipping, pleasant service if you need personal interaction, website or YouTube reviews chock full of information, hints, and tips.  You can check that all out yourself.  Sizing is critically important, follow the maker's instructions, and consider whether you are buying primarily for OWB or IWB carry.  I sized including consideration of where I wanted/needed the belt tip to land given the location of the pant loop (check out your pants) just beyond the belt keeper. Here's my reviews, based on what I ordered and my observations after wearing their belts with a full-sized polymer or steel pistol in an OWB leather holster or various brand paddles (see HERE) and support side single or double magazine pouch. I found these leather belts provide very stable carry, as good or better than any "tactical" custom offering. (You're also easily good to go with an S&W K-, L-, or N-frame revolver in an OWB or paddle rig; I test drove those as well).  Follow the maker's care instructions; using the wrong leather cleaning or touch-up product can shorten the life of your belt.
The Beltman: I ordered bullhide with stiffener, both the regular 1.5-inch width and the tapered (reduces buckle footprint and portions of the belt that show appear to be a narrower dress belt), with 7 holes. You can get exact even or odd-size length.  [I had to get additional screws recently, because I didn't regularly tighten them, as the maker cautions on the website.  However, I still prefer screws over snaps (see below)].  For true dress pants, I think the 1.25-inch width belt with the stiffener would hold up well.  If what you want is within the parameters of the "quick-ship" option, go for it. You can also order a belt sans buckle, with Velcro® closure. I have used that style belt from another maker; it offers unconventional comfort and utility. If I were mostly carrying IWB, I would order tapered horsehide, square buckle, without the stiffener.
BigFoot Gunbelts: I ordered the heaviest/thickest (18-oz) with steel core. I quick-sized, by adding four inches to my OWB pants size.  Length was within 1/2 inch of perfect. The belt is quite hefty, and thus a bit casual looking. But, the bridle leather is soft and comfortable. The snap closures are a bit bulky for my taste, but I am getting used to them. The roller buckle is a good idea.  I think the 14-oz version with the core would be sufficient for all day carry.  I would pick that weight if I were to reorder. I suspect it is more likely to fit with an OWB holster which has a belt tunnel/channel.

If you are "old-school," want to emulate the image of some well-known TV cop or PI, are fond of preppy, or suffer from back or groin strain and need to lighten the loadout, consider another Made In The USA product to accompany your belt. Perry Suspenders (HERE). They have two plastic clip-on straps in front and a single in the center rear.  Thus, they work well with a pistol set up at 3:00 or 9:00, or slightly to the rear. Suspenders further lessen the felt weight of a full-size handgun and all the related crap on your belt or in your pockets.  Perry suspenders are available in fabrics (including camo-like patterns 🙂 ) and leather.  Buy them at the company site, Amazon, or Suspender Store.